Parsonage Victorious at Final Night of Ranchman's PBR BullBustin'
By: Ted Stovin Friday, July 6, 2018 @ 12:35 AM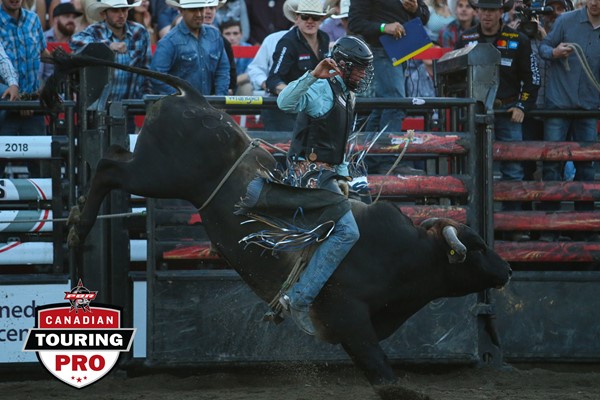 CALGARY, Alberta – On Thursday night, Jared Parsonage (Maple Creek, Saskatchewan) earned his third event win of the season, victorious at PBR (Professional Bull Riders) Canada Touring Pro Division's (TPD) Sunbelt Rentals Ranchman's PBR Bullbustin' in support of the Sheldon Kennedy Child Advocacy Centre, presented by Alstar, his third event victory of the season.
Through private donations, the 50/50 and event Calcutta, more than $50,000 was raised in support of the Sheldon Kennedy Child Advocacy Centre.
Parsonage rode Overcooked (Vold Rodeo) in Round 1 for 81.5 points and after three re-rides in the Championship Round, faced Memphis (Outlaw Buckers Rodeo Corp.) to register a score of 83 points for the event win.
For his five-bull night, the long-tall Saskatchewan man earned $4,284.00 CAD, 60 world and 230 Canadian points. In the Canadian standings, his earnings elevate him to the No. 5 spot in the PBR Canada National Standings, while world points propel him within the Top 65 in the world.
After an event win and a fourth place effort on the first two night, Lachlan Richardson (Gresford, New South Wales, Australia) concluded the third day of action at Ranchman's second, to earn his fourth Top 10 finish in as many nights. Banking 105 world points through four events, the Aussie bull rider rose to the No. 46 spot in the PBR's World Standings. To begin the night, Richardson rode Corona Light (Vold Rodeo) for 75 points in Round 1, adding an 87.5-point trip to his total on Ray's Lasty Jump (Giorletz Rodeo Stock) in the Championship Round.
Concluding the three-event sprint, Richardson earned 30 of his 105 total world points, in addition to $3,672.  
Presently ranked No. 2 in the PBR Canada national standings, Marcos Gloria (Central De Minas, Brazil) finished third to earn 165 Canadian points. He closed the gap on No. 1 Brock Radford (De Winton, Alberta) to a mere 12.5 points.
Gloria tamed OLS Tubs Sweat & Regret (Outlaw Buckers Rodeo Corp.) to win Round 1 with an 86-point score, however, was bucked off bull of the Night, Grey Tower (Vold Rodeo) in the Championship Round.
The Brazilian heads to his next event, Edgerton, Alberta, which is the next stop on the Touring Pro Division, with 20 world points and $2,425.50.
Wyatt Gleeson (Sundre, Alberta) concluded Thursday's charity event fourth. In Round 1 he bucked off Shower & A Shave (Outlaw Buckers Rodeo Corp.), but was drawn back to the Championship Round on time, where he covered OLS Tubs Buckington (Outlaw Buckers Rodeo Corp.) for 85.5 points.
Gleeson won $1,836, 100 Canadian and 15 world points, to rise to No. 7 in Canada and. No. 83 in the world.
Rounding out the Top 5 was the third Canadian on the results sheet in Chase Thielen (Milk River, Alberta). His finish was backed by an 85-poiny trip on Whoote Blues (Vold Rodeo) in Round 1.
Thielen claimed $1,331.10 and 10 world points.
Grey Tower was the high-marked bull of the event, scoring 45.5-points for his 3.02-second buck off Gloria in the Championship Round. This was Vold Rodeo's second bull of the night title at Ranchman's in 2018.
PBR Canada Touring Pro Division action continues on Friday July 6 in Edgerton, Alberta at the Edgerton Bullarama. Action gets underway at 7:00 p.m. MT.
Be sure to stay tuned to PBRCanada.com and follow the tour on Facebook (PBR Canada), Twitter (@PBRCanada), and Instagram (@PBRCanada) for the latest results.
The Sunbelt Rentals Ranchman's PBR Bullbustin' in support of the Sheldon Kennedy Child Advocacy Centre. presented by Alstar – Calgary, Alberta – July 5th, 2018
PBR Canada Touring Pro Division Event Results
Event Leaders (Round 1-Round 2-Aggr. Score-Total Points-Money Earned-World Points)
Jared Parsonage, 81.5-83-164.5-$4,284.00-60
Lachlan Richardson, 75-87.5-162.5-$3,672.00-30
Marcos Gloria, 86-0-86-$2,524.50-20
Wyatt Gleeson, 0-85.5-85.5-$1,836.00-15
Chase Thielen, 85-0-85-$1,331.10-10
Thor Hoefer, 83.5-0-83.5-$887.40-5
Stormy Wing, 82.5-0-82.5-$550.80-0
Weston Hartman, 79.5-0-79.5-$214.20-0
Dakota Buttar, 75-0-75-$0-0