Parsonage Claims Clunie-Cooper Memorial Title in Prince Albert
By: Ted Stovin Sunday, May 6, 2018 @ 12:10 AM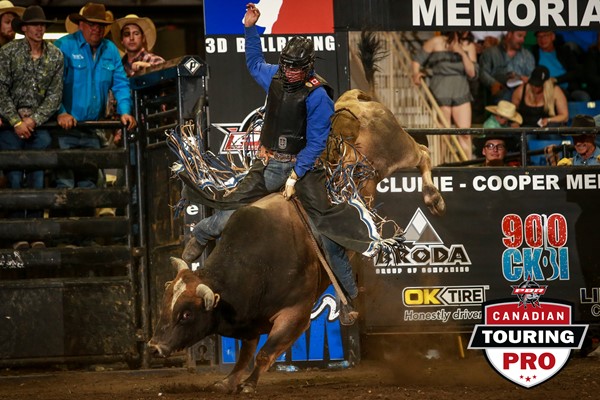 PRINCE ALBERT, Saskatchewan – Jared Parsonage (Maple Creek, Saskatchewan) became the first bull rider to claim multiple event titles on Canadian soil after a win Saturday Night at the Clunie-Cooper Memorial PBR.
In Round 1, Parsonage would ride Smash (Skori Bucking Bulls) for 83.5 points. In the Championship Round, it would be a matchup with Day 1's ABBI Canada Classic Champion Happy Camper (Two Bit Bucking Bulls) for a wild 88 points. The two rides added up to 171.5 points for a first-place check worth $5,159.08.
Parsonage added 60 World points and 275 Canadian points to his rankings where he's now tied for No. 64 in the World Standings and has jumped from No. 2 from No. 5 still trailing No. 1 Brock Radford by 305.84 points.  
Ponoka, Alberta's Wacey Finkbeiner finished second overall. In Round 1 on Saturday he would ride Tweedle Dee (Vold Rodeo) for 81 points and connect in the Championship Round on Finning Hou's Deacon (Flying Four Bucking Bulls) at 86 points. The two scores topped 167 points.
On Friday, Finkbeiener bucked off The Silence (Vold Rodeo) in Round 1, but was drawn back to the Championship Round based on time. Once there, he drew three-time PBR World Finals bucking bull Minion Stuart (Skori Bucking Bulls), who he teamed up with for an 87-point score and sixth overall.
The second-place finish earned Finkbeiner 30 world points while the sixth-place finish brought in another 5. Both placings added up to 195 Canadian points which now rank him No. 3 in the country after coming in No. 7. All in earned $4,448.66. 
Leading after Day 1, Dayton Johnston (Milk River, Alberta) wound up third after being passed on Saturday by Finkbeiner and Parsonage.
The sophomore rider began Friday night by riding Morning Wish (Wild Hoggs/Trish Streeter) for 77 points in Round 1. In the Championship Round, he tamed Finning Magic Shivers (Flying Four Bucking Bulls) for 86.5 points. Overall, the 19-year-old leads takes home $2,283.53, 125 Canadian points and 20 world points, jumping five spots to No. 5 from No. 10. 
As a two-day event, both Round 1 and the Championship Round take place each night with the overall winner being crowned with the highest aggregate score. With the two days, a bull rider could have potentially finished both first and second place.
Fourth is Lawson Nobbs (Moura, Queensland), the only other bull rider to go 2-for-2. On Friday, Nobbs rode All Business (Two Bit Bucking Bulls / Hy Kik Ranch) for 85 points in Round 1 and added 77 points in the Championship Round on Herf (Two Bit Bucking Bulls). Scores for the Australian bull rider totaled 162 points holding up for $1,184.05 65 Canadian points and 15 world points.
Rounding out the Top 5 in Prince Albert was three-time PBR Canada Champion Aaron Roy (Yellow Grass, Saskatchewan). On Saturday, Roy would win Round 1 overall after an 87.5-point ride on Kool Aid (R Saga Ranch). In the Championship Round he would lose a battle with Get It Poppin' (Vold Rodeo). Roy adds $1,725.33 to his season earnings along with 125 Canadian points and 10 world points. Leaving Prince Albert he ranks No. 13 in the Canadian Standings, up six spots from No. 19.
Next week are two stops for PBR Canada. On Friday, the Touring Pro Division travels to Nipawin, Saskatchewan for the Nipawin RONA PBR on May 11th. ON May 12th the Monster Energy Tour resumes in Ottawa, Ontario at the Canadian Tire Centre. Tickets are available for both at PBRCanada.com
Be sure to stay tuned to PBRCanada.com and follow the tour on Facebook (PBR Canada), Twitter (@PBRCanada), and Instagram (@PBRCanada) for the latest results. 
Clunie-Cooper Memorial PBR
PBR Canada Touring Pro Division Event Results
Name, Round 1-Round 2-Aggr. Score-World Points-Money Earned
1. Jared Parsonage, 83.5-88,171.5-60-$5,159.08
2. Wacey Finkbeiner, 81-86-167-30-$3,213.86
3. Dayton Johnston, 77-86.5-163.5-20-$2,283.53
4. Lawson Nobbs, 85-77-162-15-$1,184.05
5. Aaron Roy 2, 87.5-0-87.5-10-$1,725.33
6. Wacey Finkbeiner, 0-87-87-5-$1,234.80
7T. Lonnie West 2, 86-0-86-$704.79
7T. Lachlan Richardson, 86-0-86-$704.79
7T. Lachlan Richardson 2, 86-0-86-$704.79