Johnston Leads Yorkton After Day 1
By: Ted Stovin Saturday, November 10, 2018 @ 1:01 AM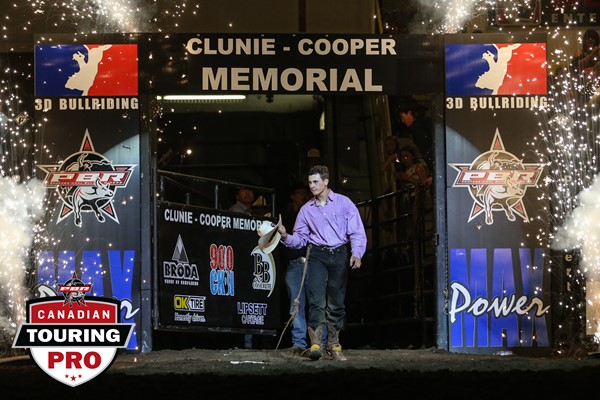 YORKTON, Saskatchewan – At the final regular season PBR Canada event of 2018, second-year rider Dayton Johnston (Milk River, Alberta) went a flawless 2-for-2 to surge to an early lead at the Yorkton Grain Millers Showdown, presented by New Holland, after the first night of action inside the Gallagher Centre.
In Round 1, the 19-year-old rode Dylan's Devil (Wild Hoggs) for 84 points and added an 87-point score on Blow Me Away (Vold Rodeo) in the championship round. Johnston is in search of his second PBR event title after winning his first in March 2017 in Teepee Creek, Alberta.
Currently ranked No. 11 in the PBR Canada Standings, Johnston trails the No. 10 Daylon Swearingen (Piffard, New York) by a mere 14.99 points.
Finishing second, hot on Johnston's heels, was PBR Canada Rookie of the Year standings leader Nick Tetz (Calgary, Alberta).
To begin the night, Tetz rode Strong Arm (Vold Rodeo) for 85 points. He returned in the first night's final round with an 83.5-point score on Darkness (Vold Rodeo).
Third went to Maple Creek, Saskatchewan's Jared Parsonage, the third, and final rider to go a flawless 2-for-2 on the first night. In Round 1 Parsonage tamed Plenty Cool (R-Saga Ranch) for 82.5 points. He complete his perfect night with an 84.5-point ride on Carson's Quest (Wild Hoggs).
The consistent performance came on the very night Parsonage was named to the Team Canada contingent set to represent the Great White North at the 2019 WinStar World Casino & Resort Global Cup USA, the first-ever edition of the event on U.S. soil, set to invade AT&T Stadium in Arlington, Texas on Feb. 9-10,2019.
Todd Chotowetz (Major, Saskatchewan) rounded out the Top 5, in need of crucial nation points as the current No. 20-ranked rider in the Canadian standings, which is the last position to advance to this season's Canadian Finals.
The Saskatchewan rider won Round 1 with an 86-point ride on Southern Heat (Vold Rodeo), but bucked off Ripped at the Seams (Vold Rodeo) in the championship round.
Twenty-five more bull riders will compete again on Saturday night to best the scores set forth on Friday.

The Yorkton Grain Millers Showdown, presented by New Holland concludes on Saturday, November 10th, 2018 begins at the Gallgher Centre at 7:00pm CT.
Yorkton Grain Millers Harvest Showdown, presented by New Holland – Friday, November 9, 2018
Yorkton, Saskatchewan – Gallagher Centre
PBR Canada Touring Pro Division Event Results
Event Leaders (Round 1- Round 2 -Aggr. Score)
1. Dayton Johnston, 84-87-171
2. Nick Tetz, 85-83.5-168.5
3. Jared Parsonage, 82.5-84.5-167
4. Todd Chotowetz, 86-0-86
5. Edgar Durazo, 84.5-0-84.5
6T. Zane Lambert, 83.5-0-83.5
6T. Marcos Gloria, 83.5-0-83.5
8T. Wyatt Gleeson, 83-0-83
8T. Jordan Hansen, 83-0-83
8T. Zac Peterson, 83-0-83
11. Austin Richardson, 82.5-0-82.5
12. Luke Gee, 82-0-82
13. Mike Ostachek, 80.5-0-80.5
14. Tim Lipsett, 80-0-80