Johnston Leads in Prince Albert After Day 1
By: Ted Stovin Friday, May 4, 2018 @ 11:28 PM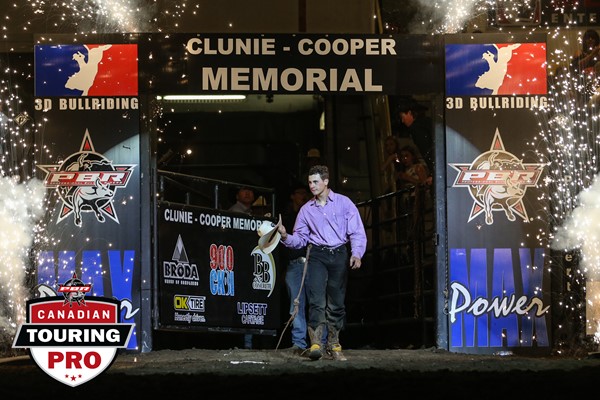 PRINCE ALBERT, Saskatchewan – Backed by a flawless 2-for-2 performance, Dayton Johnston (Milk River, Alberta) surged to the event lead after the first night of action at the Clunie-Cooper Memorial PBR on Friday night at the Art Hauser Centre.
The sophomore rider began the night by riding Morning Wish (Wild Hoggs/Trish Streeter) for 77 points in Round 1. In the Championship Round, he tamed Finning Magic Shivers (Flying Four Bucking Bulls) for a second best 86.5 points. Overall, the 19-year-old leads the pack with 163.5 points on two bulls.
As a two-day event, both Round 1 and the Championship Round take place each night with the overall winner being crowned with the highest aggregate score. With the two days, a bull rider can potentially win both first and second place.
In second is Lawson Nobbs (Moura, Queensland), the only other bull rider to go 2-for-2 on the opening night. Nobbs rode All Business (Two Bit Bucking Bulls / Hy Kik Ranch) for 85 points in Round 1 and added 77 points in the Championship Round on Herf (Two Bit Bucking Bulls). Scores for the Australian bull rider total 162 points.
Ponoka, Alberta's Wacey Finkbeiner finished third on the evening. Finkbeiener bucked off The Silence (Vold Rodeo) in Round 1, but was drawn back to the Championship Round based on time. Once there, he drew three-time PBR World Finals bucking bull Minion Stuart (Skori Bucking Bulls), who he teamed up with for an 87-point score.
Lachlan Richardson (Gresford, New South Wales) is fourth after an 86-point trip on Finning Overhaul (Flying Four Bucking Bulls) in Round 1. Richardson faced Pound Sand (Wild Hoggs Bucking Bulls / Corey Chmelnyk) in the Championship Round, but was unable to make the 8.
Rounding out the Top 5 in Prince Albert after the first night was three-time PBR Canada Champion Aaron Roy (Yellow Grass, Saskatchewan). Roy scored 85.5 points on Wicked Dreams (Vold Rodeo) in Round 1, but was bucked off Papa's Rockstar (Vold Rodeo) in his final out.
The Clunie-Cooper Memorial PBR in Prince Albert, Saskatchewan at the Art Hauser Centre, part of the PBR Canada's Touring Pro Division, concludes Saturday night, May 5, starting at 7:30 p.m. CT. Tickets are available at the venue box office or online at RaiderHockey.com
Be sure to stay tuned to PBRCanada.com and follow the tour on Facebook (PBR Canada), Twitter (@PBRCanada), and Instagram (@PBRCanada) for the latest results. 
Clunie-Cooper Memorial PBR
PBR Canada Touring Pro Division Event Results
Name, Round 1-Round 2-Aggr. Score
Dayton Johnston, 77-86.5-163.5
2. Lawson Nobbs, 85-77-162
3. Wacey Finkbeiner, 0-87-87
4. Lachlan Richardson, 86-0-86
5. Aaron Roy, 85.5-0-85.5
6. Cody Coverchuk, 84.5-0-84.5
7. Lonnie West, 84-0-84
8. Cole Young, 83.5-0-83.5
9. Jared Parsonage, 82-0-82