Hoefer II Victorious in Frog Lake
By: Kacie Albert Monday, August 6, 2018 @ 10:51 AM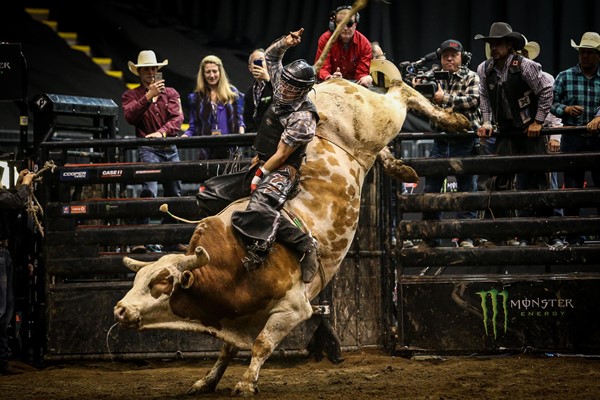 FROG LAKE, Alberta – As the only rider to deliver a flawless 2-for-2 effort, Thor Hoefer II (Priest River, Idaho) captured his first event win since 2016, victorious Sunday night at the PBR Canada Touring Pro Division's Frog Lake PBR.
To begin the night, the 22-year-old recorded the second-best marks in Round 1, covering Heaven Sent (Thompson Rodeo Co.) for 82.5 points.
In the Championship Round, Hoefer was the only rider to make the 8 aboard his final draw, riding Border King (Foley Bucking Bulls) to a matching 82.5-point score.
His perfect performance netted him $4,736.98 in addition to 320 Canadian and 60 world points.
Surging first-year rider Nick Tetz (Calgary, Alberta) finished second and third compliments of his double entry. His runner-up finish was backed by a Round 1-best 83.5-point trip on Whack Pack (Wild Hoggs Bucking Bulls), while his bronze result came via an 82-point ride in the first round aboard Hollow Point (Vold Rodeo).
Collectively the 18-year-old left his home province event with $4,055.21, 320 Canadian and 50 world points. The winnings allowed him to surpass Austin Richardson (Wilmer, Texas) in the race for the 2018 PBR Canada Rookie of the Year title, now trailing standings leader Daylon Swearingen (Piffard, New York) by 229.99 points.
In the national standings, Tetz rose eight positions, now ranked No. 11.
Fourth went to current Canadian No. 1 Brock Radford (De Winton, Alberta), earning $965.10, 95 Canadian and 15 world points. His result was backed by an 81-point ride on Canadian Outlaw (Vold Rodeo) in Round 1.
Rounding out the Top 5 was Cody Coverchuk (Meadow Lake, Saskatchewan). Making the 8 aboard I'm A Hellion (Wilson Rodeo) for 80.5 points, Coverchuk collected a check for $508.23, 75 Canadian and 10 world points.
The Top-5 effort, his thirteenth of the season, elevated Coverchuk to No. 2 in the national standings, where he now trails Radford by 215.84 points.
PBR Canada's Touring Pro Division next travels to Whitecourt, Alberta and the Scott Safety Centre on Friday, August 10 for PBR Whitecourt. Action begins at 7:00 p.m. MT.
Frog Lake PBR – August 5, 2018
Frog Lake, Alberta – Frog Lake Rodeo and Racing Grounds
PBR Canada Touring Pro Division Event Results
Event Leaders (Round 1- Round 2 -Aggr. Score- Money Earned-Canadian Points-World Points)
1. Thor Hoefer II, 82.5-82.5-165-$4,736.98-320-60
2. Nick Tetz, 83.5-0-83.5-$2,558.85-195-30
3. Nick Tetz [2], 82-0-82-$1,496.36-125-20
4. Brock Radford, 81-0-81-$965.10-95-15
5. Cody Coverchuk [2], 80.5-0-80.5-$508.23-75-10
6. Klayton Lakevold [2], 64-0-64-$359.48-30-5