Hansen Wins in Dawson Creek
By: Kacie Albert Wednesday, December 5, 2018 @ 12:53 PM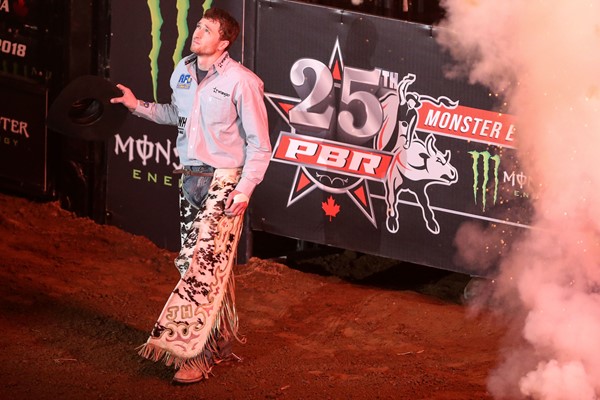 DAWSON CREEK, British Columbia – At the first PBR Canada event of the 2019 season, Jordan Hansen (Okotoks, Alberta) went a perfect 2-for-2 to capture the Touring Pro Division (TPD) event win in Dawson Creek inside the Encana Centre.
To begin the event, Hansen won Round 1 with an 88-point trip aboard Come on Over (Vold Rodeo).
The 25-year-old then brought the crowd to its feet, recording the first 90-point ride of the season, covering Sure Shot Panda Haus (Big Chief/Armstrong) for 90 points to win the championship round. In 2018, only three 90-point efforts were recorded at Canadian events, with the first coming in July at the second of three days of TPD action in Calgary.
For his flawless performance, Hansen earned $3,940.18, 350 Canadian and 60 world points. After crowing Cody Coverchuk (Meadow Lake, Saskatchewan) the 2018 PBR Canada Champion just one week prior, Hansen is now the No. 1 ranked rider in Canada, 196.67 points in front of both Jared Parsonage (Maple Creek, Saskatchewan) and Dalan Duncan (Ballard, Utah).
Parsonage and Duncan tied for second at the event after both riders also went 2-for-2.
In Round 1, Parsonage covered Walk Away (Outlaw Buckers) for 85.5 points, a score matched by Duncan on El Camino (Wild Hoggs).
The duo of riders again recorded equally-marked 87.5-point trips in the championship round, with Parsonage riding Swagger (Vold Rodeo/Dynamite Buckers) and Duncan lasting the 8 on Hookasaurus (Wild Hoggs).
Each rider left the British Columbia city with $1,916.11, 153.33 Canadian and 25 world points.
Fourth went to Josh Frost (Randlett, Utah), the final rider to be perfect at the event, earning him $917.58, 103.33 Canadian and 15 world points.
Following his 85.5-point trip on Mr. Legit (Vold Rodeo) in Round 1, Frost rode OLS Tubs Anika's Pet (Outlaw Buckers) for 84.5 points in the championship round.
Rounding out the Top 5 was home province favorite Jackson Scott (Kamloops, British Columbia) after he rode Cold Water (Pozzobon Cattle Co.) for 87.5 points in Round 1.
For his efforts, he earned $939.17, 95 Canadian and 10 world points.
The 2019 PBR Canada season continues on January 26, 2019 with the Winnipeg Classic at Bell MTS Place.
Tickets for the event range in price from $25 to $100, standard fees apply, and can be purchased at the Bell MTS Place Box Office, online at www.Ticketmaster.ca, or by phone at 1-855-985-5000.
Dawson Creek, British Columbia – Encana Events Centre
PBR Canada Touring Pro Division Event Results
Event Results (Round 1- Round 2 -Aggr. Score- Money Earned-Canadian Points-World Points)
1. Jordan Hansen, 88-90-178-$3,940.18-350-60
2T. Dalan Duncan, 85.5-87.5-173-$1,916.11-153.33-25
2T. Jared Parsonage, 85.5-87.5-173-$1,916.11-153.33-25
4. Josh Frost, 85.5-84.5-170-$917.58-103.33-15
5. Jackson Scott, 87.5-0-87.5-$939.17-95-10
6T. Edgar Durazo, 86.5-0-86.5-$507.37-57.5-2.5
6T. Cole Young, 86.5-0-86.5-$507.37-57.5-2.5
8. Todd Chotowetz, 85-0-85-$151.13-15-0