Gleeson Earns First PBR Victory in Marwayne
By: Ted Stovin Monday, April 9, 2018 @ 12:55 PM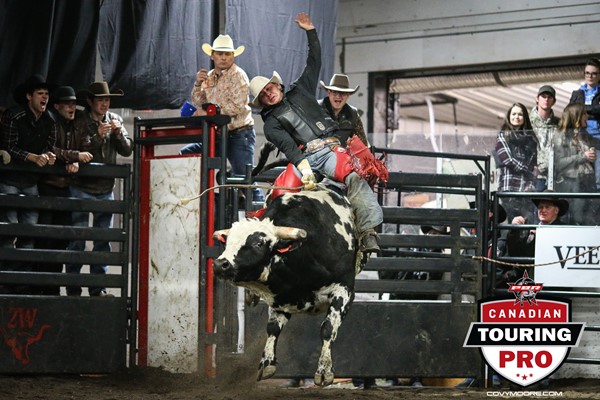 MARWAYNE, Alberta – At Saturday's Garnier Custom Silage Marwayne PBR, the league saw its third winner, in as many Touring Pro Division stops, when 23-year-old Wyatt Gleeson (Sundre, Alberta) rode to the first PBR event victory of his career.
While Gleeson began the night with an 86-point effort on Jitter Bug (Girletz Rodeo Stock), his event win was capped with a historic trip 86.5-point trip aboard Buck Nasty (Foley Bucking Bulls) in the Championship Round. The qualified ride on the bovine athlete, marked the first time a rider made the 8 on him in PBR competition.
For the win, Gleeson earned $4,179.45, in addition to 320 Canadian and 60 world points. He is now the No. 4-ranked rider in the PBR Canada Standings, trailing No. 1 Brock Radford (De Winton, Alberta) by 537.5 points, and has cracked the Top 100 in the PBR's World Standings. Both are career bests for the rising Canuck. 
British Columbia bull rider Jake Gardner (Fort St. John) finished second in Marwayne as the only other rider to deliver a flawless 2-for-2 performance. Garner tamed Lace Up (Girletz Rodeo Stock) for 83.5 points in Round 1, setting him up to square off with three-time PBR World Finals bucking bull Minion Stuart (Skori Bucking Bulls) in the final round.
There, the second-year pro rode to the round win courtesy of an 87.5-point effort.
Earning 30 world and 195 Canadian points, Gardner is now ranked No. 9 in the Canadian standings, 662.5 points behind Radford. He also leaves Northeastern Alberta with $2,889.15 and a new career-high event finish.
Dayton Johnston (Milk River, Alberta), also a second year PBR contender, finished third. Second after Round 1, where he covered Dark Sarcasm (Thompson Rodeo) for 85 points, Johnston bucked off of Get it Poppin' (Vold Rodeo) in the final round. He earned $1,683 and 135 Canadian points in Marwayne climbing into the Top 10 in the Canada standings after beginning the event No. 14.
Tied for fourth were Wacey Finkbeiner (Ponoka, Alberta) and Cody Coverchuk (Meadow Lake, Saskatchewan). Both riders were marked 84.5 points in Round 1, covering Cuckoo Kong (Girletz Rodeo Stock) and F.O.A.D (Thompson Rodeo), respectively. For their work, each man earned $880.70, 90 Canadian and 12.5 world points. 
In the race for the 2018 PBR Canada Championship, No. 2 Zane Lambert (Ponoka, Alberta) gained 15 points, who he now trail by 475.84 points, after he tied for eighth.
Electing to ride stateside this weekend, Radford gained ground in the PBR world standings, winning on the United States' Touring Pro Division in Ivins, Utah Friday night. Now ranked No. 40 in the world standings, he trails No. 35 Cody Heffernan (Singleton, New South Wales, Australia), and the threshold for a berth onto the elite 25th PBR: Unleash the Beast, by 52.5 points.
Next up for the PBR Canada's Touring Pro Division is the Clunie-Cooper Memorial PBR in Prince Albert, Saskatchewan at the Art Hauser Centre on May 4-5. Tickets are available at the venue box office. 
Be sure to stay tuned to PBRCanada.com and follow the tour on Facebook (PBR Canada), Twitter (@PBRCanada), and Instagram (@PBRCanada) for the latest results. 
Garnier Custom Silage Marwayne PBR Classic
PBR Canada Touring Pro Division Event Results
Name, Round 1-Round 2-Aggr. Score-Canadian Points- World Points-Money Earned
1. Wyatt Gleeson, 86-86.5-172.5-60-$4,179.45
2. Jake Gardner, 83.5-87.5-171-30-$2,889.15
3. Dayton Johnston, 85-0-85-20-$1,683.00
4T. Wacey Finkbeiner, 84.5-0-84.5-12.5-$880.77
4T. Cody Coverchuk, 84.5-0-84.5-12.5-$880.77
6. Jordan Hansen, 84-0-84-5-$314.16
7. Wyatt Laughlin, 82-0-82-0-$235.62
8T. Zane Lambert, 81.5-0-81.5-0-$78.54
8T. Italo Aguilar Goncalves, 81.5-0-81.5-0-$78.54
10. Aaron Roy, 81-0-81-0-$0
11. Fabian Dueck, 78.5-0-78.5-0-$0