Garrett Green Rides to Second PBR Canada Win of the Season in Moose Jaw
By: Kacie Albert Monday, June 11, 2018 @ 5:47 PM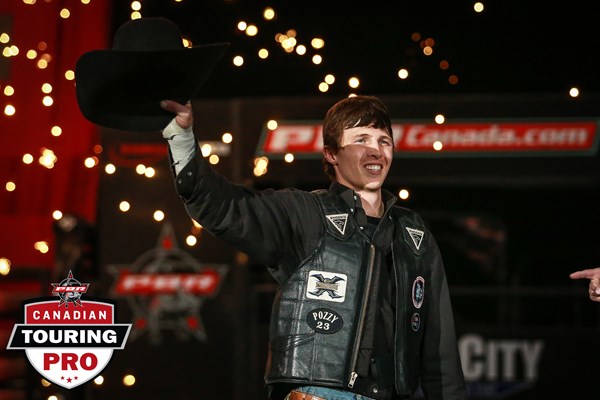 MOOSE JAW, Saskatchewan –Logging the high-marked ride of the event in Round 1, Garrett Green (Meeting Creek, Alberta) captured his second PBR (Professional Bull Riders) Canada Touring Pro Division event win of the season Saturday night in Moose Jaw, Saskatchewan, victorious at PBR Moose Jaw, powered by Young's Equipment.
The 26-year-old's victory was backed by his 84.5-point trip on Deja Voodoo (Flying Four Bucking Bulls) in Round 1.
Earning a check for $3,374.50, in addition to 60 world points, Green earned 275 points towards the Canadian national standings, allowing him to climb eight spots from No. 17 to No. 9. He now trails No. 1 Brock Radford (De Winton, Alberta) by 1,127.5 points.
Cole Young (Fairview, Alberta) finished second inside Mosaic Place, recording his best finish to date of the 2018 season, after covering Apex (Girletz Rodeo Stock) for 83.5 points in Round 1.
For the runner-up finish, Young netted 30 world and 165 Canadian points, in addition to a check for $2,471.38.
Second-year pro Dayton Johnston (Milk River, Alberta) made the 8 on Finning Outback Bill (Flying Four Bucking Bulls) in Round 1 for 80 points, leading him to a third place finish.
His efforts earned him $1,568.25 and 30 world points. The 21-year-old also collected 125 Canadian points, propelling him from No. 10 to No. 7 in the national standings, now 1,072.5 points behind No. 1 Radford.
As the lone rider to cover his Championship Round bull, Tim Lipsett (Lumsden, Saskatchewan) finished fourth in front of a home province crowd. His qualified ride came aboard Oklahoma Blues (Girletz Rodeo Stock) for 78.5 points, netting him $2,471.38, 15 world and 140 Canadian points.
Rounding out the Top 5 was Cody Coverchuk (Meadow Lake, Saskatchewan). The annual national title contender got the event off to a fast start as the first man out of the chutes in Round 1, covering Rainbow Warrior (DC Bucking Bulls) for 75 points.
Another home province hopeful, Coverchuk collected $739.50, 10 world and 80 Canadian points for his sixth Top 5 finish of the season. In the national standings, Coverchuk remained No. 4 but tightened the gap on No. 1 Radford to 807.5 points.
The PBR Canada Touring Pro Division next travels to Falher, Alberta and the Falher Rec Complex on Saturday, June 16 for Pokey's PBR at The Honey Festival. The action begins at 7:00 p.m. MT.
Be sure to stay tuned to PBRCanada.com and follow the tour on Facebook (PBR Canada), Twitter (@PBRCanada), and Instagram (@PBRCanada) for the latest results.
PBR Canada – Touring Pro Division – PBR Moose Jaw, powered by Young's Equipment
Moose Jaw, Saskatchewan – Mosaic Place
Event Leaders (Round 1-Round 2-Event Aggregate-Canadian Points-World Points-Payout)
Garrett Green, 84.5-0-84.5-275-60-$3,374.50
Cole Young, 83.5-0-83.5- 165-30-$2,471.38
Dayton Johnston, 80-0-80- 125-20-$1,568.25
Tim Lipsett, 0-78.5-78.5- 140-15-$2,471.38
Cody Coverchuk, 75-0-75- 80-10-$739.50