Flying Four's Finning Milky Chance Bucks off Pacheco in Round 4 of 2018 PBR World Finals
By: Kacie Albert Sunday, November 11, 2018 @ 1:15 AM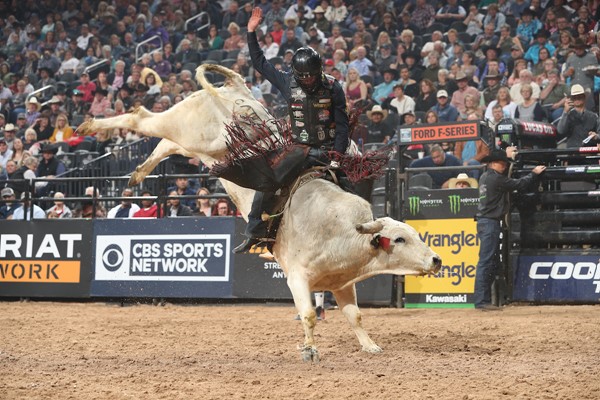 LAS VEGAS, Nevada – After making his PBR (Professional Bull Riders) World Finals debut Saturday night, Flying Four Bucking Bulls' Finning Milky Chance bested the No. 1 ranked bull rider in the world, dispatching Kaique Pacheco (Itatiba, Brazil) in 3.81 seconds to earn a 43.75-point bull score.
The bovine athlete owned by the Byrne family has now bucked off both riders to attempt him at the 25th PBR: Unleash The Beast World Finals, dispatching fellow Canadian Brock Radford (De Winton, Alberta) in 6.02 seconds in Round 3. The out earned Finning Milky Chance a 43-point bull score.
While he was the only bull from the Great White North in the fourth round draw, he was joined by three riders from the nation, including Radford.
After both Tanner Byrne (Prince Albert, Saskatchewan) and Dakota Buttar (Kindersley, Saskatchewan) made the 8 Saturday night, they were unable to convert for a second consecutive night, bucked off by Mind Freak (D&H Cattle Co./Buck Cattle Co.) in 3.45 seconds and Ol Boy (Dakota Rodeo-Chad Berger/Clay Struve/Ken Barnhard) in 7.65 seconds, respectively.
Byrne, 2-for-4 thus far in Sin City, is currently 14th in the overall event aggregate, while Buttar, who is 1-for-4, is 27th. In the world standings, Byrne enters Round 5 No. 31, while Buttar is No. 16.
For Round 5, the second and final rider-drafted round of the event, Byrne selected Sosa's Alley Cat (JD Nix/Sosa Buckers). Buttar will attempt Jungle Can Do (Owens/Wyatt/Smith).
In his first appearance at the most prestigious event in bull riding, Radford fell just short of recording his first qualified ride, sent to the dirt by Bandit (Halpain & Roth) in 7.82 seconds.  Currently ranked No. 39 in the world, Radford will go head-to-head with yet another Canadian bull in Round 5, drafting Nickel Package (Outlaw Buckers Rodeo Corp.).
Nickel Package bucked in Round 3, marked 43.75 points for his 3.15-second buckoff of Cody Nance (Paris, Tennessee).
In 16 outs across all levels of competition the bovine athlete has been ridden just once, by Scott Schiffner (Strathmore, Alberta) for 91.5 points in February 2017 at a CPRA event in Red Deer, Alberta.
The Round 5 draw will also include two additional Canadian bulls. The Outlaw Buckers Rodeo Corp. will also have Brahma Boots Chrome in the round, while Skori Bucking Bulls' Hanna Motors Two Point Oh will also return for a second out at the most prestigious event in bull riding.
Both bucking in Round 3, Brahma Boots Chrome was ridden by Cody Teel (Kountze, Texas) for 90 points, the third best score of the round, earning a 44.25-point bull score, while Hanna Motors Two Point Oh dispatched two-time PBR World Champion J.B. Mauney (Statesville, North Carolina) in 3.94 seconds for a 44-point bull score.
The duo of bulls were drafted by three-time PBR World Champion Silvano Alves (Pilar do Sul, Brazil) and Lachlan Richardson (Gresford, New South Wales, Australia), respectively.
For Australia's Richardson, currently the No. 1 ranked rider in the PBR Canada national standings, the matchup is a familiar one having bucked off the bull this May at the international Major event in Québec.
Bringing the electric crowd inside T-Mobile Arena to its feet, Teel recorded his second consecutive 90-point ride at the 25th PBR: Unleash The Beast World Finals to win Round 4 and rise to No. 4 in the world.
The 26-year-old's gritty 90.25-point score came aboard Medicine Man (TNT Bucking Bulls/Hart Cattle Co.), earning him $35,000 and 300 world points.
 "He's a really good bull, hairy in the chute," Teel said. "If you get out clean, you can get a chance to win."
Teel is now ninth in the overall event aggregate, 2-for-4 thus far in Las Vegas.  He joins Pacheco and Leme as the three riders with a shot at the PBR World Championship.  
Heading into Championship Sunday, Teel trails No.1 Pacheco by 2,072.5 points, as a rider capable of winning 2,100 points should he sweep both Round 5 and the championship round, and claim the 2018 PBR World Finals event title.
Pacheco will face M.A.G.A. (TNT Bucking Bulls/Hart Cattle Co.) in Round 5, the second round of the event with a rider-drafted draw.
Teel's resurgence in the third and fourth rounds of the most prestigious event in bull riding have further intensified the World Championship race, after both No. 1 Pacheco and No. 2 Jose Vitor Leme (Ribas do Rio Pardo, Brazil) bucked off in Round 4.
South Texas Gangster (Dakota Rodeo/Julie Rosen/Clay Struve/Chad Berger) became the first bovine athlete to buck off Leme inside T-Mobile Arena, ending his nine-out ride streak at the PBR World Finals.
With one day of action remaining in the 2018 season, the Brazilian stars are only 1,262.5 points apart. They will attempt Solid Iron's Hammer Down (PK Triplett Bucking Bulls) and Frequent Flyer (D&H Cattle/Erwin Cattle), respectively, in the fifth round.
In the event aggregate, Leme is third, while Pacheco has fallen outside the Top 10.
World No. 3 Claudio Montanha Jr. (Pacaembu, Brazil) made the 8 for the first time at the 2018 World Finals Saturday night, finishing third in Round 4 to earn $15,000 and 125 world points.
With an 89-point trip on Lil 2 Train (Braindead Cattle Company/Hilton Bull Co.), Montanha Jr. narrowed the gap on the No. 1 ranking. He is now 2,005.83 points behind Pacheco. His Round 5 out will come aboard Stuntman Ray (Broken Arrow Bucking Bulls).
Two riders remain flawless at the 2018 PBR World Finals. Marco Eguchi (Poá, Brazil), the overall event leader in the aggregate, improved to 4-for-4 after riding Big Benny (Curtis Mendell) for 86.25 points, while Chase Outlaw's (Hamburg, Arkansas) historic comeback continued when he covered Anthrax (EVP Bucking Bulls) for 86 points.
They will look to record their fifth rides Sunday afternoon, with Eguchi facing Lightning Before Thunder (Jenkins Cattle Co./Emerson Cattle) and Outlaw, currently second in the event aggregate, attempting Hangman (Owens/Wyatt/Smith).
Reigning World Champion Jess Lockwood (Volborg, Montana) finished second in Round 4, riding Uptown Funk (4G Ranch / Long) for 89.25 points, improving his overall record to 3-for-4 in Sin City. He is now sixth in the World Finals event aggregate.
Collecting $20,000 and 180 world points, Lockwood cracked into the Top 10 in the world standings after beginning the round No. 11.
Cooper Davis (Buna, Texas) continued his momentum from Friday, where he tied for fourth in Round 3, covering Wired Child (01 Cattle Co.) for 88.25 points to record yet another fourth place round finish.
Courtesy of the 8-seconds of work, the 2016 PBR World Champion netted $10,000 and 95 world points.
Tied for fifth was, Round 1 winner Matt Triplett (Volborg, Montana) and Richardson, each earning $4,500 and 62.5 world points for their matching 88-point rides.  
Triplett's qualified ride came aboard re-ride bull Big Black Cat (Dakota Rodeo/Chad Berger/Clay Struve/Heald Pro Bulls), while Richardson's was atop Night Sweats (Plummer/Hart Cattle Co.).
While Triplett remains No. 14 in the world, Australia's Richardson rose from No. 27 to No. 24.
Saturday night also concluded the ABBI World Finals Classic Event where more than $500,000 was paid out.
Hocus Pocus (D&H Cattle Co./Almand/Barthold) was crowned both the 2018 ABBI Classic Champion and 2018 ABBI World Finals Classic Event Champion. Courtesy of his two titles, earned via his 90.4-point score in Round 1 and 94.2-point trip in Round 4, the bovine athlete earned $200,000.
Prayer Warrior (Halpain/Roth) was crowned the 2018 ABBI World Finals Event Reserve Champion with 178 points in the average, collecting $50,000. The King (Halpain/Roth) was third with 176 points for a $35,000 payday.
Fearless (Julian/Buck Cattle/D&H Cattle) became the 2018 ABBI Classic Reserve Champion, earning a $50,000 bonus, while Patterson and Halpain's Little Tucker placed third in the year-end Classic Champion race.
The 2018 PBR World Finals will conclude with Round 5 and the Championship Round on Sunday, November 11. Action inside T-Mobile will begin at 12:40 p.m. PT, when the PBR World Champion, YETI World Champion Bull and Rookie of the Year will be crowned.
CBS Sports Network will televise the action LIVE beginning at 12:30 p.m. PT, accompanied by RidePass' listen LIVE stream, also starting at 12:30 p.m. PT.  
25th PBR: Unleash The Beast World Finals
T-Mobile Arena – Las Vegas, Nevada
Event Leaders (Round 1-Round 2-Round 3-Round 4-Round 5-Round 6-Event Aggregate-Event Points)
1. Marco Antonio Eguchi, 85.5-94-91-86.25-0-0-356.75-540 Points.
2. Cody Teel, 0-0-90-90.25-0-0-180.25-425 Points.
3. Jose Vitor Leme, 88.75-91-89.75-0-0-0-269.50-390 Points.
4. Matt Triplett, 89.25-0-86-88-0-0-263.25-362.5 Points.
5. Eduardo Aparecido, 89-87-87-0-0-0-263.00-247.5 Points.
6. Derek Kolbaba, 0-0-91-0-0-0-91.00-240 Points.
7. Jess Lockwood, 84.75-0-86.75-89.25-0-0-260.75-182.5 Points.
8. Cooper Davis, 0-0-89.75-88.25-0-0-178.00-180 Points.
9. Claudio Montanha Jr., 0-0-0-89-0-0-89.00-125 Points.
(tie). J.B. Mauney, 0-90.5-0-0-0-0-90.50-125 Points.
11. Kaique Pacheco, 87.25-88.75-0-0-0-0-176.00-117.5 Points.
12. Lachlan Richardson, 87.25-0-0-88-0-0-175.25-105 Points.
13. Cody Nance, 88.5-0-0-86.75-0-0-175.25-100 Points.
(tie). Chase Outlaw, 88-85-86-86-0-0-345.00-100 Points.
15. Paulo Ferreira Lima, 0-89.5-0-0-0-0-89.50-95 Points.
16. Guilherme Marchi, 86.5-86.75-83.5-0-0-0-256.75-60 Points.
17. Juan Carlos Contreras, 0-0-89-0-0-0-89.00-50 Points.
18. Cody Jesus, 0-0-87.5-0-0-0-87.50-35 Points.
19. Joao Ricardo Vieira, 86.25-0-81.75-87-0-0-255.00-30.83 Points.
20. Dener Barbosa, 0-0-84.75-87-0-0-171.75-23.33 Points.
(tie). Stetson Lawrence, 0-0-0-87-0-0-87.00-23.33 Points.
22. Colten Jesse, 0-0-87-0-0-0-87.00-17.5 Points.
23. Tanner Byrne, 86.25-0-86.75-0-0-0-173.00-10 Points.
24. Silvano Alves, 84.5-0-0-71.5-0-0-156.00
25. Ramon de Lima, 0-0-85.75-0-0-0-85.75
(tie). Luis Blanco, 0-0-85.75-0-0-0-85.75
27. Dakota Buttar, 0-0-82.75-0-0-0-82.75
28. Ryan Dirteater, 0-0-81.75-0-0-0-81.75
(tie). Alex Marcilio, 0-0-81.75-0-0-0-81.75
Luciano De Castro, 0-0-0-0-0-0-0.00
Fabiano Vieira, 0-0-0-0-0-0-0.00
Valdiron de Oliveira, 0-0-0-0-0-0-0.00
Keyshawn Whitehorse, 0-0-0-0-0-0-0.00
Nathan Burtenshaw, 0-0-0-0-0-0-0.00
Brennon Eldred, 0-0-0-0-0-0-0.00
Koal Livingston, 0-0-0-0-0-0-0.00
Sean Willingham, 0-0-0-0-0-0-0.00
Alisson De Souza, 0-0-0-0-0-0-0.00
Gage Gay, 0-0-0-0-0-0-0.00
2018 PBR World Standings
(Place, Rider, Events, Wins, Top 5's, Points, Total Winnings)
Kaique Pacheco, 47, 10, 18, 5,444.16, $516,094.62
Jose Vitor Leme, 40, 5, 15, 4,181.66, $284,175.66
Claudio Montanha Jr., 48, 2, 13, 3,438.33, $260,405.51
Cody Teel, 42, 2, 14, 3,371.66, $290,008.78
Luciano De Castro, 38, 3, 11, 3,122.50, $248,730.17
Ramon de Lima, 45, 3, 9, 2,887.50, $305,365.74
Cooper Davis, 37, 1, 11, 2,782.50, $245,525.17
Cody Nance, 42, 3, 7, 2,638.33, $218,317.66
Eduardo Aparecido, 40, 2, 9, 2,519.99, $185,555.89
Jess Lockwood, 33, 4, 9, 2,150.00, $224,301.75
Fabiano Vieira, 43, 2, 9, 2,100.83, $158,561.00
Dener Barbosa, 41, 1, 14, 1,954.99, $153,030.11
Derek Kolbaba, 46, 2, 12, 1,920.00, $231,177.39
Matt Triplett, 31, 1, 15, 1,842.50, $114,131.32
Marco Antonio Eguchi, 42, 2, 5, 1,720.00, $73,504.50
Dakota Buttar, 41, 1, 6, 1,592.50, $106,353.78
Ryan Dirteater, 32, 3, 4, 1,552.50, $109,995.00
Valdiron de Oliveira, 39, 0, 6, 1,285.82, $64,520.66
Joao Ricardo Vieira, 42, 3, 10, 1,247.49, $97,660.06
Keyshawn Whitehorse, 43, 2, 7, 1,198.33, $83,523.15
Colten Jesse, 41, 4, 8, 1,180.00, $104,377.87
Chase Outlaw, 22, 3, 9, 1,167.50, $83,874.19
Guilherme Marchi, 23, 1, 2, 1,070.83, $77,833.98
Lachlan Richardson, 68, 3, 23, 1,032.50, $90,024.88
Alex Marcilio, 29, 1, 4, 1,030.00, $97,474.61
Stetson Lawrence, 44, 1, 7, 1,000.83, $72,825.92
Nathan Burtenshaw, 40, 2, 7, 972.50, $63,628.98
J.B. Mauney, 27, 1, 5, 959.16, $48,920.69
Brennon Eldred, 37, 0, 5, 957.50, $114,961.31
Koal Livingston, 30, 1, 12, 947.50, $88,635.26
Tanner Byrne, 37, 2, 4, 937.50, $71,956.60
Silvano Alves, 38, 2, 5, 893.32, $82,595.24
Sean Willingham, 41, 2, 9, 891.66, $70,036.17
Alisson De Souza, 43, 2, 10, 790.00, $150,113.90
Gage Gay, 20, 1, 2, 772.50, $116,868.13
Lonnie West, 47, 4, 10, 752.50, $84,056.29
Cody Jesus, 12, 1, 4, 745.00, $48,144.72
Marcos Gloria, 26, 2, 5, 700.00, $116,698.43
Brock Radford, 52, 3, 14, 695.00, $81,255.06
Cannon Cravens, 21, 1, 6, 680.00, $42,624.51
Rubens Barbosa, 53, 3, 12, 604.16, $68,362.33
Emilio Resende, 15, 0, 2, 600.00, $37,827.86
Cody Heffernan, 26, 3, 9, 585.00, $29,208.25
Paulo Ferreira Lima, 31, 2, 8, 548.33, $46,925.87
Juan Carlos Contreras, 49, 2, 7, 517.50, $45,855.43