Flawless Radford Wins Season-Launch Monster Energy Tour Event in Calgary
By: Kacie Albert Saturday, March 24, 2018 @ 11:23 PM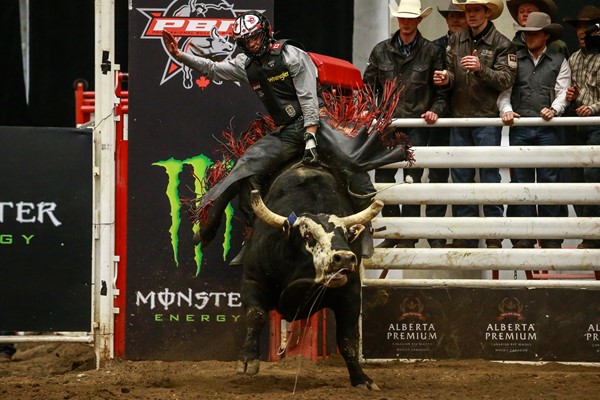 CALGARY, Alberta – In front of an electric, capacity crowd at the Nutrien Western Event Center, Alberta's own Brock Radford (De Winton, Alberta) won the season-launch PBR (Professional Bull Riders) Canada Monster Energy Tour, presented locally by Mac's and Circle K.
The 22-year-old's flawless effort came in front of a crowd of historic proportions, with the Calgary stop marking the first time an event sold out inside the venue located on Stampede Park. 
Radford began the night with an 84.5-point trip aboard Liberty Tower (Braithwaite Ranches), to finish third in Round 1.
In the Championship Round, Radford faced a familiar draw in 2015 PBR Canada Bull of the Year Minion Stuart (Skori Bucking Bulls), who in their last meeting he covered for 87.5 points to win Round 1 of the 2017 PBR Canada Finals.
In similar fashion, Radford once again covered the bovine athlete in Alberta's largest city, marked an identical 87.5 points, earning him both the round and event win.
Error loading Partial View script (file: ~/Views/MacroPartials/RichtextEmbedVideo.cshtml)
For his flawless effort, Radford earned $5,469.75, along with 500 points towards the Canadian national standings and 120 towards the broader PBR world standings.
Entering the event the No.1-ranked rider in the nation, Radford extended his lead atop the standings, now 500.84 points ahead of new No. 2 Zane Lambert (Ponoka, Alberta).
Radford also climbed to No. 44 in the world standings, where he now trails No. 35 Juan Carlos Contreras (Huichapan, Mexico), and the threshold for a berth onto the elite 25th PBR: Unleash The Beast, by 92.5 points.
Marcos Gloria (Central de Minas, Brazil) finished second as the only other rider to go 2-for-2, earning $3,710.25, in addition to 200 Canadian and 70 world points. He leaves Calgary the No. 6-ranked rider in the Canadian national standings, 657.5 points behind No. 1 Radford.
In Round 1, the Brazilian rider covered Sinners Like Me (Braithwaite Ranches) for 72 points, which he followed with an 84-point effort aboard White Tie (Vold Rodeo/Prescott) in the event's final round.
Reigning and two-time PBR Canada Champion Lambert was third at the Monster Energy Tour's first event back in the city since 2017.
The veteran began the night on a winning note, the top-ranked rider in Round 1 after he made the 8 atop The Silence (Nansen Vold Rodeo) for 86 points.
Lambert, however, wasn't able to continue the momentum, bucked off by Carlier Cartel (X6 Ranch Bucking Cattle) in 2.58 seconds in the Championship Round.
The 31-year-old leaves Calgary with a paycheck for $2,524.50, in addition to 200 Canadian and 40 world points.
After beginning the event No. 6 in the Canadian standings, Lambert is now the No. 2 rider in the national rankings, 500.84 points behind Radford.
Fourth place went to Justin Lloyd (Tisdale, Saskatchewan) who earned his lone qualified ride in Round 1, covering Riggs (Don and Burke Ramsay) for 85.5 points.
He earned $1,759.50, 120 Canadian and 20 world points. Lloyd rose three spots in the Canadian standings, now ranked No. 7, 692.5 points behind No. 1 Radford.
Tyler Pankewitz (Ponoka, Alberta) and Jake Lockwood (Volborg, Montana) rounded out the Top 5 after both covered their Round 1 draws for 84 points, earning $650.25 along with 67.5 Canadian and 12.5 world points.
Pankewitz made the whistle aboard Gunned Down (Skori Bucking Bulls), while during his PBR debut, Lockwood, the younger brother of reigning PBR World Champion Jess Lockwood (Volborg, Montana) rode Rockstar Wishes (Wild Hoggs Bucking Bulls/D&L Edge).
As he continues to make the second comeback of his career, Aaron Roy (Yellow Grass, Saskatchewan) finished seventh. The first man to leave the chutes in Calgary, Roy rode Weed and Whiskey (Two Bit Bucking Bulls) for 83.5 points in Round 1.
The three-time PBR Canada Champion is now ranked No. 16 in the National Standings, earning $321.30, 30 Canadian and 5 world points for his first Top 10 finish of the season.
Happy Camper (Two Bit Bucking Bulls) was the high-marked bull of the event, scored 43.5 points for dispatching Jake Gardner (Fort St. John, British Columbia) at the 4.44-second mark in Round 1.
Paralleling the season-launch Monster Energy Tour event was the first PBR Canada ABBI Classic event of the 2018 season, also won by Happy Camper. Scored 87.5 points, he earned $3,712.5. Finning Good Will Hunting (Flying Four Bucking Bulls) and Pennywise (X6 Ranch Bucking Cattle) tied for second after  bucking off Cody Casper (Pacific, Washington) in 2.91 seconds and Lonnie West (Cadogan, Alberta) in 3.40 seconds, respectively, to earn $2,193.75 each.
PBR Canada's Monster Energy Tour next travels to Ottawa, Ontario and the Canadian Tire Centre on May 12.
PBR Canada Monster Energy Tour, presented locally by Macs and Circle K
Calgary, Alberta - Nutrien Western Event Centre
Event Leaders (Round 1-Round 2-Event Aggregate-Canadian Points-World Points)
1. Brock Radford, 84.5-87.5-172.00-500-120
2. Marcos Gloria, 72-84-156.00-200-70
3. Zane Lambert, 86-0-86.00-200-40
4. Justin Lloyd, 85.5-0-85.50-120-20
5. Tyler Pankewitz, 84-0-84.00-67.5-12.5
(tie). Jake Lockwood, 84-0-84.00-67.5-12.5
7. Aaron Roy, 83.5-0-83.50-30-5
8. Thor Hoefer II, 80.5-0-80.50-20-0
9. Logan Biever, 78.5-0-78.50--0
10. Ron Hunt, 77.5-0-77.50-5-0
Cody Casper, 0-0-0.00-0
Lonnie West, 0-0-0.00-0
Kurt Shephard, 0-0-0.00-0
Jared Parsonage, 0-0-0.00-0
Cody Coverchuk, 0-0-0.00-0
Jordan Hansen, 0-0-0.00-0
Wacey Finkbeiner, 0-0-0.00-0
Wyatt Covington, 0-0-0.00-0
Jackson Scott, 0-0-0.00-0
Jake Gardner, 0-0-0.00-0
Fabian Dueck, 0-0-0.00-0
Dayton Johnston, 0-0-0.00-0
Italo Aguilar Goncalves, 0-0-0.00-0
Warlen Aquino, 0-0-0.00-0
Kale Marks, 0-0-0.00-0
Tim Lipsett, 0-0-0.00-0
Cole Young, 0-0-0.00-0
Weston Hartman, 0-0-0.00-0
Dakota Louis, 0-0-0.00-0
Dolon Wells, 0-0-0.00-0
2018 PBR Canada Standings
(Place, Rider, Events, Wins, Top 5's, Points, Total Winnings)
1. Brock Radford, 3, 1, 3, 857.50, $10,566.52
2. Zane Lambert, 3, 0, 2, 356.66, $4,152.42
3. Jared Parsonage, 3, 1, 1, 276.66, $3,368.30
4. Garrett Green, 2, 1, 1, 275.00, $5,665.25
5. Cody Coverchuk, 3, 0, 2, 245.00, $4,710.62
6. Marcos Gloria, 3, 0, 1, 200.00, $3,710.25
7. Justin Lloyd, 3, 0, 1, 165.00, $2,216.38
8. Wyatt Covington, 2, 0, 2, 160.00, $2,741.25
9. Logan Biever, 3, 0, 1, 150.00, $1,413.72
10. Wacey Finkbeiner, 3, 0, 1, 137.50, $2,558.50
11. Tyler Pankewitz, 3, 0, 1, 67.50, $650.25
11. Jake Lockwood, 1, 0, 1, 67.50, $650.25
13. Jackson Scott, 3, 0, 0, 66.66, $642.60
14. Dayton Johnston, 3, 0, 0, 45.00, $456.88
14. Italo Aguilar Goncalves, 3, 0, 0, 45.00, $246.33
16. Aaron Roy, 2, 0, 0, 30.00, $321.30
17. Thor Hoefer II, 1, 0, 0, 20.00, $214.20
18. Ron Hunt, 2, 0, 0, 5.00, $0.00
19. Edgar Durazo, 1, 0, 0, 0.00, $0.00
19. Lonnie West, 3, 0, 0, 0.00, $0.00
19. Cody Casper, 1, 0, 0, 0.00, $0.00
19. Jordan Hansen, 2, 0, 0, 0.00, $0.00
19. Dakota Louis, 1, 0, 0, 0.00, $0.00
19. Cole Young, 3, 0, 0, 0.00, $0.00
19. Kurt Shephard, 1, 0, 0, 0.00, $0.00
19. Tim Lipsett, 3, 0, 0, 0.00, $0.00
19. Kale Marks, 3, 0, 0, 0.00, $0.00
19. Fabian Dueck, 2, 0, 0, 0.00, $0.00
19. Jake Gardner, 3, 0, 0, 0.00, $0.00
19. Dalton Rudman, 1, 0, 0, 0.00, $0.00
19. Armando Davila Rodriguez, 1, 0, 0, 0.00, $0.00
19. Wyatt Laughlin, 2, 0, 0, 0.00, $0.00
19. Bryce West, 2, 0, 0, 0.00, $0.00
19. Cooper Zur, 2, 0, 0, 0.00, $0.00
19. Dolon Wells, 2, 0, 0, 0.00, $0.00
19. Chase Thielen, 2, 0, 0, 0.00, $0.00
19. Weston Hartman, 1, 0, 0, 0.00, $0.00
19. Dylan Somerville, 1, 0, 0, 0.00, $0.00
19. Ty Patten, 1, 0, 0, 0.00, $0.00
19. Warlen Aquino, 3, 0, 0, 0.00, $0.00
19. Wyatt Gleeson, 2, 0, 0, 0.00, $0.00
19. Micheal Ostashek, 2, 0, 0, 0.00, $0.00
19. Travis Maguire, 1, 0, 0, 0.00, $0.00