Coverchuk Wins Cody Snyder PBR Invitational
By: Kacie Albert Sunday, May 27, 2018 @ 11:29 AM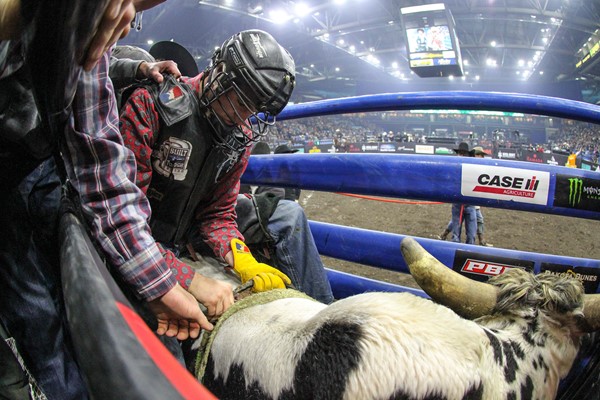 SWIFT CURRENT, Saskatchewan – Cody Coverchuk (Meadow Lake, Saskatchewan) captured his first PBR (Professional Bull Riders) Canada event win of the season, victorious Saturday night at the Touring Pro Division's Cody Snyder PBR Invitational in Swift Current, Saskatchewan.
The 24-year-old home province rider was propelled to the win by his Round 1 winning, 85.5-point trip on Ray's Last Jump (Girletz Rodeo Stock).
For his fifth Top-5 finish of the season, Coverchuk, who has a strong track record at this event, victorious in 2014, in addition to recording second and fourth place efforts the past two seasons, collected a check for $4,953.37 in addition to 275 Canadian and 60 world points.
Recording the best finish of his career, Jake Gardner (Dawson Creek, British Columbia) finished second, earning $3,652.87, along with 165 Canadian and 30 world points.
To begin the event, Gardner made the 8 aboard Whiskey Hand (Vold Rodeo/Prescott) for 84 points, just the second qualified ride aboard the bovine athlete in 12 attempts.
Third went to newly minted Team Canada rider Wacey Finkbeiner (Ponoka, Alberta), his sixth Top-10 finish of the 2018 season, who covered Apex (Girletz Rodeo Stock) for 83.5 points in Round 1.
Ahead of his trip to Sydney, Australia for the second leg of the inaugural Global Cup, the effort earned the 25-year-old $2,352.37, 125 Canadian and 20 world points.
Tim Lipsett (Lumsden, Saskatchewan) and Stetson Lawrence (Williston, North Dakota) finished fourth and fifth, respectively. Lipsett's qualified ride came aboard Blue Print (Girletz Rodeo Stock) for 83 points, while Lawrence conquered Monster (Outlaw Buckers Rodeo Corp) for 82 points.
Competing in front of a home province crowd, Lipsett left Swift Current with $1,587.37, 95 Canadian and 15 world points, while former PBR Canada Champion Lawrence earned $929.48, 75 Canadian and 10 world points.
The Touring Pro Division next travels to Moose Jaw, Saskatchewan and Mosaic Place on Saturday, June 9 for the PBR Moose Jaw, powered by Young's Equipment. The event gets underway at 7:00 p.m. CT.
PBR Canada – Touring Pro Division – Cody Snyder PBR Invitational
Swift Current, Saskatchewan – Swift Current iPlex
Event Leaders (Round 1-Round 2-Event Aggregate-Canadian Points-World Points-Payout)
1. Cody Coverchuk, 85.5-0-85.5-275-60-$4,953.37
2. Jake Gardner, 84-0-84-165-30-$3,652.87
3. Wacey Finkbeiner, 83.5-0-83.5-125-20-$2,352.37
4. Tim Lipsett, 83-0-83-95-15-$1,587.37
5. Stetson Lawrence, 82-0-82-75-10-$929.48
6. Michael Ostashek, 81.5-0-81.5-30-5-$715.28
7. Ron Hunt, 69-0-69-20-0-$608.18
8. Dalton Rudman, 68-0-68-15-0-$501.08
Jake Lockwood, 0-0-0.00-0-0-$0
Logan Biever, 0-0-0.00-0-0-$0
Kale Marks, 0-0-0.00-0-0-$0
Dylan Sommerville, 0-0-0.00-0-0-$0
Italo Aguilar Goncalves, 0-0-0.00-0-0-$0
Wyatt Laughlin, 0-0-0.00-0-0-$0
Nick Tetz, 0-0-0.00-0-0-$0
Dakota Louis, 0-0-0.00-0-0-$0
Derek Kolbaba, 0-0-0.00-0-0-$0
Cody Floyd, 0-0-0.00-0-0-$0