Chotowetz Wins Inaugural PBR Event in Falher
By: Kacie Albert Monday, June 18, 2018 @ 4:54 PM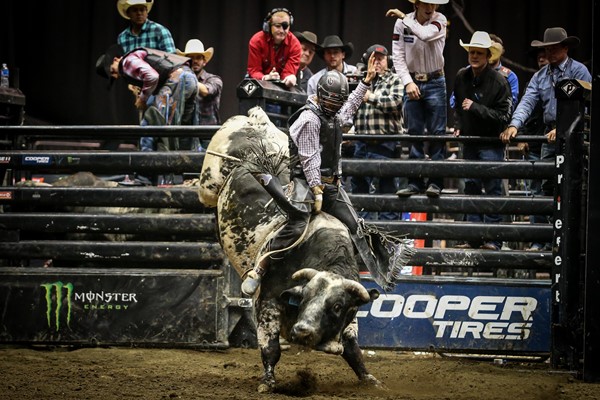 FALHER, Alberta – Inside Falher Rec Complex, Todd Chotowetz (Major, Saskatchewan) went a perfect 2-for-2 to capture the victory at the inaugural Pokey's PBR (Professional Bull Riders) Canada Touring Pro Division (TPD) event. 
The lone rider to deliver a flawless performance, Chotowetz began the event with an 84.5-point trip aboard Black Bath (Vold Rodeo) in Round 1, followed by an 81-point ride on Slip of the Lip (Thompson Rodeo Livestock) in Round 2.
For the win, his first of the season, Chotowetz left Falher with a check for $4,166.84, in addition to 305 Canadian and 60 world points.  
Cody Coverchuk (Meadow Lake, Saskatchewan) finished second after covering Pound Sand (Wild Hoggs/Corey Chmelnyk) for 88 points to win Round 1.
The runner-up effort is the 24-year-old's seventh Top-5 effort of the season, and fourth from the past five PBR Canada events he's entered. 
Earning $2,441.34 and 30 world points, Coverchuk also collected a crucial 195 Canadian points allowing him to further tighten the gap on the nation's No. 1 Brock Radford (De Winton, Alberta). Ranked No. 4 in the Canadian standings, Coverchuk now trails Radford by 612.5 points.   
Sundre, Alberta's Wyatt Gleeson finished third, his best result since winning the Touring Pro Division's stop in Marwayne in April, earning $1,603.24, 135 Canadian and 20 world points.
His finish was backed by an 85-point score on Chiseled in Stone (Thompson Rodeo Co.) in Round 1.
Jared Parsonage (Maple Creek, Saskatchewan), fresh off his trip to Australia to compete as a member of Team Canada at the Global Cup, and Cody Floyd (Kipling, Saskatchewan) tied for fourth after both made the 8 in Round 1 for 84.5 points. Parsonage covered Hello Darkness (Thompson Rodeo), while Floyd's qualified ride came on Baja Midnight (Vold Rodeo/Rafter G Rodeo).
Each rider netted $824.20, in addition to 87.5 Canadian and 12.5 world points.
The Touring Pro Division next travels to Cluny, Alberta on Monday, July 2 for the Cluny Lions Charity Bullarama at Coulee Creek Farms. The action begins at 6:00 p.m. MT.
Be sure to stay tuned to PBRCanada.com and follow the tour on Facebook (PBR Canada), Twitter (@PBRCanada), and Instagram (@PBRCanada) for the latest results. 
PBR Canada – Touring Pro Division – Pokey's PBR Canada TPD
Falher, Alberta – Falher Rec Complex
Event Leaders (Round 1-Round 2-Event Aggregate-Canadian Points-World Points-Payout)
1. Todd Chotowetz, 84.5-81-165.5-305-60-$4,166.84
2. Cody Coverchuk, 88-0-88-195-30-$2,441.34
3. Wyatt Gleeson, 85-0-85-135-20-$1,603.24
4T. Jared Parsonage, 84.5-0-84.5-87.5-12.5-$824.20
4T. Cody Floyd, 84.5-0-84.5-87.5-12.5-$824.30
Dayton Johnston, 0-0-0-0-0-$0
Justin Lloyd, 0-0-0-0-0-$0
Cole Young [1], 0-0-0-0-0-$0
Cole Young [2], 0-0-0-0-0-$0
Tim Lipsett, 0-0-0-0-0-$0
Michael Ostashek, 0-0-0-0-0-$0
Jackson Scott, 0-0-0-0-0-$0
Ron Hunt, 0-0-0-0-0-$0
Cooper Zur, 0-0-0-0-0-$0
Italo Aguilar Goncalves, 0-0-0-0-0-$0
Klayton Lakevold, 0-0-0-0-0-$0