Canada's Best Bull Riders Travel to Australia for Second Leg of PBR's Inaugural Global Cup
By: Kacie Albert Wednesday, June 6, 2018 @ 10:42 AM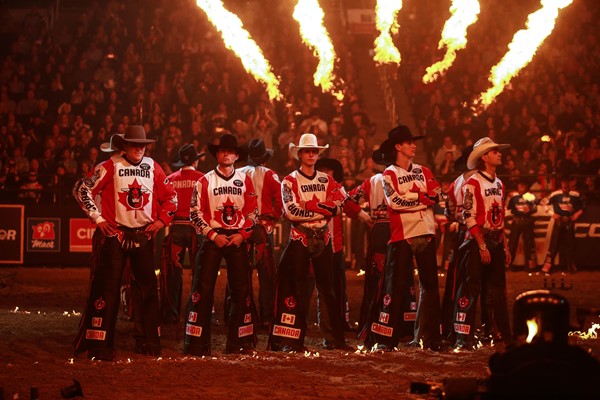 SASKATOON, Saskatchewan – After hosting the first stop of the inaugural PBR (Professional Bull Riders) Global Cup last November in Edmonton, Canada's best bull riders will now travel to Sydney, Australia and Qudos Bank Arena on June 9-10 in an effort to claim the title of "toughest nation on dirt."
Fans will be able to watch all five hours of action live from Olympic Park in Sydney exclusively on RidePass, the new digital western sports network. Award winning broadcaster Craig Hummer will call the play-by-play with three-time PBR World Champion Adriano Moraes serving as color analyst and western sports commentator Kate Harrison as sideline reporter.
The PBR Global Cup, the ultimate expression of national pride on an international stage in the sport of professional bull riding, is a five-country competition in which riders compete to become the world's top bull-riding nation.
"The Global Cup transforms an individual performance-based sport into a team-based battle for national pride," said Sean Gleason, CEO, PBR. "If our thrilling inaugural event in Edmonton is any indication, it's going to be an epic competition as the best of the world put it all on the line for their home countries."
Each night of the two-day event, all seven of Team Canada's riders will attempt one bull as assigned by the nation's coach from those bovine athletes in their section. At the conclusion of each evening's first round, the coach will then choose two riders to attempt one more bull each in the night's bonus round.
The Top 12 qualified rides from each team will be counted toward their aggregate score, with the highest being named the PBR Global Cup event winner.
In addition to riding for their piece of the $750,000 AUD purse, the world's best bull riders will also be competing for the Australian horn from the glittering Global Cup trophy with the host nation's dirt encapsulated inside.
Returning to lead the team in Australia is coach Aaron Roy (Yellow Grass, Saskatchewan), a seven-time PBR World Finals qualifier and three-time PBR Canada Champion. On home dirt at Rogers Place in Edmonton at the first stop of the Global Cup, Canada led after the first night of competition. A furious round two comeback by the U.S. and strong riding from Brazil brought Team Canada to a third place finish. 
Leading the seven-rider contingent down under is Dakota Buttar (Kindersley, Saskatchewan), the top-ranked Canadian in the PBR World standings, currently No. 13. A returning competitor for Team Canada, Buttar's performance in Edmonton was cut short after he broke his foot during the first round of competition. Thus far in 2018, the 25-year-old has been electric, recording seven Top-10 finishes on the premier 25th PBR: Unleash The Beast.
Fellow elite tour regular Tanner Byrne (Prince Albert, Saskatchewan) will also return to represent the Maple Leaf in Sydney. After beginning the 2018 season riding at two PBR Australia events, Byrne has since earned two event wins en route to becoming the No. 21-ranked bull rider in the world.
The best performing rider for Team Canada in Edmonton, Lonnie West (Cadogan, Alberta) will look to repeat his success in Australia. The 22-year-old will make the more than 8,000-mile trip with a victory at his back, winning at last weekend's PBR Canada Monster Energy Tour event in Moncton, New Brunswick.  West made his debut on the PBR's premier series earlier this season in Billings, Montana, where he was eighth. He has recorded two event wins and nine Top-10 finishes and is now ranked a career-high No. 33 in the world.
The remainder of the team includes:
Brock Radford (De Winton, Alberta): Currently the No. 1 ranked rider in the Canadian national standings, thus far in 2018, Radford has ridden to an event win and six Top-5 finishes at Canadian events, in addition to making six appearances on the elite 25th PBR: Unleash The Beast. Ranked No. 31 in the world, like Byrne, Radford also began his season in Australia, riding at three events.
Zane Lambert (Ponoka, Alberta): As a two-time and reigning PBR Canada Champion, Lambert is one of only two riders, alongside coach Roy, to hold multiple national titles (2013 and 2017). He is no stranger to Australian competition, riding in the nation during four prior seasons, including for the 2009 PBR World Cup. Lambert has earned six Top-10 finishes this season ahead of his return to the country.
Jared Parsonage (Maple Creek, Saskatchewan): One of two new faces to the Team Canada roster, Parsonage is one of the most consistent Canadian riders at PBR events, thus far covering eight of his 15 bulls (53.33%). Thus far in 2018, the 25-year-old's season has been highlighted by his event win in Teepee Creek, Alberta.
Wacey Finkbeiner (Ponoka, Albert): Selected by coach Roy to replace injured teammate Jordan Hansen (Okotoks, Alberta), Finkbeiner will be making his Australian debut at the Global Cup. Ahead of his first out on the world stage, Finkbeiner has earned five Top-5 finishes at Canadian events.
On hand in case of injury will be alternate Justin Lloyd (Tisdale, Saskatchewan), part of the 14-rider Team Canada contingent in Edmonton.
Global Cup action gets underway at 7:00 p.m. ACST on Saturday, June 9 and will conclude on Sunday, June 10 at 7:00 p.m. ACST.
RidePass coverage will begin at 5:30am ET on both Saturday, June 9 and Sunday, June 10.
Fans will also be able to watch all the action on TSN2 when the network airs a one-hour highlights program from the event on Tuesday, July 3 at 7:00 p.m. ET.
Be sure to stay tuned to PBRCanada.com for the latest event information, and follow the team's journey on Facebook (PBR Canada), Twitter (@PBRCanada), and Instagram (@PBRCanada).