Byrne Tied for 12th at 2018 PBR World Finals After Round 2
By: Kacie Albert Friday, November 9, 2018 @ 12:00 PM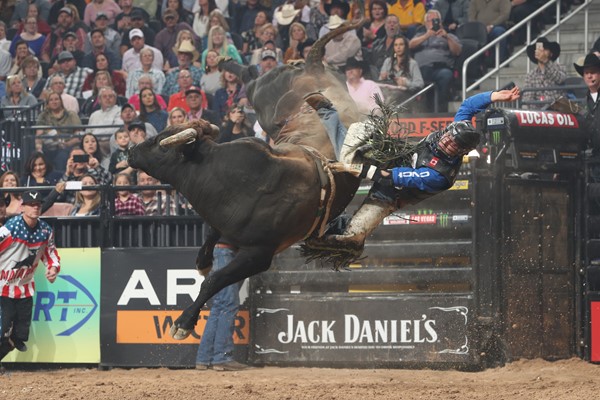 LAS VEGAS – After recording a qualified ride in Round 1 of the 25th PBR: Unleash The Beast World Finals, Tanner Byrne (Prince Albert, Saskatchewan) was unable to continue the moment in the second round, bested by After Midnight (01 Cattle Co/Hodges/Shuler/SM Whitehead).
Compliments of his 86.25-point ride aboard Concealed Carry (Rockin R Bucking Bulls) in Round 1, Byrne enters Round 3 tied for twelfth in the overall event standings. As the first draft round of the event, the 2015 PBR (Professional Bull Riders) Canada Champion has elected to attempt Stage Fright (Windy Valley Buckers) Friday night inside T-Mobile Arena.
Dakota Buttar (Kindersley, Saskatchewan) also fell short of the 8-second mark, bucked off by Star Flight (Cooper/ Scruggs Bucking Bulls). He will look to record his first qualified ride at this season's edition of the most prestigious event in bull riding aboard Milky Jones (Phenom Genetics/JCL Bucking Bulls/Waller Brothers Cattle Co./Goods Bucking Bulls).
For Buttar, however, the night did play host to yet another career milestone. For the second consecutive year, he was awarded the Glen Keeley Award as the top-ranked Canadian rider in the world standings.
Making his World Finals debut in Ryan Dirteater's (Hulbert, Oklahoma) place, out due to concussion, Lonnie West (Cadogan, Alberta) was unable to cover Hostage (OK Corralis/Gordan/D&H Cattle Co.).
Joining the contingent of Canadian riders in Round 3 will be nine bulls from the Great White North.
To begin the night, Outlaw Buckers Rodeo Corp's Red Pheasant will be the first bull to erupt from the chutes, selected by Stetson Lawrence (Williston, North Dakota).
The company will also have Nickle Package and Brahma Boots Chrome in the third round, set to be attempted by Cody Nance (Paris, Tennessee)  and Cody Teel (Kountze, Texas), respectively.
Reigning Canadian Stock Contractor of the Year Nansen Vold will have a duo of bovine athletes bucking in Round 3, including VJV Whiskey Hand (Vold Rodeo), picked by Nathan Burtenshaw (Coonamble, New South Wales, Australia), and BAMF (Vold Rodeo), slated to face off against Fabiano Vieira (Pérola, Brazil).
Koal Livingston (Burleson, Texas) will climb aboard the Byrne family's Finning Milky Chance (Flying Four Bucking Bulls), while Joao Ricardo Vieira (Itatinga, Brazil) will look to make the 8 on Tykro Pound Sand (Wild Hoggs/Corey Chmelnyk).
The Canadian bull pen will also play host to two notable rematches: J.B. Mauney (Statesville, North Carolina) vs. Hanna Motors Two Point Oh (Skori Bucking Bulls) and Dener Barbosa (Paulo de Faria, Brazil) vs. Happy Camper (Two Bit Bucking Bulls).
Of the 12 rematches set to happen in Round 3, Mauney and Dener are two of the six riders to have previously covered their bovine opponents.
Mauney rode Two Point Oh during this summer's Calgary Stampede for 87 points, while Barbosa became the first rider to make the 8 on Happy Camper when he covered him during Round 3 of the 2017 PBR World Finals for a matching 87-point score.
As the final two men to erupt from the chutes inside T-Mobile Arena for Round 2 of the 25th PBR: Unleash The Beast World Finals, the top two contenders to be crowned the 2018 PBR World Champion, No. 1 Kaique Pacheco (Itatiba, Brazil) and No. 2 Jose Vitor Leme (Ribas do Rio Pardo, Brazil), continued their flawless performances in Sin City, fueling yet another intense race for the $1 million bonus and coveted gold buckle.
Continuing to ride with painful tears to both the MCL and PCL in his left knee, Pacheco inched one step closer to his first world title with an extraordinarily gutsy performance in covering  Smooth Wreck (Owens/Wyatt/Smith) for 88.75 points to finish fifth in the second round.
His Thursday night ride earned him $6,000 and 75 world points.
"I just try to clear my mind, focus on each bull, and get it done," Pacheco said through a translator.
Leme recorded his second 8-second effort of the event aboard Bad Beagle (Phenom Genetics/Rothe), marked 91 points to finish second in Round 2, earn 180 world points, and now leads the event.
The match-up was a familiar one for Leme, as he has attempted the bull three previous times. He has now evened the record against the bovine athlete, having covered him for 91.5 points during the championship round of the March elite tour event in Albuquerque, New Mexico.
The 22-year-old phenom has now gone 8-for-8 at the most prestigious event in bull riding, a streak which dates back to last season's event where he went 6-for-6 to capture the 2017 World Finals event win. Of the 8 qualified rides, four have been for 90 points or more.
Leme earned a check for $20,000.
In the world standings, Pacheco began the round 1,452.5 points ahead of Leme. He enters Round 3 with a slightly smaller lead, now 1,347.5 points ahead of his countryman.
After the bulls dominated the first 19 outs of the evening, Marco Eguchi (Poá, Brazil) brought the crowd inside T-Mobile Arena to its feet, erupting for the high-marked ride of his career en route to winning Round 2 of the 2018 PBR World Finals.
The 29-year-old was marked 94 points on Spotted Demon (Julio Moreno/Dallas Schott) to earn $35,000 and 300 world points. The matchup was a familiar one; Eguchi bucked off the bovine athlete just short of the 8-second mark at the final regular-season elite tour event in Nampa, Idaho. This time he made the whistle in spectacular fashion, but was then immediately slammed by Spotted Demon and laid on the dirt several minutes before being escorted off by Sports Medicine.
Eguchi is now 2-for-2 in Sin City, and tied for second in the event, after riding Velocity (Andrews Rodeo Co. Inc.) for 85.5 points in the opening round.
That ride, tied for the 14th highest score at the PBR World Finals, elevated Eguchi three positions in the world standings. He is now No. 17 after beginning the round No. 20.
Recording the third 90-point effort of the event, Mauney rode M.A.G.A. (TNT Bucking Bulls/Hart Cattle Co.) for 90.5 points to finish third in Round 2. 
The 8-second effort is the two-time World Champion's 517th on the elite tour, the third most of any rider in PBR history.
Earning $15,000 and 125 points, Mauney rose from No. 33 to No. 28 in the world rankings.
Delivering his high-marked ride of the season, Paulo Lima (Bezerros, Brazil) covered Southern Style (EVP Bucking Bulls) for 89.5 points to finish fourth in the round. Lima advanced to the World Finals as one of the top-two finishers from the Velocity Tour Finals not already ranked inside the Top 35.
He collected $10,000 and 95 points for the 8-second effort, rising to No. 44 in the world rankings.
In the overall event standings, Eduardo Aparecido (Gouvelândia, Brazil), Guilherme Marchi (Três Lagoas, Brazil) and Chase Outlaw (Hamburg, Arkansas) also covered their second round draws to round out the contingent of six riders to be 2-for-2 at the most prestigious event in bull riding.
Aparecido was sixth in the round, earning $3,000 and 50 world points, after riding Blue Stone (Dakota Rodeo/Chad Berger/Clay Struve) for 87 points.
Marking his 634th career ride on the premier series, the most of any rider in league history, 2008 World Champion Marchi covered Crazy Days (Dakota Rodeo/Chad Berger/Clay Struve/Heald Pro Bulls) for 86.75 points to end the round seventh, netting $1,000 and 35 points.
Rising one spot in the world rankings, Outlaw's 85-point trip on More Big Bucks (Dakota Rodeo/Chad Berger/Clay Struve/Staci Wilks/N Bar Ranch), the seventh best score of the round, earned him 25 world points.
Round 2 of the event also featured the first trip for the bulls contending for this season's YETI World Champion Bull title.
Current No. 1 contender SweetPro's Bruiser (D&H Cattle Co./Buck Cattle Co.), the two-time and reigning World Champion Bull, earned a 44.75-point bull score for his 3.35-second buckoff of Francisco Garcia Torres (Saltillo, Mexico).
The out allowed No. 2 bull Smooth Operator (Dakota Rodeo/Julie Rosen/Clay Struve/Chad Berger) to narrow the gap in the standings, after his 6.2-second trip with Fabiano Vieira (Perola, Brazil) earned him a 45.5-point bull score.
The two bovine athletes are now separated by 0.5 points after Bruiser entered the round 0.65 points in front.
For his out with Eguchi, Spotted Demon, who earned a 45.75-point bull score, established himself as a bull to note. He now trails Bruiser by 0.97 points in the world average.
Fans can relive all the action from Round 2 on-demand on RidePass tomorrow morning, Friday, November 9, at 8:00 a.m. ET.
The 2018 PBR World Finals will continue with Round 3 tomorrow with action beginning at 7:40 p.m. PT. CBS Sports Network will televise the action LIVE beginning at 7:30 p.m. PT, accompanied by RidePass' listen LIVE stream starting at 7:10 p.m. PT.
25th PBR: Unleash The Beast World Finals
T-Mobile Arena – Las Vegas, Nevada
Event Leaders (Round 1-Round 2-Round 3-Round 4-Round 5-Round 6-Event Aggregate-Event Points)
1. Jose Vitor Leme, 88.75-91-0-0-0-0-179.75-305
2. Matt Triplett, 89.25-0-0-0-0-0-89.25-300
(tie). Marco Antonio Eguchi, 85.5-94-0-0-0-0-179.50-300
4. Eduardo Aparecido, 89-87-0-0-0-0-176.00-230
5. J.B. Mauney, 0-90.5-0-0-0-0-90.50-125
6. Kaique Pacheco, 87.25-88.75-0-0-0-0-176.00-117.5
7. Chase Outlaw, 88-85-0-0-0-0-173.00-100
8. Cody Nance, 88.5-0-0-0-0-0-88.50-95
(tie). Paulo Ferreira Lima, 0-89.5-0-0-0-0-89.50-95
10. Guilherme Marchi, 86.5-86.75-0-0-0-0-173.25-60
11. Lachlan Richardson, 87.25-0-0-0-0-0-87.25-42.5
12. Joao Ricardo Vieira, 86.25-0-0-0-0-0-86.25-7.5
(tie). Tanner Byrne, 86.25-0-0-0-0-0-86.25-7.5
14. Jess Lockwood, 84.75-0-0-0-0-0-84.75-0
15. Silvano Alves, 84.5-0-0-0-0-0-84.50-0
Claudio Montanha Jr., 0-0-0-0-0-0-0.00-0
Luciano De Castro, 0-0-0-0-0-0-0.00-0
Cody Teel, 0-0-0-0-0-0-0.00-0
Ramon de Lima, 0-0-0-0-0-0-0.00-0
Cooper Davis, 0-0-0-0-0-0-0.00-0
Fabiano Vieira, 0-0-0-0-0-0-0.00-0
Dener Barbosa, 0-0-0-0-0-0-0.00-0
Derek Kolbaba, 0-0-0-0-0-0-0.00-0
Dakota Buttar, 0-0-0-0-0-0-0.00-0
Ryan Dirteater, 0-0-0-0-0-0-0.00-0
Valdiron de Oliveira, 0-0-0-0-0-0-0.00-0
Keyshawn Whitehorse, 0-0-0-0-0-0-0.00-0
Colten Jesse, 0-0-0-0-0-0-0.00-0
Alex Marcilio, 0-0-0-0-0-0-0.00-0
Stetson Lawrence, 0-0-0-0-0-0-0.00-0
Nathan Burtenshaw, 0-0-0-0-0-0-0.00-0
Brennon Eldred, 0-0-0-0-0-0-0.00-0
Koal Livingston, 0-0-0-0-0-0-0.00-0
Sean Willingham, 0-0-0-0-0-0-0.00-0
Alisson De Souza, 0-0-0-0-0-0-0.00-0
Gage Gay, 0-0-0-0-0-0-0.00-0
Lonnie West, 0-0-0-0-0-0-0.00-0
Juan Carlos Contreras, 0-0-0-0-0-0-0.00-0
Michael Lane, 0-0-0-0-0-0-0.00-0
Luis Blanco, 0-0-0-0-0-0-0.00-0
Francisco Garcia Torres, 0-0-0-0-0-0-0.00-0
2018 PBR World Finals Standings
(Place, Rider, Events, Wins, Top 5's, Points, Total Winnings)
Kaique Pacheco, 47, 10, 18, 5,444.16, $516,094.62
Jose Vitor Leme, 40, 6, 15, 4,096.66, $284,175.66
Claudio Montanha Jr., 48, 2, 13, 3,313.33, $260,405.51
Luciano De Castro, 38, 3, 11, 3,122.50, $248,730.17
Cody Teel, 42, 2, 13, 2,946.66, $290,008.78
Ramon de Lima, 45, 3, 9, 2,887.50, $305,365.74
Cody Nance, 42, 3, 7, 2,633.33, $218,317.66
Cooper Davis, 37, 1, 11, 2,602.50, $245,525.17
Eduardo Aparecido, 40, 2, 9, 2,502.49, $185,555.89
Fabiano Vieira, 43, 2, 9, 2,100.83, $158,561.00
Jess Lockwood, 33, 4, 9, 1,967.50, $224,301.75
Dener Barbosa, 41, 1, 14, 1,931.66, $153,030.11
Matt Triplett, 31, 1, 15, 1,780.00, $114,131.32
Derek Kolbaba, 46, 2, 12, 1,680.00, $231,177.39
Dakota Buttar, 41, 1, 6, 1,592.50, $106,353.78
Ryan Dirteater, 32, 3, 4, 1,552.50, $109,995.00
Marco Antonio Eguchi, 42, 1, 5, 1,480.00, $73,504.50
Valdiron de Oliveira, 39, 0, 6, 1,285.82, $64,520.66
Joao Ricardo Vieira, 42, 3, 10, 1,224.16, $97,660.06
Keyshawn Whitehorse, 43, 2, 7, 1,198.33, $83,523.15
Chase Outlaw, 22, 3, 9, 1,167.50, $83,874.19
Colten Jesse, 41, 4, 8, 1,162.50, $104,377.87
Guilherme Marchi, 23, 1, 2, 1,070.83, $77,833.98
Alex Marcilio, 29, 1, 4, 1,030.00, $97,474.61
Stetson Lawrence, 44, 1, 7, 977.50, $72,825.92
Nathan Burtenshaw, 40, 2, 7, 972.50, $63,628.98
Lachlan Richardson, 68, 3, 23, 970.00, $90,024.88
J.B. Mauney, 27, 1, 6, 959.16, $48,920.69
Brennon Eldred, 37, 0, 5, 957.50, $114,961.31
Koal Livingston, 30, 1, 12, 947.50, $88,635.26
Tanner Byrne, 37, 2, 4, 935.00, $71,956.60
Silvano Alves, 38, 2, 5, 893.32, $82,595.24
Sean Willingham, 41, 2, 9, 891.66, $70,036.17
Alisson De Souza, 43, 2, 10, 790.00, $150,113.90
Gage Gay, 20, 1, 2, 772.50, $116,868.13
Lonnie West, 47, 4, 10, 752.50, $84,056.29
Cody Jesus, 11, 1, 4, 710.00, $48,144.72
Marcos Gloria, 26, 2, 5, 700.00, $116,698.43
Brock Radford, 51, 3, 14, 695.00, $81,255.06
Cannon Cravens, 20, 1, 6, 680.00, $42,624.51
Rubens Barbosa, 53, 3, 12, 604.16, $68,362.33
Emilio Resende, 15, 0, 2, 600.00, $37,827.86
Cody Heffernan, 26, 3, 9, 585.00, $29,208.25
Paulo Ferreira Lima, 31, 2, 8, 548.33, $46,925.87
Cliff Richardson, 32, 3, 11, 510.00, $47,869.15