Buttar Fourth in Tulsa's 15/15 Bucking Battle
By: Kacie Albert Sunday, August 12, 2018 @ 11:10 AM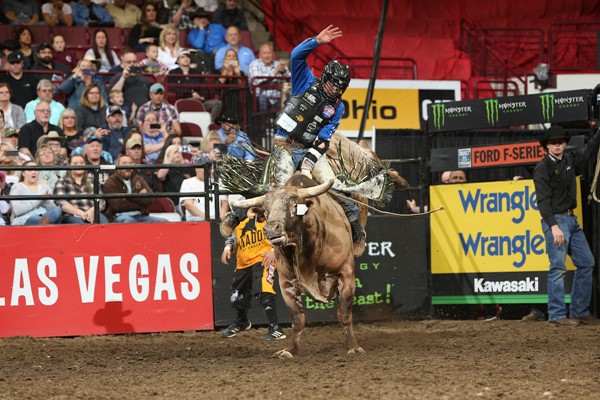 TULSA, Okla. – For the first time in his career, Dakota Buttar (Kindersley, Saskatchewan) recorded a qualified ride during a 15/15 Bucking Battle, finishing fourth during the special round at the 25th PBR: Unleash The Beast, Express Employment Professionals Classic, presented by Osage Casino and Hotel in Tulsa, Oklahoma.
Snapping the bull's seven-out buckoff streak, Buttar rode Hedoo (Jane Clark/Gene Owen) for 87.75 points.
The finish earned the 25-year-old $3,000 USD and 60 world points.
Reigning World Champion Jess Lockwood (Volborg, Montana) won the seventh 15/15 Bucking Battle of the season. The 20-year-old used a 91.5-point score aboard Canadian Mist (TNT Bucking Bulls/Hart Cattle Co.), who originally hails from Ponoka, Alberta's Vold Rodeo Co., to win his first 15/15 of 2018 and earn 150 points toward the PBR world standings.
Collectively, the CBS-televised event was the most exciting battle to date as seven riders earned qualified scores.
Derek Kolbaba (Walla Walla, Washington) brought the audience to its feet earlier as the second rider out in the 15/15. The meeting Friday night on the floor of the BOK Center was the third total meeting in PBR competition for Kolbaba and Cochise (Gene Owen/Jane Clark). The score was tied between the two athletes and Kolbaba was looking to exact revenge in the rubber match. As the big brown bovine exploded out of the gate, Kolbaba rode the bull for all it was worth and took the early lead with 91 points. With his second place finish Kolbaba picked up 90 world points.
Cody Teel (Kountze, Texas) finished in third place with an impressive 89.25 points aboard M.A.G.A. (TNT Bucking Bulls/Hart Cattle Co.). Teel earned 75 points toward the world standings.
Rounding out the Top 5 was Fabiano Vieira (Perola, Brazil) who earned 45 world points after he rode Smooth Over (GT Bucking Bulls/Hart Cattle) for 87.5 points.
To open the event inside the BOK Center, Lonnie West (Cadogan, Alberta) used an 85.75-point trip aboard Real Gun (Cord McCoy/G-G) to finish fourth in Round 1. The event in Tulsa marks the 22-year-old's second appearance on the elite tour, where he was now gone a collective 2-for-4.
For his work he earned a paycheck for $1,352.86 along with 40 world points. He remained stable in the world standings, heading into the final day of the event No. 33 in the world, 67.5 points ahead of No. 35 Matt Triplett (Columbia Falls, Montana).
Jose Vitor Leme (Ribas do Rio Pardo, Brazil) and Cody Nance (Paris, Tennessee) tied for the Round 1 win. Leme leads the league with eight round victories and Nance has three this season. The pair each earned 80 points toward the world standings along with $3,217.86.
Reigning Rookie of the Year Leme started his night attempting Royal Flush (Cord & Sara McCoy), but was given a re-ride. Electing to take the re-ride option he proceeded to make the 8 on Pick-It Construction's Find Jesus (Ogeden Ranch/Hart Cattle Co.) for 88.5 points.
Nance earned his 88.5 points with an impressive ride on Concealed Carry (Rockin R Bucking Bulls/Jerry Rush).
Third place went to the hometown rider Ryan Dirteater (Hulbert, Oklahoma) who picked up 50 points and earned a paycheck of $2,052.86. Dirteater covered Jokers Wild (01 Cattle Co./Robbie Schroeder) for 86 points.
In a tie for fifth place, Triplett and Vieira each rode for 85.5 points. Triplett earned his points aboard Chocolate Shake (D&H Cattle Co.) while Vieira rode Striker (Halpain/Thompson). The pair picked up an additional 22.5 world points along with $777.86.
Round 2 and the championship round from Tulsa will begin at 1:45 p.m. CT. Fans will be able to watch all the action from the 15/15 Bucking Battle at 1:00 p.m. ET on CBS Sports. Round 2 and the Championship Sunday will air on CBS Sports Network beginning at 5:00 p.m. ET.
Action from Saturday night will also be viewable Sunday starting at 8 a.m. ET on RidePass.com or via the RidePass mobile app.
25th PBR: Unleash The Beast
15/15 Bucking Battle
Event Leaders (Round 1- Event Points)
1. Jess Lockwood, 91.5-91.50-150 Points.
2. Derek Kolbaba, 91-91.00-90 Points.
3. Cody Teel, 89.25-89.25-75 Points.
4. Dakota Buttar, 87.75-87.75-60 Points.
5. Fabiano Vieira, 87.5-87.50-45 Points.
6. Dener Barbosa, 87-87.00-25 Points.
7. Ramon de Lima, 84-84.00-10 Points.
Kaique Pacheco, 0-0.00
Claudio Montanha Jr., 0-0.00
Cody Nance, 0-0.00
Jose Vitor Leme, 0-0.00
Luciano De Castro, 0-0.00
Eduardo Aparecido, 0-0.00
Cooper Davis, 0-0.00
Ryan Dirteater, 0-0.00
25th PBR: Unleash The Beast
Express Employment Professionals Classic presented by Osage Casino and Hotel
BOK Center – Tulsa, Oklahoma
Event Leaders (Round 1-Round 1-Round 2-Round 3-Event Aggregate-Event Points)
1T. Cody Nance, 88.5-0-0-88.50-80 Points.
1T. Jose Vitor Leme, 88.5-0-0-88.50-80 Points.
3. Ryan Dirteater, 86-0-0-86.00-50 Points.
4. Lonnie West, 85.75-0-0-85.75-40 Points.
5T. Fabiano Vieira, 85.5-0-0-85.50-22.5 Points.
5T. Matt Triplett, 85.5-0-0-85.50-22.5 Points.
7. Lachlan Richardson, 82-0-0-82.00-5 Points.
Kaique Pacheco, 0-0-0-0.00
Claudio Montanha Jr., 0-0-0-0.00
Ramon de Lima, 0-0-0-0.00
Luciano De Castro, 0-0-0-0.00
Jess Lockwood, 0-0-0-0.00
Eduardo Aparecido, 0-0-0-0.00
Cooper Davis, 0-0-0-0.00
Dener Barbosa, 0-0-0-0.00
Cody Teel, 0-0-0-0.00
Dakota Buttar, 0-0-0-0.00
Derek Kolbaba, 0-0-0-0.00
Stetson Lawrence, 0-0-0-0.00
Brennon Eldred, 0-0-0-0.00
Valdiron de Oliveira, 0-0-0-0.00
Guilherme Marchi, 0-0-0-0.00
Joao Ricardo Vieira, 0-0-0-0.00
Silvano Alves, 0-0-0-0.00
Tanner Byrne, 0-0-0-0.00
Alex Marcilio, 0-0-0-0.00
Sean Willingham, 0-0-0-0.00
Nathan Burtenshaw, 0-0-0-0.00
Marcos Gloria, 0-0-0-0.00
Gage Gay, 0-0-0-0.00
Marco Antonio Eguchi, 0-0-0-0.00
Koal Livingston, 0-0-0-0.00
Colten Jesse, 0-0-0-0.00
Cody Campbell, 0-0-0-0.00
J.B. Mauney, 0-0-0-0.00