Teel, Lee advance to Showdown Sunday at Calgary Stampede
By: Ted Stovin Saturday, July 15, 2017 @ 8:57 PM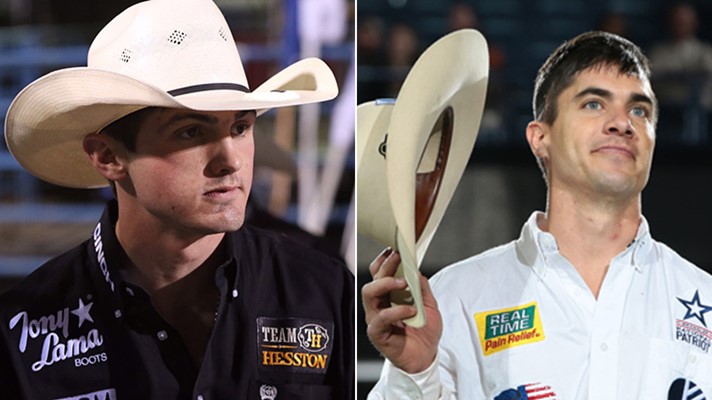 CALGARY – Reigning Calgary Stampede champion Cody Teel earned a shot to repeat after advancing out of Wild Card Saturday.
Teel rode Double Down for 89.5 points Saturday afternoon to move on after a 2-for-4 performance, earning him a total $3,000 CDN in Pool B competition.
"It's a bull of Mike Corey's. I didn't know anything about him," Teel said. "I just knew he was going to be a little hairy in the chute there. It kind of was a rough start but when he got going in it, it was kind of hang loose and get it done. I never was perfect on him the whole time it didn't feel like but I've just gotta be thankful to get by one like that.
"To be 89.5 here at Calgary, it means a lot and goes a long ways in this format."
In 2016, Teel rode Liquid Fire to earn the $100,000 check in the rain and mud. His path to Sunday has been eerily similar.
"So far it's identical, I only got two bulls rode in my set last year and came back to the Wild Card," Teel said. "It all starts at zero now. I'm glad I got in there, even though it wasn't the way I wanted to."
With a pair of rounds to go, the No. 14 man in the world standings now looks forward to Sunday.
"It's a new rodeo basically," Teel said. "Just go at it. Take the bull I get and try to get two rode."
Joining Teel on Sunday will be 2004 World Champion Mike Lee.
Lee put up 86 points on All About You to finish in second place, squeaking past current PBR Canada points leader and CPRA Champion Jordan Hansen by a half point.
"I've been having a tough go of it," Lee said after going 0-for-4 in Pool B. "I've been trying too hard. Today I just said the heck with it and let it roll and it worked. I got a little behind but you know, don't quit fighting. That's the name of the game, just quit thinking and just go to riding."
As the 2008 Calgary Stampede champion, Lee knows what it's like to win here and how far the money goes.
"That would be a great opportunity for me and my family," Lee said. "We got some bills to pay so it would be awesome. I just need to take it one day at a time, have fun and be a cowboy."
Even if he doesn't win the big check, Lee knows being here is important.
"It's pretty cool, it's a huge blessing," Lee said. "My boy gets to watch me ride at the Calgary Stampede. He's at home and he's riding mini bulls and I just want to make him proud."
Derek Kolbaba and Chase Outlaw were bucked off Saturday while Fabiano Vieira missed advancing after registering 83 points on Sugar Smack. 
The final list for Showdown Sunday at the Calgary Stampede includes Built Ford Tough Series stars Jess Lockwood, Ryan Dirteater, Joao Ricardo Vieira and Brennon Eldred; current PRCA leader Garrett Smith; 2015 Calgary Stampede champion Sage Kimzey and Canadians Tanner Byrne and Brock Radford. Radford replaced J.B. Mauney who dislocated his shoulder following his ride on Friday.
Fans in the United States can watch live on the Wrangler Network.