Radford wins Elnora
By: Kacie Albert Sunday, August 13, 2017 @ 9:07 AM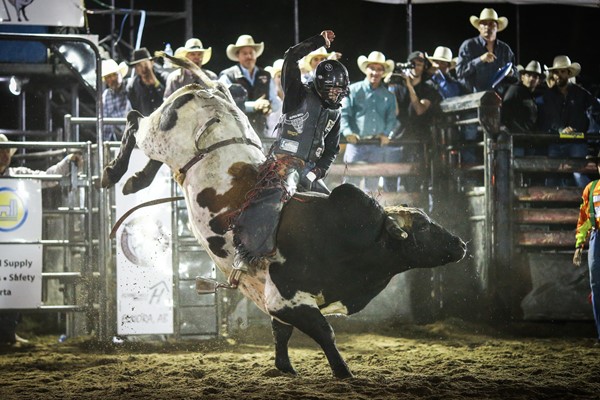 ELNORA, Alberta – Brock Radford (DeWinton, Alberta) earned his third consecutive PBR Canada Touring Pro Division (TPD) victory Saturday night, riding to the event win at the 19th Annual Elnora Brahma Rama. 
One of two riders to deliver a perfect 2-for-2 performance, the 22-year-old began the night with an 81-point effort aboard Devil's Wing (Two Bit Bucking Bulls).
After earning a re-ride in the championship round, Radford then rode Buckington (Outlaw Buckers) for 86.5 points, earning both the round and event win.
Double entered, Radford also finished sixth at the event compliments of his 81-point trip on Yellow Moon (X6 Ranch) in the first round.
Collectively Radford earned $4,501.41, 65 world points and 305 Canadian points for his finishes, and now sits atop the PBR Canada national standings for the first time this season. He now leads No.2 Cody Coverchuk (Meadow Lake, Saskatchewan) by 226.66 points.
The past month, Radford has become accustomed to standing in arena center come event's end, winning the two previous PBR Canada TPD events, a resume which has fueled his fast march up the rankings.
His winning streak began in July when he won in North Battleford, Saskatchewan, moving from No.11 to No.5 in the rankings, which Radford followed less than a week later with a victory at the Okanagan PBR Challenge, rising further up the standings to No. 3.
Thor Hoefer II (Priest River, Idaho) finished second after riding Hellcat in Heaven (Wilson Rodeo) in Round 1 for 81.5 points, and Bourbon Oak (Vold/Prescott) for 83.5 points in the championship round. He earned $3,261.25 and 30 points towards the world standings.
Kurt Shephard (Atherton, Queensland, Australia) finished third, backed by his Round 1 winning 85.5-point ride on Chip Shot (Outlaw Buckers).
The Australian earned $1,999.73 and 20 points towards the world standings, elevating him from No.39 to No.37 in the world standings.
Shephard is now within striking distance of the Top 35 and a berth onto the elite Built Ford Tough Series. He trails Brady Sims (Holt, Missouri) and Aaron Kleier (Clermont, Queensland, Australia), the No.35 ranked riders in the world, by 2.5 points.
Sidelined the last two months due to injury, Lonnie West (Cadogan, Alberta) finished fourth in his return to PBR competition.
The 21-year-old earned $1,456.48 and 15 world points after finishing second in Round 1 with his 84-point ride aboard Shootout (Flying High Rodeo Co.).
Rounding out the Top-5 was Zac Peterson (Velva, North Dakota). Peterson rode Big Fudge (Outlaw Buckers) for 83.5 points in Round 1 to earn $911.38 and 10 world points.
Justin Lloyd (Tisdale, Saskatchewan) and Dayton Johnson (Milk River, Alberta) also logged qualified rides, finishing seventh and eighth respectively. In Round 1, Lloyd rode You're So Vain (Outlaw Buckers) for 79 points while Johnston made the 8 aboard Iggy (Wilson Rodeo) for 78.5 points.
Happy Camper from Two Bit Bucking Bulls earned bull of the night honors in a 44 point out dispatching Justin Lloyd in the championship round.
PBR Canada's Touring Pro Division now travels to Coronation, Alberta for the Coronation Royal Rumbull on Wednesday, August 16 at the Coronation Memorial Arena. Action gets underway at 7:00 p.m. MT.  
Be sure to stay tuned to PBRCanada.com and follow the tour on Facebook (PBR Canada), Twitter (@PBRCanada), and Instagram (@PBRCanada) for the latest results.
The 19th Annual Elnora Brahma Rama
PBR Canada Touring Pro Division Event Results
Name, Round 1-Round 2-Aggr. Score-Total Points-Money Earned-World Points
1. Brock Radford, 81-86.5-167.5-$4,147.79-60
2. Thor Hoefer, 81.5-83.5-165-$3,261.25-30
3. Kurt Shephard, 85.5-0-85.5-$1,999.73-20
4. Lonnie West, 84-0-84-$1,456.48-15
5. Zac Peterson, 83.5-0-83.5-$911.38-10
6. Brock Radford, 81-0-81-$354.62-5
7. Justin Lloyd, 79-0-79-$265.97
8. Dayton Johnston, 78.5-0-78.5-$177.31