Radford sweeps Coronation
By: Kacie Albert Thursday, August 17, 2017 @ 9:28 AM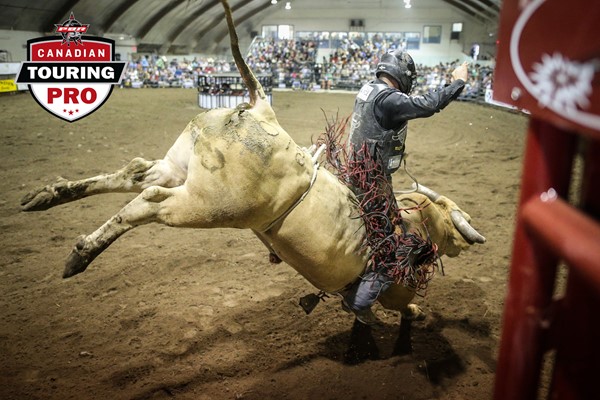 CORONATION, Alberta – Continuing his seemingly unstoppable momentum, Brock Radford (DeWinton, Alberta) swept Wednesday night's 17th Annual Coronation Royal Rumbull, finishing both first and second, earning his fourth consecutive PBR Canada Touring Pro Division (TPD) event title.
As the only rider to go a perfect 2-for-2 at Coronation Memorial Arena, the home province rider's night began with a sixth place effort in Round 1, riding Outlaw Buckers' Bobby McGee for 82 points.
In the short go Radford delivered an 88-point ride aboard Big Shot (Skori Bucking Bulls), to win both the round and event.
Complimenting his victory, the 22-year-old also finished second after double-entering.
While he didn't earn a qualified ride in the short go, bucking off Tykro Checkered Flag (Wild Hoggs), the high-marked bull of the event, Radford's Round 1 winning, 84.5-point trip aboard Nugget (Outlaw Buckers) propelled him to the event sweep.
The past month, Radford has become accustomed to standing in arena center come event's end, winning the three previous PBR Canada TPD events.
Radford's winning streak began in July when he won in North Battleford, Saskatchewan, which he followed less than a week later with victories at the Okanagan PBR Challenge and 19th Annual Elnora Brahma Rama.
In Coronation, Radford earned $5,514.98, 455 Canadian points and 85 world points, collectively earning $18,445.85, 1,340 Canadian points and 271.33 world points across his four event wins.  
The surging young gun's most recent win further cemented his lead atop the PBR Canada standings, expanding his lead over No.2 Cody Coverchuk (Meadow Lake, Saskatchewan) to 706.66 points.
In the world standings, Radford rose seven spots, now ranked No. 35, the cut off for a berth onto the elite Built Ford Tough Series (BFTS).
He now leads No. 36 Kurt Shephard (Atherton, Queensland, Australia), who he split the second place finish with in Coronation, by fewer than 5 points.
Shephard's runner-up effort, which earned him $2,169.43 and 25 world points, was fueled by his 84.5-point ride on Tweedle Dee (Vold/Prescott) in the championship round.
The Australian now travels to Nashville, Tennessee to compete at the final PBR BFTS Major event of the year, the Built Ford Tough Music City Knockout, presented by Cooper Tires, where riders will be vying for both an increased payout and points.
Competing in his first PBR Canada event of the season, Luis Blanco (Iacanga, São Paulo, Brazil) finished third.
Blanco eared $1,202.33 and 15 world points after riding Wild Hoggs' Night Vision for 83.5 points in Round 1.
After finishing No. 32 at the end of 2016, Blanco began his season riding on the BFTS. However, he was cut from the tour following April's Tacoma Invitational, fighting ever-since to regain his ranking, which included a summer stint riding in PBR Australia events where he logged two Top-10 finishes.
With the world points he earned in Canada, the Brazilian now ranks No. 37, trailing Radford and a berth onto the elite BFTS by approximately 22 points.
Juan Carlos Contreras (Huichapan, Hidalgo, Mexico) finished fifth after riding Road Trip (Wilson Rodeo) for 83 points in Round 1. He earned $752.76 and 10 world points.
Edgar Durazo (Moctezuma, Sonora, Mexico), Thor Hoefer II (Priest River, Idaho), Coy Robbins (Camrose, Alberta), Cole Young (Fairview, Alberta) and Justin Lloyd (Tisdale, Saskatchewan) also logged qualified rides in Round 1.
PBR Canada's Touring Pro Division now travels to Stavely, Alberta for the Glen Keeley Memorial Bull Riding on Saturday, September 2 at Stavely Arena. Action gets underway at 7:00 p.m. MT. 
Be sure to stay tuned to PBRCanada.com and follow the tour on Facebook (PBR Canada), Twitter (@PBRCanada), and Instagram (@PBRCanada) for the latest results.
The 17th Annual Coronation Royal Rumbull
PBR Canada Touring Pro Division Event Results
Name, Round 1-Round 2-Aggr. Score-Money Earned-World Points
1. Brock Radford, 82-88-170-$3,423.98-60
2T. Brock Radford (2), 84.5-0-84.5-$2,091.00-25
2T. Kurt Shephard, 0-84.5-84.5-$2,169.43-25 
4. Luis Blanco, 83.5-0-83.5-$1,202.33-15
5. Juan Carlos Contreras, 83-0-83-$752.76-10
6T. Edgar Durazo, 82.5-0-82.5-$334.56-2.5
6T. Thor Hoefer, 82.5-0-82.5-$334.56-2.5
8. Coy Robbins, 82-0-82-$146.37
9. Cole Young, 81-0-81
10. Justin Lloyd, 78.5-0-78.5