PBR to Provide Fans Free Global Digital Streams of Velocity Tour Finals and Inaugural PBR Global Cup
By: Heather Croze Wednesday, October 25, 2017 @ 8:30 PM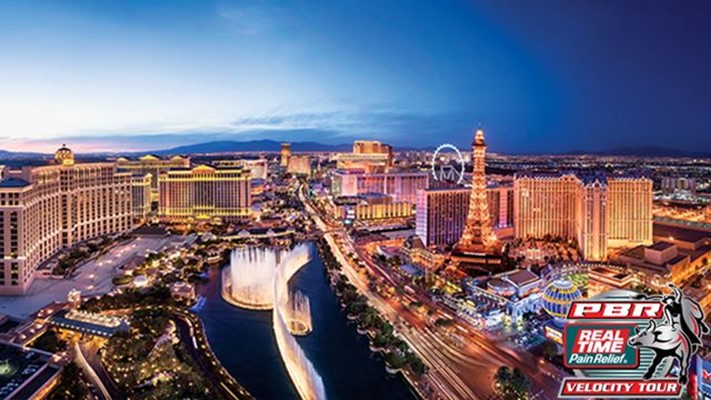 PUEBLO, Colo. – PBR (Professional Bull Riders) has announced plans for free live digital streams of two of the sport's biggest events of the year – the PBR Real Time Pain Relief Velocity Tour Finals (Oct. 28-30 at South Point Arena in Las Vegas) and the inaugural PBR Global Cup (Nov. 9-11 at Rogers Place in Edmonton, Canada).
The high-quality production will feature full broadcast teams and multi-camera set-ups.
To access the Velocity Tour Finals and PBR Global Cup digital broadcasts, fans are encouraged to download the free PBR app (for iOS and Android) or visit PBR.com during the event days.
"The production quality of these events demonstrates PBR's commitment to providing a world-class digital experience to give fans the best live access to must-see PBR events," said Sean Gleason, CEO, PBR. "If fans can't make it to Las Vegas and Edmonton, this is the next best way to experience some of the biggest and most meaningful bull riding events in the history of the PBR."
Amid one of the tightest points battles in PBR history, the Velocity Tour Finals is expected to crackle with playoff intensity – and huge implications for the world title race.
Among the 41 riders set to compete are PBR Canada Champions Tanner Byrne (Prince Albert, Saskatchewan) and Zane Lambert (Westbourne, Manitoba).
Lambert rode his way to the 2017 PBR Canada Championship last weekend and is now one of just two riders to hold multiple national titles, previously taking the national glory in 2013. (Aaron Roy – 2008, 2010 & 2012)
For 2015 PBR Canada Champion Byrne, the Velocity Tour Finals will mark his first event back from injury, sidelined since August with fractures in both his wrist and ankle.
The multi-day, multi-round tournament will feature an epic battle between PBR World No. 1 Derek Kolbaba and PRCA reigning champion and current No. 1 Sage Kimzey.  Five of the Top-10 riders in the PBR world standings will also compete, including No. 5 Jess Lockwood, No. 8 Joao Ricardo Vieira and No. 9 riders Fabiano Vieira and Dener Barbosa.
At the Velocity Finals one rider can earn 520 points toward the PBR world standings prior to the World Finals. With the Top 5 cowboys in the world separated by only 655 points, the pressure will be intense to deliver high-scoring rides.
In addition to Kimzey, former PRCA champions J.W. Harris and Cody Teel will compete, along with champions from around the world attempting to qualify for the PBR World Finals, including: PBR Australian champion Troy Wilkinson; PBR Brazil champion Jose Vitor Leme; PBR Canada champion Lambert; PBR Mexico invite Francisco Morales; National Intercollegiate Rodeo Association champion (NIRA) Cole Melancon; National High School Rodeo Association champion Trey Holston; Indian National Finals Rodeo champion Cody Jesus; and PBR Touring Pro Division Champion Ezekiel Mitchell.
Half of the Top 50-ranked professional bull riders in the world will compete at the Velocity Finals, which can qualify up to five athletes for the prestigious PBR World Finals (Nov. 1-5 at T-Mobile Arena in Las Vegas). Real Time Pain Relief Velocity Tour Finals Qualifiers:
Derek Kolbaba - Walla Walla, Washington
Jess Lockwood- Volborg, Montana
Joao Ricardo Vieira- Itatinga, São Paulo, Brazil
Fabiano Vieira - Pérola, Paraná, Brazil
Dener Barbosa - Paulo de Faria, São Paulo, Brazil
Cody Teel - Kountze, Texas
Claudio Montanha Jr. - Ribeirão dos Indios, São Paulo, Brazil
Cody Nance - Paris, Tennessee
Emilio Resende - Santa Helena do Goiás, Goiás, Brazil
Brennon Eldred - Sulphur, Oklahoma
Luciano De Castro - Guzolandia, São Paulo, Brazil
Ramon de Lima - São Paulo, São Paulo, Brazil
Cody Campbell - Summerville, Oregon
Lachlan Richardson - Gresford, New South Wales, Australia
Troy Wilkinson - Upper Horton, New South Wales, Australia
Koal Livingston - Burleson, Texas
J.W. Harris - Mullin, Texas
Alex Marcilio - Macaubal, São Paulo, Brazil
Skeeter Kingsolver - McLouth, Kansas
Cody Rodeo Tyler - Guthrie, Oklahoma
Kurt Shephard - Atherton, Queensland, Australia
Zane Lambert – Westbourne, Manitoba, Canada
Reese Cates - Monticello, Arkansas
Alex Cardozo – Indaiatuba, São Paulo, Brazil
Robson Aragao – Aracaju, Sergipe, Brazil
Michael Lane - Tazewell, Virginia
Jose Vitor Leme - Ribas do Rio Pardo, Mato Grosso do Sul, Brazil
Brandon Davis - Cabot, Arkansas
Taylor Toves - Stephenville, Texas
Ezekiel Mitchell - Baytown, Texas
Colten Jesse - Konawa, Oklahoma
Jesse Tillman - Olathe, Kansas
Francisco Morales - Irapuato, Guanajuato, Mexico
Sage Kimzey - Weatherford, Oklahoma
Cody Ford - Stanfeild, Oregon
Tanner Byrne - Prince Albert, Saskatchewan, Canada
Robson Palermo - Rio Branco, Acre, Brazil
Wallace Vieira de Oliveira - Goiânia, Goiás, Brazil
Cole Melancon - Liberty, Texas
Cody Jesus - Sawmill, Arizona
Trey Holston - Ft. Scott, Kansas
Following the Real Time Pain Relief Velocity Tour Finals (Oct. 29-30) and Built Ford Tough World Finals (Nov. 1-5), both in Las Vegas, Nevada, Edmonton, Alberta and Rogers Place will host the inaugural PBR Global Cup on Nov. 9-11.
The first night will feature the Canadian qualifier, where the final nine members of Team Canada will be named, followed by a two-night showdown between the host nation, Australia, Brazil, Mexico and the United States. 
Tickets for the highly anticipated first stop of the inaugural Global Cup in Edmonton, Alberta are on sale now and can be purchased at RogersPlace.com.