PBR makes debut in Toronto
By: Ted Stovin Friday, April 7, 2017 @ 8:00 AM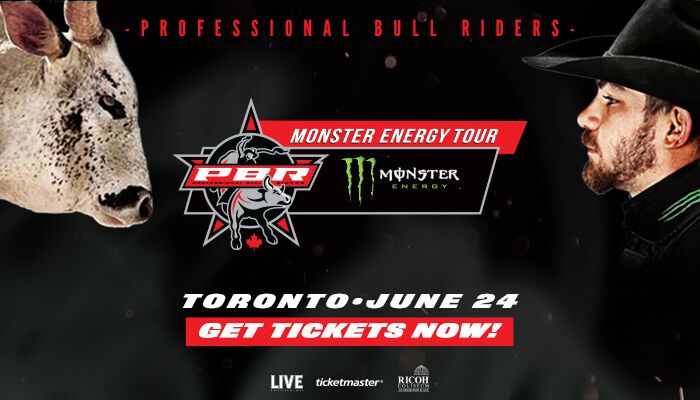 TORONTO, ON (April 7, 2017)—PBR (Professional Bull Riders) has announced the PBR Monster Energy Tour – a national bull riding series visiting six Canadian provinces, is making its debut in Toronto on June 24th for the third stop on the fast-growing sport's national tour schedule. 
A 25-rider field will compete at Ricoh Coliseum in Toronto for $20,000 in prize money and valuable points toward the Monster Energy Canadian championship. Top riders competing include
2013 PBR Canada Champion Zane Lambert (Ponoka, AB), reserve champion of Canada for 2016 Cody Coverchuk (Meadow Lake, SK) and three-time PBR Canada Champion Aaron Roy (Yellow Grass, SK).
The PBR Monster Energy Tour begins its second season as a unified competitive series traveling across the country, starting in in Quebec City on June 2 and 3. The national series then moves on to visit Ottawa on June 9; Toronto, June 24; Calgary, September 23; Winnipeg, October 6; Abbotsford, October 14; and Saskatoon, October 20 and 21, where a PBR Canadian champion will be crowned.
"Toronto is Canada's entertainment capital and has been the corporate home of the PBR in Canada for the past two years," said Chris Bell, GM, PBR Canada. "The PBR has never had an event in this dynamic metropolis. I am thrilled to see one of the most exciting sports in the world in Canada's largest centre." 
The PBR Monster Energy Tour will be showcased on TSN/RDS, including a post-season highlight show. Fans should check local listings for broadcast event dates and times.
"The city of Toronto has always thrived on the excitement of sports and live entertainment, so we're thrilled to have Professional Bull Riders make their Toronto debut at Ricoh Coliseum," said Wayne Zronik, Senior Vice President, Music and Live Entertainment at MLSE. "MLSE strives to bring the best and diverse live entertainment to our fans, and this event is certainly no exception."
Tickets for the PBR Monster Energy Toronto tour stop can be purchased at Ticketmaster.
About MLSE LIVE:
MLSE Live is an entertainment brand that brings all of MLSE's live endeavors under one digital roof and provide fans with unparalleled insight into Toronto's most sought-after entertainment events. With three busy venues- Air Canada Centre, BMO Field and Ricoh Coliseum, and a host of marquee events taking place outside of our arenas, MLSE Live will consolidate stories and give fans a closer look into Toronto's most coveted events by providing behind-the-scenes coverage, as well as the opportunity to win once in a lifetime experiences not found anywhere else. Follow along with @MLSELive on Twitter and Instagram, /MLSELive on Facebook and MLSE Live on Snapchat.
About Professional Bull Riders (PBR) Canada:
Professional Bull Riders (PBR), which has events in five countries and is available in more than 400 million homes globally, has competed in Canada since 1996. The Monster Energy Canadian Tour debuted in 2016 as the country's first national series. Points earned at Canadian events count towards qualification to the elite PBR Canadian Championship. Upon the conclusion of the Championship, the bull rider with the most regular season and Championship points is crowned the PBR Canada Champion. Points won at all Canadian events count toward qualifying on the prestigious PBR Built Ford Tough Series and PBR Built Ford Tough World Finals in Las Vegas, Nevada. Rogers Place in Edmonton, AB will be the first-ever Canadian host of the PBR Global Cup on November 9-11, 2017. The three-day event will feature the world's best bull riders from Canada, the United States, Mexico, Brazil and Australia, all competing for their country and a Canadian-record purse of $1,000,000, the second-largest payout in North America next to the PBR World Finals in Las Vegas. For more information on PBR Canada, go to www.pbrcanada.com, or follow on Facebook at www.facebook.com/pbrcanada or Twitter at www.Twitter.com/pbrcanada