PBR Global Cup Will Come to Edmonton
By: Andrew Giangola Wednesday, February 8, 2017 @ 10:00 AM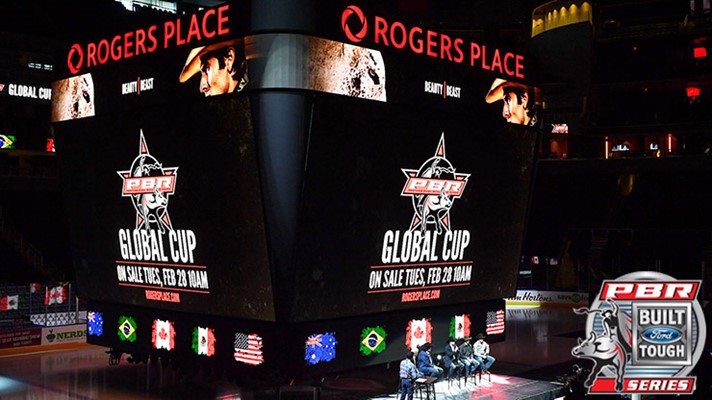 PUEBLO, Colo. (February 8, 2017) – Professional Bull Riders (PBR) and Oilers Entertainment Group (OEG) today announced Rogers Place in Edmonton, Alberta, will be the first-ever Canadian host of the PBR Global Cup on November 9-11, 2017. The three-day event will feature the world's best bull riders from Canada, the United States, Mexico, Brazil and Australia, all competing for their country and a Canadian-record purse of $1,000,000.
3-Day ticket packages for this highly-anticipated event begin at $190 and go on sale to the public at 10:00 AM on Tuesday, February 28 at RogersPlace.com. 
The Edmonton event will award the largest purse for bull riding in Canada and the second-largest payout in North America, next to the PBR Built Ford Tough World Finals in Las Vegas.  A first-of-its-kind event for Rogers Place, Edmonton will welcome the best bull rider and best bulls from around the world as PBR headlines a celebration of western lifestyle with other community events and festivities planned across the city.
The bull riding event, which will be broadcast domestically on TSN and RDS, is an important pillar to the new PBR Global Cup, a five-country, international competition that will crown the world's best bull riding nation.
On Thursday, Nov. 9, Rogers Place will be the scene for the Canadian National Team Qualifier event, following the multi-city PBR Monster Energy Canada Tour. On Nov. 10 and 11, 40 of the world's top cowboys, including 12 from Canada, will then compete in the PBR Global Cup – a year-long tournament that will visit five countries to decide which nation can claim to be the world's best bull riding nation.  Each participating country – the U.S., Australia, Brazil, Canada and Mexico – will host a three-day PBR Global Cup event. Similar to the format in Edmonton, the first day will feature a National Team qualifier with the Global Cup competition held the remaining two days.
The full Global Cup schedule at iconic settings around the world will be announced at a later date.
"Each year, the PBR crowns a world champion, which is an extraordinary individual honor. But sports is also a team endeavor, and the PBR Global Cup adds a new team element to our sport, allowing a band of bull-riding brothers to battle on their native soil in a quest to call themselves the best in the world," said Sean Gleason, CEO, PBR. "When the world's best come to Rogers Place as fellow countrymen and teammates competing for national pride, the excitement and drama is sure to kick up. We are thrilled to partner with OEG on this competitive enhancement to the PBR, which will headline an important western lifestyle festival."
"There is no better venue for PBR than Rogers Place, one of North America's premier and most technologically advanced sports and entertainment venues. We will give fans of the sports and people looking for an amazing time an experience like nothing else, with the best bull riders and best bulls competing for the PBR Global Cup," said Bob Nicholson, OEG Vice Chair & CEO. "Edmonton's future is bright as we see ICE District changing the face of sports and entertainment in our city, but our roots are firmly planted in western lifestyle and community, which is right at the heart of the PBR experience."
With each country hosting a battle on their native soil to establish a new world order in fan and rider bragging rights for the title of Toughest Nation on Dirt, the Global Cup Trophy will be made of five vessels representing each participating country.  The winning country at each event will get to take the host nation's dirt in their piece of the Trophy, which is now being designed by Montana Silversmiths.