Lonnie West Rides Perfect in Abbotsford to Earn First PBR Victory
By: Kacie Albert Saturday, October 14, 2017 @ 11:02 PM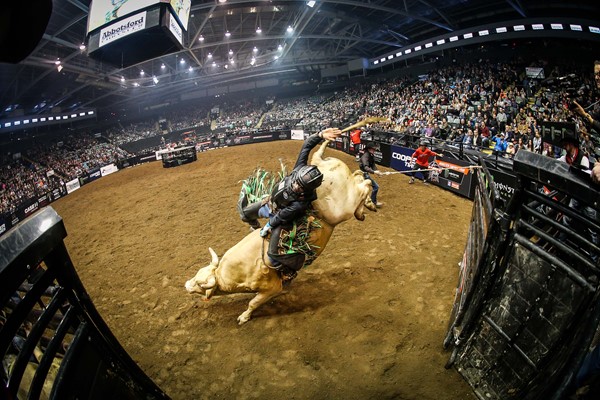 ABBOTSFORD, British Columbia – Building upon his runner-up finish last weekend in Winnipeg, Lonnie West delivered a perfect 2-for-2 performance in Abbotsford to claim his first career PBR victory at the final regular season event of PBR Canada's Monster Energy Tour, presented by Mac's and Circle K. 
West (Cadogan, Alberta) began the Saturday night event with a fifth place effort in Round 1, riding Tippin Point (S&E Bucking Bulls) for 84 points.
In the championship round, the 21-year-old delivered the high-marked ride of his PBR career, making the 8 aboard Anika's Pet (Big Chief/Armstrong) for 89 points.
His victory earned him $4,260.80, 465 Canadian points and 80 world points.
After beginning the event ranked No.10 in the Canadian standings, West is now the No.5 man in the race for the national title as the tour heads to Saskatoon, Saskatchewan next weekend, Oct. 20-21, for the PBR Canada Monster Energy Tour Finals.
He now trails No.1 Brock Radford (De Winton, Alberta) by 751.66 points.
Radford finished ninth in Abbotsford, earning 20 Canadian points, after riding Hollow Point (Vold Rodeo/Prescott) for 83.5 points in Round 1.
Zane Lambert (Westbourne, Manitoba) and Jared Parsonage (Maple Creek, Saskatchewan) tied for second after logging matching 169.50-point scores in the aggregate.
Lambert's event began in Round 1 with an 82.5-point ride on Boom Beach (S&E Bucking Bulls), which he followed with 87 points aboard Spot On (Wilson Rodeo) in the championship round.
The 31-year-old earned $2,405.29, 170 Canadian points and 40 world points.
The 2013 PBR Canada Champion, ranked No.2 in the national standings, now trails No.1 Radford by 379.16 points as he looks to earn his second Canadian title.
After earning a re-ride, Parsonage logged 82 points on Big Rig (Vold Rodeo/Prescott) in the event's first round.
He concluded the Abbotsford stop with an 87.5-point trip aboard Kalit Karma (Vold Rodeo/Prescott) in the championship round.
For his work Parsonage earned $2,611.46, 180 Canadian points and 40 world points.
Parsonage rose from No.8 to No.7 in PBR Canada standings, now 909.16 points off the No.1 position.
Fresh off his event win last weekend in Winnipeg, Dakota Louis (Browning, Montana) finished fourth after opening his night with a Round 1 win compliments of his 88.5-point ride aboard Overcooked (Vold Rodeo/Prescott).
He leaves Abbotsford with $2,552.55, 160 Canadian national points and 20 world points.
Kale Marks (Sunnybrook, Alberta) rounded out the Top 5, earning $1,195.77, 105 Canadian  points and 15 world points.
His finish was backed by his 86.5-point trip aboard Tweedle Dee (Vold Rodeo/Prescott) in Round 1.
PBR Canada's Monster Energy Tour, presented by Mac's and Circle K next travels to Saskatoon, Saskatchewan and the SaskTel Centre on Oct. 20-21 for the twelfth annual PBR Canada Finals. Action gets underway at 7:30 p.m. CT on both Friday and Saturday. Tickets are still available at PBRCanada.com or Ticketmaster.ca.
The event will crown the 2017 PBR Canada Champion who will earn a trip to the Real Time Pain Relief Velocity Tour Finals in Las Vegas, Nevada Oct. 28-30 where they will then have the opportunity to qualify for the Built Ford Tough World Finals on Nov. 1-5. 
Be sure to stay tuned to PBRCanada.com and follow the tour on Facebook (PBR Canada), Twitter (@PBRCanada), and Instagram (@PBRCanada) for the latest results. 
Professional Bull Riders
Abbotsford Monster Energy Tour
(Round 1-Round 2-Event Aggregate-World Points-Canadian Points)
1. Lonnie West, 84-89-173.00-80-465
2T. Zane Lambert, 82.5-87-169.50-40-170
2T. Jared Parsonage, 82-87.5-169.50-40-180
4. Dakota Louis, 88.5-0-88.50-20-160
5. Kale Marks, 86.5-0-86.50-15-105
6T. Garrett Green, 86-0-86.00-5-62.5
6T. Tyler Pankewitz, 86-0-86.00-5-62.5
8. Thor Hoefer II, 84.5-0-84.50-0-40
9. Brock Radford [2], 83.5-0-83.50-0-20
10. Edgar Durazo, 75.5-0-75.50-0-5
Jordan Hansen, 0-0-0.00
Brock Radford [1], 0-0-0.00
Justin Lloyd, 0-0-0.00
Cody Casper [1], 0-0-0.00
Cody Casper [2], 0-0-0.00
Cody Coverchuk, 0-0-0.00
Cole Young, 0-0-0.00
Juan Carlos Contreras, 0-0-0.00
Zac Peterson, 0-0-0.00
Dayton Johnston, 0-0-0.00
Coy Robbins, 0-0-0.00
Jackson Scott, 0-0-0.00
Todd Chotowetz, 0-0-0.00
Rosendo Ramirez, 0-0-0.00
Fabian Dueck, 0-0-0.00
Cody Floyd, 0-0-0.00
Logan Biever, 0-0-0.00
Ty Patten, 0-0-0.00
Kyle Primeau, 0-0-0.00
2017 PBR Canada National Standings
(Place, Rider, Events, Wins, Top 5's, Points, Total Winnings)
Brock Radford, 23, 5, 10, 2,131.66, $40,119.30
Zane Lambert, 19, 2, 10, 1,752.50, $26,782.15
Cody Coverchuk, 22, 2, 9, 1,420.00, $29,165.46
Cody Casper, 21, 2, 6, 1,389.16, $19,607.85
Lonnie West, 11, 1, 6, 1,380.00, $20,247.60
Jordan Hansen, 11, 2, 6, 1,285.83, $38,043.88
Jared Parsonage, 10, 2, 7, 1,222.50, $32,669.00
Lachlan Richardson, 13, 2, 7, 1,200.41, $17,684.83
Justin Lloyd, 26, 1, 4, 1,165.00, $18,589.56
Edgar Durazo, 17, 0, 5, 1,043.33, $11,806.16
Thor Hoefer II, 25, 0, 5, 944.16, $11,887.12
Derek Kolbaba, 4, 1, 1, 910.00, $43,487.00
Dakota Louis, 8, 1, 3, 822.50, $11,195.78
Fabiano Vieira, 4, 1, 3, 700.00, $37,253.88
Tanner Byrne, 13, 0, 4, 647.50, $26,331.86
Matt Triplett, 7, 1, 3, 643.33, $15,455.65
Cole Young, 22, 1, 3, 631.66, $9,376.83
Fraser Babbington, 9, 0, 5, 570.00, $10,071.51
Brady Oleson, 5, 1, 2, 530.00, $8,574.38
Kurt Shephard, 5, 0, 3, 507.50, $7,538.95
Garrett Green, 9, 1, 2, 490.00, $6,299.01
Chase Outlaw, 6, 0, 3, 402.08, $15,756.63
Scott Schiffner, 5, 1, 1, 370.00, $7,964.50
Tim Lipsett, 12, 0, 4, 350.00, $6,634.24
Dayton Johnston, 15, 1, 1, 337.50, $3,920.16
Juan Carlos Contreras, 15, 0, 3, 310.00, $2,905.26
Lawson Nobbs, 3, 1, 1, 282.50, $3,919.21
Zac Peterson, 14, 0, 2, 275.00, $5,196.48
Coy Robbins, 8, 0, 1, 272.50, $3,239.65
Tyler Harr, 8, 0, 2, 263.75, $7,440.63
Jess Lockwood, 4, 0, 2, 260.00, $40,877.00
Wacey Finkbeiner, 15, 0, 2, 242.50, $3,863.25
Mike Lee, 5, 0, 2, 225.00, $11,627.61
Rosendo Ramirez, 17, 0, 2, 205.00, $2,425.94
Reese Cates, 3, 0, 1, 200.00, $3,927.00
Jackson Scott, 14, 0, 2, 197.50, $3,528.35
Kale Marks, 12, 0, 2, 195.00, $3,127.32
Todd Chotowetz, 15, 0, 2, 195.00, $2,406.95
Joao Ricardo Vieira, 2, 0, 2, 165.00, $27,272.50
Gustavo Pedrero, 2, 0, 1, 165.00, $4,908.75
Fabian Dueck, 7, 0, 1, 155.00, $1,554.48
Marcos Gloria, 16, 0, 2, 155.00, $3,114.75
Stetson Lawrence, 3, 0, 1, 135.00, $1,504.50
Riley Blankenship, 5, 0, 1, 120.00, $4,560.25
Dakota Buttar, 7, 0, 1, 110.00, $1,229.10
Cody Floyd, 5, 0, 1, 110.00, $948.86
Luis Blanco, 1, 0, 1, 110.00, $1,202.33