Lambert and Parsonage split event win in Stavely
By: Kacie Albert Sunday, September 3, 2017 @ 10:54 AM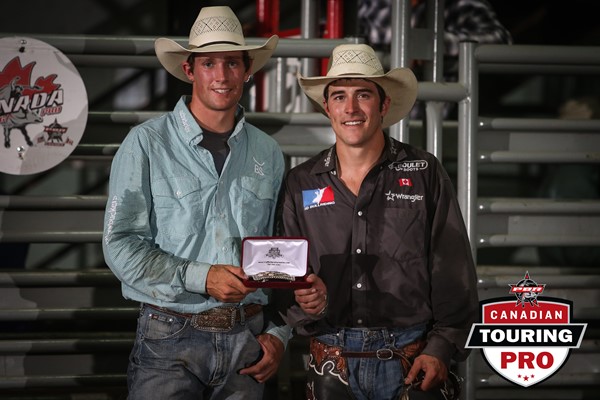 STAVELY, Alberta – Zane Lambert (Ponoka, Alberta) and Jared Parsonage (Maple Creek, Saskatchewan) tied for the event win Saturday night at PBR Canada Touring Pro Division's (TPD) Glen Keeley Memorial Bull Riding.
Lambert, the 2013 PBR Canada Champion, began the night covering Star Dust (Dynamite Buckers) for 83.5 points in Round 1, which he followed with a round-winning 87-point ride aboard Monkey Nuts (Skori Bucking Bulls) in the short go.
For Parsonage, he opened the Saturday night event riding Dilly Gaff (Girletz Rodeo Stock) for 84 points in Round 1. In the championship round, he started off with an 81 point effort on Tykro Checkered Flag (Wild Hoggs Bucking Bulls) but took advantage of re-ride option on Smiling Bob (Wild Hoggs Bucking Bulls), scoring 86.5 points to match Lambert.
The Canadian duo both earned 45 world points for the win. Lambert also takes home $3,878.55 and 235 Canadian points, while Parsonage earned $3,679.65 and 205 Canadian points.
Lambert, who double entered, earned an additional $92.82 and 7.5 Canadian points after he tied for seventh overall, courtesy of his 83.5-point ride in Round 1 aboard Darkest Days (Cold Rodeo/Prescott). Collectively he earned $3,971.37, 242.5 Canadian points, and 45 world points.
The win propelled both riders up the Canadian national standings. Lambert broke back into the Top 5, rising from No.6 to No.4, while Parsonage climbed four spots from No.15 to No.11. They now trail No.1 Brock Radford (DeWinton, Alberta) by 902.1 and 1,264.6 points respectively.
As co-event winners, both Canadian riders had their shot at a Glen Keeley Memorial Bull Riding bounty bull. 
Lambert bucked off Blow Me Away (Vold Rodeo/Prescott), however Parsonage covered Johnny Ringo (Vold Rodeo/Prescott) for 90 points to earn an additional $12,500. The 90-point ride was Parsonage's first during his four-year PBR career.
Cody Casper (Pacific, Washington) finished third after winning Round 1 with his 88.5-point ride on Corona Time (Vold Rodeo/Prescott).
The 24-year-old  earned $2,187.90 and 20 world points for his efforts.
The top two riders in the Canadian national standings, Radford and Cody Coverchuk (Meadow Lake, Saskatchewan), tied for fourth after logging matching 87-point rides.
In the first round Radford covered Mr. Brightside (Dynamite Buckers), while Coverchuk rode Spot On (Wilson Rodeo).
Each rider left Stavely with $1,239.81, 97.5 Canadian points, and 12.5 world points.
Eight other qualified rides were logged during Round 1 on Saturday night: Edgar Durazo (Moctezuma, Sonora, Mexico) on Broken Trigger (Skori Bucking Bulls) for 85.5 points; Justin Lloyd (Tisdale, Saskatchewan) on Wild Child (Girletz Rodeo Stock) for 85 points; Coy Robbins (Camrose, Alberta) on Wait for It (Thompson Rodeo Livestock) for 83.5 points; Coverchuk on Smash (Skori Bucking Bulls) for 83 points; Thor Hoefer II (Priest River, Idaho) on Panda House (Big Chief/Armstrong) for 82 points; Zac Peterson (Velva, North Dakota) on Hell's Bell (Wilson Rodeo) for 81 points; Garrett Green (Meeting Creek, Alberta) on Homegrown (Eno Bucking Bulls) for 80 points; and Hoefer II on El Camino (Wild Hoggs Bucking Bulls) for 79.5 points.  
Stunt Man Ray (Girletz Rodeo Stock) was the high-marked bull of the event, scoring 45.5-points when he dumped Coverchuk in the championship round.
PBR Canada's Touring Pro Division next travels to Magrath, Alberta for the Celebration for the Two Bit Nation on Thursday, September 21 at Two Bit Ranch. Action gets underway at 7:00 p.m. MT. 
Be sure to stay tuned to PBRCanada.com and follow the tour on Facebook (PBR Canada), Twitter (@PBRCanada), and Instagram (@PBRCanada) for the latest results.
The Glen Keeley Memorial Bull Riding
PBR Canada Touring Pro Division Event Results
Name, Round 1-Round 2-Aggr. Score-Total Points-Money Earned-World Points
1T. Jared Parsonage, 84-86.5-170.5-$16,179.65-45
1T. Zane Lambert, 83.5-87-170.5-$3,878.55-45
3. Cody Casper, 88.5-0-88.5-$2,187.90-20
4T. Cody Coverchuk, 87-0-87-$1,239.81-12.5
4T. Brock Radford, 87-0-87-$1,239.81-12.5
6. Edgar Durazo, 85.5-0-85.5-$570.18-5
7. Justin Lloyd, 85-0-85-$278.46
8T. Coy Robbins, 83.5-0-83.5-$92.82
8T. Zane Lambert, 83.5-0-83.5-$92.82
10. Cody Coverchuk, 83-0-83
11.Thor Hoefer II, 82-0-82
12. Zac Peterson, 81-0-81
13. Garrett Green, 80-0-80
14. Thor Hoefer II, 79.5-0-79.5