Kolbaba takes Round 1 in Quebec City
By: Kacie Albert Friday, June 2, 2017 @ 11:43 PM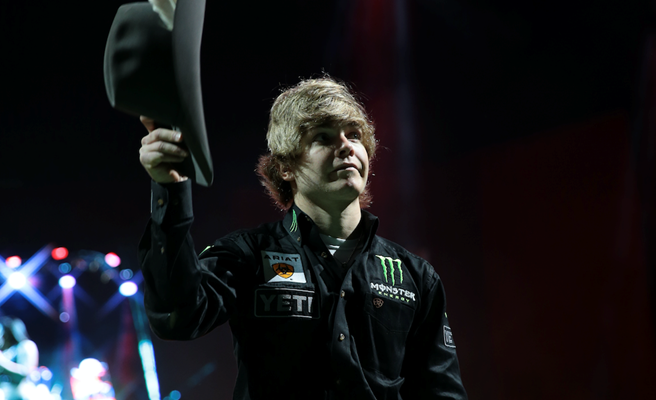 QUEBEC CITY, Quebec —Derek Kolbaba (Walla Walla, Washington), the top ranked rider in the world standings in the draw, dazzled fans in Quebec City for PBR's inaugural international major, riding his way to a Round 1 victory.
The 21-year-old breakout star, currently ranked No.4 in the world standings, covered Funky Junk (Mike Miller Bucking Bulls/Torres Brothers) for 89.5 points and $4,000.
Taking second in the round was world No.5 Chase Outlaw (Hamburg, Arkansas) who rode Second Hand Chance (K-C/Josie McElroy Bucking Bulls/Spark-lin Acres) for 87 points.
PBR rookie and 22-year-old Brennon Eldred (Sulphur, Oklahoma) took third in the round after lasting the full eight on The Joker (K-C / Josie McElroy Bucking Bulls) for 86 points.
Jared Parsonage (Maple Creek, Saskatchewan) and Jess Lockwood (Volborg, Montana) tied for fourth, each logging 85 point rides. Parsonage, the highest finishing Canadian, covered Jaw Breaker (K-C/Josie McElroy Bucking Bulls/Spark-lin Acres), while 2016 Rookie of the Year and the No.6 ranked rider in the world Jess Lockwood rode One Cool Dude (Mike Miller Bucking Bulls).
There were a total of 11 qualified rides in Round 1, including Canadians Zane Lambert (Ponoka, Alberta) who covered Devil Dog (Mike Miller Bucking Bulls) for 83.5 points for sixth, and Justin Lloyd (Tisdale, Saskatchewan) who rode Wild Mexican (Rafter P) for 81.5 points and tied for tenth. Tying for tenth with Lloyd was world No.8 Matt Triplett (Columbia Falls, Montana) who rode Last One Standing (Cornwell Bucking Bulls).
Error loading Partial View script (file: ~/Views/MacroPartials/RichtextEmbedVideo.cshtml)
Round 2 begins Saturday night at 7:00 p.m. ET.
Quebec City is the first event in a seven-city tour culminating in Saskatoon, Saskatchewan at the Sasktel Centre on October 20-21 for the Monster Energy PBR Canada Finals.
Visit PBRCanada.com for the full PBR Monster Energy Tour schedule and tickets.
Professional Bull Riders
Quebec City Monster Energy Tour - International Major - June 2nd, 2017
Event Leaders (Round 1-Round 2-Round 3-Event Aggregate-Event Points)
1. Derek Kolbaba, 89.5-0-0-89.50 - $4,000
2. Chase Outlaw, 87-0-0-87.00 - $3,000
3. Brennon Eldred, 86-0-0-86.00 - $2,000
4. Jess Lockwood, 85-0-0-85.00 - $500
(tie). Jared Parsonage, 85-0-0-85.00 - $500
6. Zane Lambert, 83.5-0-0-83.50
7. Fabiano Vieira, 83-0-0-83.00
(tie). Thor Hoefer II, 83-0-0-83.00
(tie). Juliano Antonio Da Silva, 83-0-0-83.00
10. Matt Triplett, 81.5-0-0-81.50
(tie). Justin Lloyd, 81.5-0-0-81.50
Reese Cates, 0-0-0-0.00
Robson Aragao, 0-0-0-0.00
Brady Oleson, 0-0-0-0.00
Jordan Hansen, 0-0-0-0.00
Garrett Green, 0-0-0-0.00
Lonnie West, 0-0-0-0.00
Tyler Harr, 0-0-0-0.00
Brock Radford, 0-0-0-0.00
Matt Werries, 0-0-0-0.00
Brant Atwood, 0-0-0-0.00
Cody Coverchuk, 0-0-0-0.00
Zac Peterson, 0-0-0-0.00
Cody Casper, 0-0-0-0.00
Dakota Louis, 0-0-0-0.00
Jake Gardner, 0-0-0-0.00
Wacey Finkbeiner, 0-0-0-0.00 
About Professional Bull Riders (PBR) Canada:
Professional Bull Riders (PBR), which has events in five countries and is available in more than 400 million homes globally, has competed in Canada since 1996. The Monster Energy Canadian Tour debuted in 2016 as the country's first national series. Points earned at Canadian events count towards qualification to the elite PBR Canadian Championship. Upon the conclusion of the Championship, the bull rider with the most regular season and Championship points is crowned the PBR Canada Champion. Points won at all Canadian events count toward qualifying on the prestigious PBR Built Ford Tough Series and PBR Built Ford Tough World Finals in Las Vegas, Nevada. Rogers Place in Edmonton, AB will be the first-ever Canadian host of the PBR Global Cup on November 9-11, 2017. The three-day event will feature the world's best bull riders from Canada, the United States, Mexico, Brazil and Australia, all competing for their country and a Canadian-record purse of $1,000,000, the second-largest payout in North America next to the PBR World Finals in Las Vegas. For more information on PBR Canada, go to www.pbrcanada.com, or follow on Facebook at www.facebook.com/pbrcanada on Twitter at www.twitter.com/pbrcanada or Instagram at www.Instagram.com/PBRCanada