Jordan Hansen Wins in Ponoka to Take No.1 Spot in Canadian National Standings
By: Ted Stovin Friday, June 23, 2017 @ 11:06 PM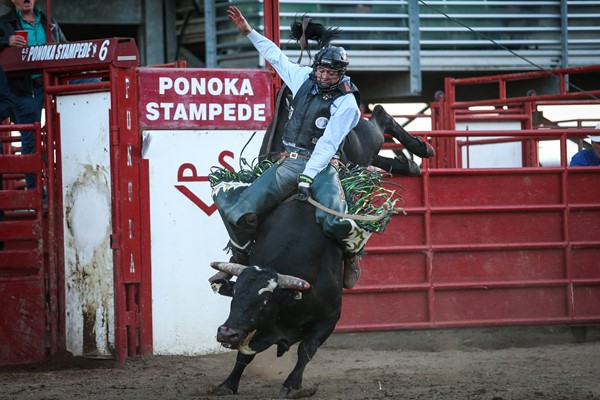 PONOKA, Alberta – Jordan Hansen (Okotoks, Alberta) notched his second win of the 2017 season on Friday night, going a perfect 2-for-2 at the PBR event at the Ponoka Stampede, earning enough points to overtake the No.1 spot in the PBR's Canadian National Standings.
The 23-year-old rode Body Special (Outlaw Buckers) for 83 points in Round 1 and Wish Right Now (Vold Rodeo/Prescott) for 87 points in the championship round to best second-place Chase Outlaw (Hamburg, Arkansas) by six points in the aggregate.
For the win, his second in as many years, Hansen earned $7,794.50 and 477.5 points towards the Canadian National Standings. He now leads No.2, Zane Lambert by 323.33 points. 
Hansen's victory also earned him 80 points towards the World Standings. After entering the event ranked No.49, he now sits at No.37, just 45 points outside a coveted Built Ford Tough Series berth.
Outlaw also delivered a perfect 2-for-2 performance, riding Yellow Moon (X6 Ranch) for 81.5 points in Round 1 and Cross Check (Vold Rodeo/Prescott) for 82.5 points in the short go.
For his work, Outlaw earned $5,771.50 and 50 world points. Currently ranked No.6 in the world, Outlaw now trails No.5 J.B. Mauney (Statesville, North Carolina) by 7.08 points.
Reese Cates (Monticello, Arkansas) finished third in Ponoka courtesy of his Round 1 winning 85-point ride on Bondara (Outlaw Buckers), but bucked off Minion Stuart (Skori Bucking Bulls) in the championship round. Cates earned $3,927 CAD and 30 world points for the performance, elevating him to No.35 in the world standings.
Hometown rider Wacey Finkbeiner (Ponoka, Alberta) nearly won the Touring Pro Division event, but fell short after narrowly missing the eight second mark in the championship round aboard Venom (Vold Rodeo). His Round 1, 84.5-point ride aboard Shot of Whiskey (Two Bit Bucking Bulls) secured Finkbeiner a fourth place finish, his season best at a PBR event so far in 2017. For the showing, he takes home 20 world points, 120 Canadian points and $2,737.
Fellow hometown rider Lambert (Ponoka, Alberta) and Lachlan Richardson (Gresford, Australia) completed the Top 5, tying after delivering matching 84-point rides in Round 1. Lambert rode Apex (Girletz Rodeo Stock) to the whistle but was bucked off Pound the Alarm (Wild Hoggs Bucking Bulls) in the championship round. Richardson made the eight on Snap Backs (Skori Bucking Bulls) but was bucked off Herf (Two Bit Bucking Bulls) in the finals. For their work both Lambert and Richardson earned $1,368.50 and 12.5 world points.
For Lambert, the 77.5 Canadian points he also earned solidified his No.2 ranking in the Canadian National Standings.
Next up PBR Canada visits Toronto and Ricoh Coliseum on June 24 for the third and final eastern stop on the 2017 PBR Monster Energy Tour. Action for the PBR's first-ever visit to the city gets underway at 7:30pm. Tickets start at $25 and can be purchased online at Ticketmaster.ca
Official results from the Ride, Rock & Roll PBR at the Ponoka Stampede Grounds in Ponoka, AB on June 23rd, 2017.
Round 1: Reese Cates on Outlaw Buckers' Bondara, 85 points, $1,428.00; 2. Wacey Finkbeiner, 84.5, $1,071.00; 3. (tie) Zane Lambert and Lachlan Richardson, 84, $535.50; 5. (tie) Tanner Byrne and Jordan Hansen, 83; 7. Chase Outlaw, 81.5; 8. (tie) Dakota Buttar and Cody Casper, 80.5; 10. Jake Gardner, 79.5; 11. Edgar Durazo, 74.5.
Championship Round: 1. Jordan Hansen on Eno Bucking Bulls' Body Special, 87 points, $1,428.00; 2. Chase Outlaw, 82.5, $1,071; no other qualified rides.
Aggregate, total money and points earned: 1. Jordan Hansen – Okotoks, AB – 170 points on two bulls, $7,794.50, 80; 2. Chase Outlaw – Hamburg, AR – 164, $5,771.50, 50; 3. Reese Cates – Eldorado, AR – 85 points on one bull, $3,927.00, 30; 4. Wacey Finkbeiner – Ponoka, AB – 84.5, $2,737.00, 20; 5. (tie) Zane Lambert – Ponoka, AB and Lachlan Richardson – Gresford, NSW – 84, $1,368.50 each, 12.5 points each; 7. Tanner Byrne – Prince Albert, SK – 83, $499.80; 8. Dakota Buttar – Kindersley, SK and Cody Casper – Pacific, WA – 80.5 points, $166.60 each.
About Professional Bull Riders (PBR) Canada:
Professional Bull Riders (PBR), which has events in five countries and is available in more than 400 million homes globally, has competed in Canada since 1996. The Monster Energy Canadian Tour debuted in 2016 as the country's first national series. Points earned at Canadian events count towards qualification to the elite PBR Canadian Championship. Upon the conclusion of the Championship, the bull rider with the most regular season and Championship points is crowned the PBR Canada Champion. Points won at all Canadian events count toward qualifying on the prestigious PBR Built Ford Tough Series and PBR Built Ford Tough World Finals in Las Vegas, Nevada. Rogers Place in Edmonton, AB will be the first-ever Canadian host of the PBR Global Cup on November 9-11, 2017. The three-day event will feature the world's best bull riders from Canada, the United States, Mexico, Brazil and Australia, all competing for their country and a Canadian-record purse of $1,000,000, the second-largest payout in North America next to the PBR World Finals in Las Vegas. For more information on PBR Canada, go to www.pbrcanada.com, or follow on Facebook at www.facebook.com/pbrcanada and Twitter at http://twitter.com/PBRCanada.