Hansen owns Lethbridge
By: Ted Stovin Saturday, March 4, 2017 @ 10:19 PM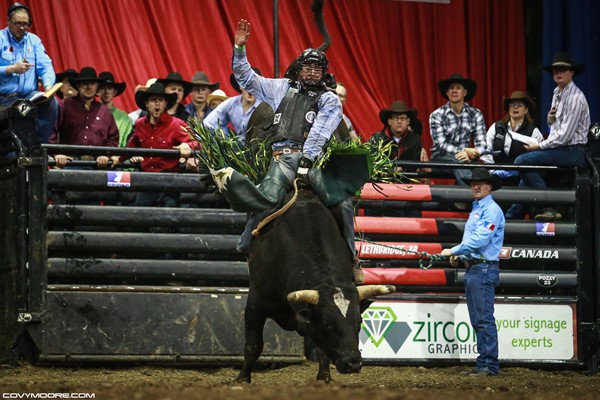 LETHBRIDGE, Alberta -- Canadian Pro Rodeo's 2016 Champion, Jordan Hansen didn't just win the Bridge City Chrysler/LA Towing PBR Challenge but he took second place too for just under $10,000 in earnings.
Unofficial results from the Bridge City Chrysler/LA Towing PBR Challenge in Lethbridge, AB at the Enmax Centre on March 3rd and 4th, 2017. 
Round one: 1. Cody Coverchuk on Outlaw Buckers' 106 Cutie, 87, $1,071.00; 2. (tie) Jordan Hansen and Kale Marks, 86, $669.37 each; 4. Justin Lloyd, 85.5, $267.75; 5. (tie) Edgar Durazo, Riley Blankenship and Scott Schiffner, 85; 8. (tie) Shawn Proctor and Cody Casper, 84.5.
Finals: 1. Jordan Hansen on Skori Bucking Bulls' 819 Minion Stuart, 89 points, $1,071.00; 2. Lonnie West, 86, $803.25; 3. Jordan Hansen, 85.5, $535.50; 4. Wacey Finkbeiner, 84, $267.75
Aggregate: 1. Jordan Hansen - Okotoks, AB - 175 points on two bulls, $6,113.62; 2. Jordan Hansen - Okotoks, AB - 167, $3,659.25; 3. Lonnie West - Cadogan, AB - 147, $2,677.50; 4. Cody Coverchuk - Meadow Lake, SK - 87 points on one bull, $2,320.50; 5. Kale Marks - Sunnybrook, AB - 86, $1,419.07; 6. Justin Lloyd - Tisdale, SK - 85.5, $767.55; 7. (tie) Edgar Durazo - Moctezuma Sonora, Mexico, Riley Blankenship - Kildeer, ND and Scott Schiffner - Strathmore, AB, 85, $208.25 each.
Video courtesy of Feature Productions Inc.
Error loading Partial View script (file: ~/Views/MacroPartials/RichtextEmbedVideo.cshtml)
Next up on the PBR Canada schedule is stop number two for 2017, in TeePee Creek, AB on Saturday March 11th. 
About PBR Canada: PBR (Professional Bull Riders) which has events in six countries and is available in 500 million homes globally, has competed in Canada since 1996. The PBR Monster Energy Tour will resume in June of 2017 as the country's first fully televised national professional bull riding series. Points earned at the Tour's Canadian events count towards qualification to the elite PBR Canadian Finals. Upon the conclusion of the Finals, the bull rider with the most regular season and Finals points is crowned the PBR Canada Champion. Points won at all Canadian events count toward qualifying on the prestigious PBR Built Ford Tough Series (BFTS) and PBR World Finals in Las Vegas, NV. For more information on PBR Canada, go to www.pbrcanada.com, or follow on Facebook at www.facebook.com/pbrcanada and Twitter at http://twitter.com/PBRCanada.