Global Cup Bull Rider Jerseys Revealed Ahead of Edmonton Event
By: Andrew Giangola Wednesday, October 11, 2017 @ 6:20 PM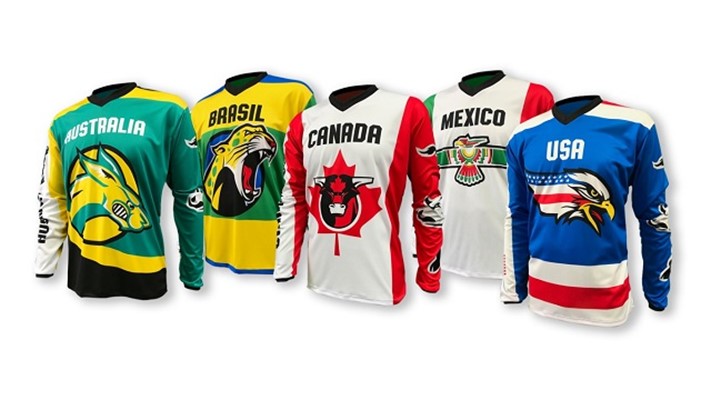 PUEBLO, Colo.–  Ahead of the first leg of the inaugural Global Cup in Edmonton, Alberta, PBR has revealed the jerseys the bull riders will be competing in as five nations prepare to go head-to-head for international bull riding glory. 
Each uniform pays homage to the respective nation's colors and prominently features an animal of local significance.
As PBR grows in popularity in the five countries in which the sport currently competes, the new global tournament features top athletes from Australia, Brazil, Canada, Mexico and the United States riding for their respective nation teams.
The first-ever Global Cup event will be held at Rogers Place on Nov. 9-11.
RELATED: Single-Day Tickets On Sale Now for PBR Global Cup Event in Edmonton
The first night will feature the Canadian qualifier, where the final nine members of Team Canada will be named, followed by a two-night showdown between the host nation, Australia, Brazil, Mexico and the United States.  
RELATED: PBR Global Cup Riders Announced for Edmonton
PBR has also announced that the Global Cup will travel to Qudos Bank Arena in Sydney, Australia on June 9-10, 2018 for the second leg of the inaugural event. Additional dates in Brazil, Mexico and the United States will be announced in the future.
Tickets for the PBR Global Cup in Sydney will go on sale October 27. 
Record purses will be on the line at each of the first two stops. The event at Rogers Place will feature a Canadian-record $1,000,000 purse, while the second stop will boast an Australian-record $750,000 purse.  
"Qudos Bank Arena is a world-class facility that has hosted the PBR Australia World Finals since 2010," said Glen Young, General Manager for PBR Australia. "It is fitting that a competition crowning the world's best bull-riding nation will be held in Australia's largest city in a premier venue that's been home to the Olympic Games."
Situated in Sydney Olympic Park, Qudos Bank Arena, formerly known as the Sydney Super Dome, was completed in 1999 as part of the facilities for the 2000 Summer Olympics. The arena is consistently ranked as one of the world's top sport's facilities. 
PBR is finalizing primary broadcast partnerships to televise the Global Cup in each country. Additionally, the events will be distributed to more than 450 million homes in 45 territories through PBR's existing international broadcast partners outside of its operating territories.
Tickets for the highly anticipated first stop of the inaugural Global Cup in Edmonton, Alberta are on sale now and can be purchased at RogersPlace.com.
Be sure to stay tuned to PBRCanada.com and follow the tour on Facebook (PBR Canada), Twitter (@PBRCanada), and Instagram (@PBRCanada) for the latest results.