Dakota Buttar Ties for Third in Round 1 of PBR World Finals
By: Kacie Albert Thursday, November 2, 2017 @ 7:30 AM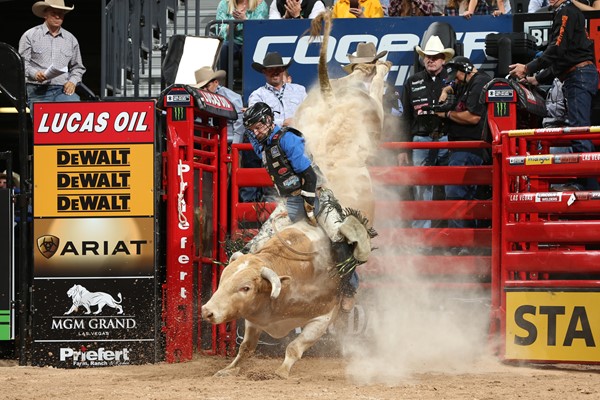 LAS VEGAS – After missing the final regular season Built Ford Tough Series (BFTS) event of 2017, Dakota Buttar (Kindersley, Saskatchewan) continued his second-half momentum, finishing third in the first round of his second career Built Ford Tough World Finals.
The 24-year-old tied for third after logging a matching 87.75-point ride with world No.1 Derek Kolbaba (Walla Walla, Washington).
In making the 8 seconds four consecutive times on the elite BFTS, Kolbaba's qualified ride came aboard RJ (Shippy / Good's Bucking Bulls), while Buttar covered Nailed (Broken Arrow Bucking Bulls) after earning a re-ride.
While the matchup was a first-time showdown for Kolbaba, Buttar's draw was a rematch from March's Albuquerque, New Mexico, event when he covered the bull for 88.25 points.
While Nailed now hails from Oklahoma's Broken Arrow Bucking Bulls his roots trace to Ponoka, Alberta's Vold Rodeo and Nansen Vold.
Each rider earned $12,500 and 110 world points.
Buttar remains No.24 in the world standings heading into tomorrow night's second round. 
For Buttar, this year in Vegas marks the first year he earned an automatic berth after having to qualify via the Real Time Pain Relief Velocity Tour Finals in 2016.
He came to Sin City amidst a surge, having finished fifth at the penultimate event of 2017 in Raleigh, North Carolina, and winning his first career BFTS event the weekend prior in Nampa, Idaho.
Error loading Partial View script (file: ~/Views/MacroPartials/RichtextEmbedVideo.cshtml)
Kolbaba's 8-second ride solidified his place atop the world standings.
Entering the event 142.5 points ahead of No. 2 Eduardo Aparecido (Gouvelandia, Brazil), Kolbaba now leads the 27-year-old, who remained second in the standings after bucking off in Round 1, by 252.5 points.
Recording his first career ride at the PBR (Professional Bull Riders) Built Ford Tough World Finals, Jess Lockwood (Volborg, Montana) won Round 1 and vaulted two spots closer to the No. 1 spot in the world standings Wednesday night inside T-Mobile Arena.
The 20-year-old covered Big Dutch (Ravenscroft/Vos/Nicolle Boyd/Toby Floyd) for 90.25 points to earn $35,000 and 300 world points in a very tight championship points race in Las Vegas.
Last year, the 2016 PBR Rookie of the Year was shut out (0-for-5).
"A new year and a new me," Lockwood said. "I'm a lot more mature this year and a lot more ready for this."
Lockwood began the night with his torso packed in ice, ranked No. 4 in the world, 467.5 points behind No. 1 Derek Kolbaba (Walla Walla, Washington). Taking the first round of the most prestigious event in professional bull riding propelled him to No. 3 in the standings.
Lockwood won the PBR season-opener at Madison Square Garden and led the world standings the first six weeks of the season. He is now just 277.5 points removed from No.1 Kolbaba.
"I know everyone ahead of me is going to ride their bulls and step up to the plate so it's all on me," Lockwood said. "I'm not thinking of what they're doing, I'm just focused on my riding."
Fabiano Vieira (Pérola, Brazil) finished second in Round 1 after riding Inferno (D&H Cattle Co./Barthold) for 88 points.
The runner-up effort earned the Brazilian $20,000 and 180 world points, elevating him from No. 10 to No. 7 in the world standings.
Three-time World Champion Silvano Alves (Pilar do Sul, Brazil) rounded out the Top 5, earning $6,000 and 75 world points.
In riding Switch Hitter (Halpain/Martinelli) for 87.5 points, Alves was able to rise from No. 22 to No. 19 in the world standings.
In his quest to earn back-to-back world titles, 2016 World Champion Cooper Davis (Jasper, Texas) covered Power Plant (Let'R Buck - Long Ranch) for 85.25 points and finished 11th in Round 1, just outside of the point earning placements.
Despite the qualified ride, Davis lost ground to world leader Kolbaba, falling one spot in the rankings to No. 4.
Heading into Round 2, the 23-year-old is 284.17 points off the world lead, after beginning the season culminating event 174.17 points behind Kolbaba.
Riding in his first event back since undergoing major reconstructive shoulder surgery following this summer's Calgary Stampede, J.B. Mauney (Statesville, North Carolina) earned his 499th qualified ride on the BFTS in Round 1.
The two-time World Champion covered Polar Vortex (Shippy/ Tricker) for 86.75 points to finish seventh in the round for $1,000 and 35 world points.
After earning a berth to his first-ever PBR World Finals by winning the 2017 Real Time Pain Relief Velocity Tour Finals Monday night, reigning PRCA champion Sage Kimzey (Weatherford, Oklahoma) finished sixth in Round 1 in covering Bushwacked (Ohl/Herb/McDowell/Comozzi) for 87 points to earn $3,000 and 50 world points.  
It was Kimzey's first out in the PBR's elite series.
Fans can watch all the action from Round 1 on demand tomorrow morning, Thursday, Nov. 2, starting at 8 a.m. ET at PBR.com/ondemand.
The Top 40 bull riders will return Thursday night for Round 2 of the World Finals starting at 10 p.m. ET on CBS Sports Network.
Professional Bull Riders Built Ford Tough Series
Built Ford Tough World Finals
T-Mobile Arena, Las Vegas, Nevada
Event Leaders (Round 1-Round 2-Round 3-Round 4-Round 5-Round 6-Event Aggregate-Event Points)
Jess Lockwood, 90.25-0-0-0-0-0-90.25-300 Points.
Fabiano Vieira, 88-0-0-0-0-0-88.00-180 Points.
Derek Kolbaba, 87.75-0-0-0-0-0-87.75-110 Points.
(tie). Dakota Buttar, 87.75-0-0-0-0-0-87.75-110 Points.
Silvano Alves, 87.5-0-0-0-0-0-87.50-75 Points.
Sage Kimzey, 87-0-0-0-0-0-87.00-50 Points.
J.B. Mauney, 86.75-0-0-0-0-0-86.75-35 Points.
Jose Vitor Leme, 86-0-0-0-0-0-86.00-25 Points.
Gage Gay, 85.75-0-0-0-0-0-85.75-10 Points.
Guilherme Marchi, 85.5-0-0-0-0-0-85.50-5 Points.
Cooper Davis, 85.25-0-0-0-0-0-85.25
Stetson Lawrence, 84-0-0-0-0-0-84.00
Marco Antonio Eguchi, 81.75-0-0-0-0-0-81.75
Eduardo Aparecido, 0-0-0-0-0-0-0.00
Kaique Pacheco, 0-0-0-0-0-0-0.00
Chase Outlaw, 0-0-0-0-0-0-0.00
Stormy Wing, 0-0-0-0-0-0-0.00
Joao Ricardo Vieira, 0-0-0-0-0-0-0.00
Dener Barbosa, 0-0-0-0-0-0-0.00
Cody Teel, 0-0-0-0-0-0-0.00
Rubens Barbosa, 0-0-0-0-0-0-0.00
Claudio Montanha Jr., 0-0-0-0-0-0-0.00
Cody Nance, 0-0-0-0-0-0-0.00
Matt Triplett, 0-0-0-0-0-0-0.00
Mason Lowe, 0-0-0-0-0-0-0.00
Shane Proctor, 0-0-0-0-0-0-0.00
Ryan Dirteater, 0-0-0-0-0-0-0.00
Emilio Resende, 0-0-0-0-0-0-0.00
Brennon Eldred, 0-0-0-0-0-0-0.00
Luciano De Castro, 0-0-0-0-0-0-0.00
Ramon de Lima, 0-0-0-0-0-0-0.00
Mike Lee, 0-0-0-0-0-0-0.00
Cody Campbell, 0-0-0-0-0-0-0.00
Lachlan Richardson, 0-0-0-0-0-0-0.00
Koal Livingston, 0-0-0-0-0-0-0.00
Troy Wilkinson, 0-0-0-0-0-0-0.00
J.W. Harris, 0-0-0-0-0-0-0.00
Alex Marcilio, 0-0-0-0-0-0-0.00
Skeeter Kingsolver, 0-0-0-0-0-0-0.00
Taylor Toves, 0-0-0-0-0-0-0.00
2017 Professional Bull Riders Built Ford Tough Series World Finals Standings
(Place, Rider, Events, Wins, Top 5's, Points, Total Winnings)
Derek Kolbaba, 54, 8, 15, 4,415.00, $309,172.32
Eduardo Aparecido, 38, 5, 12, 4,162.50, $325,903.30
Jess Lockwood, 44, 6, 16, 4,137.50, $334,792.90
Cooper Davis, 41, 3, 15, 4,130.83, $234,770.92
Kaique Pacheco, 49, 6, 15, 3,812.50, $378,275.15
Chase Outlaw, 47, 4, 18, 3,169.16, $185,902.27
Fabiano Vieira, 47, 3, 13, 2,325.83, $224,401.47
Stormy Wing, 38, 3, 6, 2,277.50, $147,702.11
Joao Ricardo Vieira, 49, 1, 19, 2,255.00, $152,337.65
Dener Barbosa, 43, 2, 10, 2,185.83, $151,986.12
Cody Teel, 46, 4, 12, 2,110.83, $161,374.00
Rubens Barbosa, 54, 1, 5, 2,037.50, $121,225.84
Claudio Montanha Jr., 47, 2, 14, 2,001.66, $132,519.35
J.B. Mauney, 24, 2, 5, 1,966.24, $139,977.49
Cody Nance, 52, 3, 15, 1,927.50, $117,177.15
Matt Triplett, 47, 5, 13, 1,915.00, $128,267.48
Stetson Lawrence, 40, 1, 6, 1,545.00, $94,805.34
Mason Lowe, 32, 1, 5, 1,463.33, $111,499.58
Silvano Alves, 42, 0, 7, 1,390.83, $71,689.91
Marco Antonio Eguchi, 50, 0, 7, 1,380.00, $85,975.67
Guilherme Marchi, 37, 0, 8, 1,334.99, $68,225.22
Shane Proctor, 30, 2, 4, 1,322.50, $85,423.33
Ryan Dirteater, 33, 0, 3, 1,203.33, $82,422.16
Dakota Buttar, 32, 1, 4, 1,155.83, $70,055.31
Emilio Resende, 35, 1, 7, 1,044.16, $68,126.80
Brennon Eldred, 31, 3, 10, 1,019.16, $83,796.90
Luciano De Castro, 43, 1, 8, 1,017.50, $68,006.79
Ramon de Lima, 40, 2, 15, 947.50, $86,021.95
Gage Gay, 39, 1, 4, 888.33, $61,277.57
Mike Lee, 53, 3, 8, 725.83, $61,209.49
Cody Campbell, 49, 3, 10, 631.65, $57,992.25
Lachlan Richardson, 37, 3, 10, 592.50, $51,575.87
Koal Livingston, 44, 1, 8, 592.50, $52,214.63
Aaron Kleier, 17, 6, 15, 562.50, $34,594.08
Troy Wilkinson, 33, 1, 8, 543.75, $50,108.10
Sage Kimzey, 4, 2, 3, 535.00, $541,233.13
J.W. Harris, 32, 2, 5, 512.91, $41,525.55
Alex Marcilio, 32, 1, 9, 480.00, $100,635.30
Fraser Babbington, 44, 3, 15, 445.00, $39,491.10
Jordan Hansen, 16, 2, 7, 430.00, $37,889.39
Nathan Burtenshaw, 41, 2, 9, 403.33, $39,870.76
Skeeter Kingsolver, 32, 3, 9, 397.50, $38,050.37
Cody Rodeo Tyler, 47, 2, 6, 395.41, $38,672.38
Brock Radford, 32, 5, 10, 394.16, $32,000.67
Sonny Schafferius, 29, 2, 8, 380.00, $27,656.85