Byrne Leads Canadian Contingent in Adelaide
By: Kacie Albert Monday, December 11, 2017 @ 1:15 PM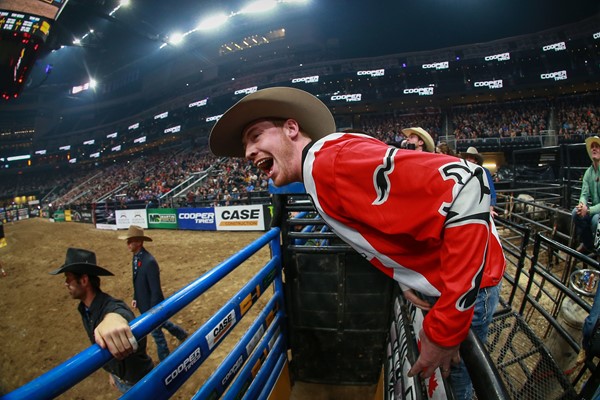 ADELAIDE, Australia – In front of a sold-out crowd at the Adelaide Entertainment Centre, Tanner Byrne (Prince Albert, Saskatchewan) tied for seventh, while Brock Radford (De Winton, Alberta) finished tenth, at PBR Australia's Adelaide Invitational.
In Round 1, Byrne covered Snap Shot (Woodall Rodeo Co.) for 84 points, trying for third. The 25-year-old however, failed to make the 8 in both the second and championship rounds, bucking off White Ice (John Gill & Sons) and SweetPro's Chemical Weapon (Maynes Bucking Bulls).
For his performance, Byrne collected $529.33.
De Winton, Alberta-native Radford began his event with a 82.75-point trip aboard Sporty Spice (Throsby & Russell Bucking Bulls). Much like Byrne, Radford finished the event going 1-for-3, bucking off Blind Fury (Woodall Rodeo Co.) in Round 2, and Jack Hammer (Woodall Rodeo Co.) in the Championship Round.
2016 PBR Australia Champion Cody Heffernan (Singleton, New South Wales, Australia) went 2-for-3 to claim the event title.
Heffernan's event began with a Round 1 win after he covered Ransom 2 (John Gill & Sons) for 85 points.
After failing to make the 8 in Round 2 aboard On Point (Throsby & Russell Bucking Bulls), he returned to his winning form in the championship round, the only rider to record a qualified ride, with 85.5 points on Light Em Up (Throsby & Russell Bucking Bulls).
For the win, his first of the season, Heffernan exited the Adelaide venue with $5,692.24 and 80 points towards the world standings.
Global Cup Team Australia rider Cliff Richardson finished second, also going 2-for-3, to earn $3,007.22 and 30 world points.
He rode City Kid (Woodall Rodeo Co.) for 83.5 points in Round 1, before earning the same score aboard Hot Dots (Throsby & Russell Bucking Bulls) to win Round 2.
Richardson's bid for a perfect event was ended when he was bucked off by 2016 PBR Australia champion bull SweetPro's Hillbilly Deluxe (Maynes Bucking Bulls) at the 3.21-second mark in the Championship Round. Hillbilly Deluxe was named the bull of the event for his efforts in the out, earning a 44.5-point bull score.
Fraser Babbington (Gisborne, New Zealand) was third, netting $1,856.50 and 30 world points for his sixth Top 5 finish of the 2018 season at PBR Australia events.
In fourth was Rohan Markham, who after going a perfect 2-for-2 in the opening rounds, was unable to compete in the Championship Round due to injury.
Justin Paton (Nebo, Queensland, Australia) rounded out the Top 5, earning his third consecutive Top 5 finish, $751.81 and 15 world points.
PBR Australia hosts its final event of the 2017 calendar year, Rockin Rocky PBR Bull Ride, presented by Great Western Hotel, on December 31 at 7:00 p.m.
Be sure to stay tuned to PBRCanada.com for all the latest news and follow the tour on Facebook (PBR Canada), Twitter (@PBRCanada), and Instagram (@PBRCanada) for the latest results. 
Professional Bull Riders Australia
Adelaide Invitational
(Round 1-Round 2-Round 3-Event Aggregate)
1. Cody Heffernan, 85-0-85.5-170.5
2. Cliff Richardson, 83.5-83.5-0-167
3. Fraser Babbington, 84-82.75-0-166.75
4. Rohan Markham, 82.5-74.25-0-156.75
5. Justin Paton, 76.25-75.25-0-151.5
6. Troy Wilkinson, 84.5-0-0-84.5
7T. Beau Willis, 84-0-0-84
7T. Tanner Byrne, 84-0-0-84
9. Kurt Shephard, 0-83.5-0-83.5
10. Brock Radford, 82.75-0-0-82.75
11. Lachlan Richardson, 0-82.5-0-82.5
12. Aaron Kleier, 82-0-0-82
13. Lachlan Slade, 79-0-0-79
14. Lucas Divino, 75.75-0-0-75.75
15. Gustavo Pedrero, 69.25-0-0-69.25
Junior Quaresma, 0-0-0-0
Thor Hoefer II, 0-0-0-0
Roy Dunn, 0-0-0-0
Sonny Schafferius, 0-0-0-0
Jay Borghero, 0-0-0-0
Ethan Watts, 0-0-0-0
Bailey Woodard, 0-0-0-0