Byrne and Eldred look impressive in Pool B
By: Ted Stovin Friday, July 14, 2017 @ 9:14 PM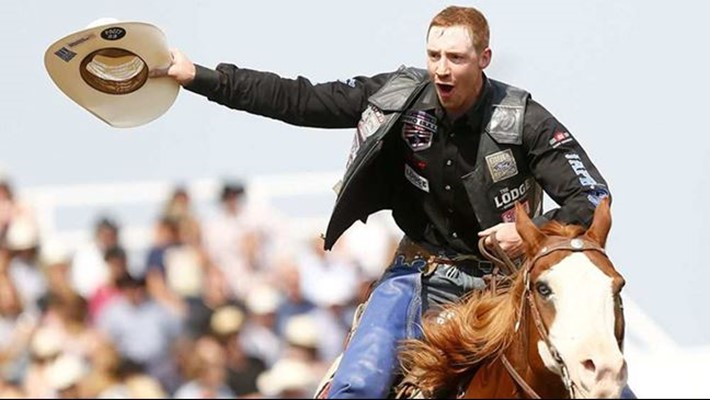 CALGARY – Coming into Friday, Tanner Byrne was doing some math in his head thinking he needed a ride aboard Crooked Face to advance to Championship Sunday at the Calgary Stampede.
"I've never been on that bull before," Byrne said. "I have seen videos of him at all the Touring Pros and stuff, and he looked like he fit my style perfect. Really up and down, hesitating a bit, just giving me enough time to be kicking loose having some fun with him. I couldn't have asked for a better bull today."
As it turned out, Byrne took second place on the final day of Pool B competition with a score of 87.5 points. Byrne advances to Championship Sunday with $12,500 CAN, not bad for a guy who's only been on minimal bulls since returning to competition a month ago from a torn groin.
"I've been out for six months, I haven't made any money. When I came back, I felt terrible, to tell you the honest truth," Byrne said. "I couldn't stay on bulls. I felt like I lost my touch to riding bulls. Luckily in the second round, I had a nice spinner that allowed me to slow things down and kick loose a bit and get that feeling back. Now I feel really good, I'm not panicking, just enjoying it again."
With a spot on Sunday solidified, business isn't over for Byrne after a 3-for-4 week.
"I'm riding in Ty (Pozzobon)'s boots at Calgary, there's been a lot of talk about him, I just want to make him as proud as I can," Byrne added.
There aren't many people who can say they have a perfect riding percentage at the Calgary Stampede, but so far, Brennon Eldred can.
"This is my first time. It's everything I've dreamed of as a little kid. It's awesome. And to come in here my first time and get my first (four) down, that was my plan, and it's a tough rodeo to do that at. I'm just excited and looking forward to three more hopefully," Eldred said on Friday morning before Round 4 of Pool B.
"I grew up as a little kid hearing about the Calgary Stampede and it's just one of the most prestigious events in the world to win, and I've always wanted to come," Eldred said. "I was traveling with Sage (Kimzey) a couple of years ago when he won it and just ever since he won it, and going with him that year, it just fired me up and made me want to get here, so I'm excited, it's fun for sure."
With $10,500 to his name already – the biggest checks are paid out on Sunday – and the current No. 28 man in the PBR world standings is taking in all that the Calgary Stampede has to offer.
"I went to Ranchman's one night," Eldred said. "I had to go try that out. Everybody is talking about it, other than that, I just hang out in the room and make sure my body is feeling good. You know this is a marathon, not a sprint. Six bulls is a lot on a guy, especially during this time of year when we've already been rodeoing as much as we have. So I just make sure I take care of my body, and am feeling good, and showing up. I don't want to show up blaming it on something.
"I want to show up and give it my all and feel the best I can. I'm here to do my job."
Two-time World Champion J.B. Mauney won Pool B on Friday afternoon with a 90.5-point ride on Cowahbunga, but sustained a dislocated right shoulder and had to be transported to a local hospital.
Derek Kolbaba and Brock Radford both earned $7,000 in Pool B going 2-for-4.
If Mauney is out of competition Sunday, Kolbaba will take his spot due to registering a higher aggregate score.
Radford competes on Wildcard Saturday with Cody Teel and Cody Coverchuk.
Tyler Pankewitz and Chase Outlaw began Pool B however did not finish. Pankewitz was drawn out of competition due to an injury. Outlaw turned out of competition due to a family emergency and may return for Wild Card Saturday.