Buttar Tied for Sixth Overall at 2017 World Finals
By: Kacie Albert Friday, November 3, 2017 @ 12:07 AM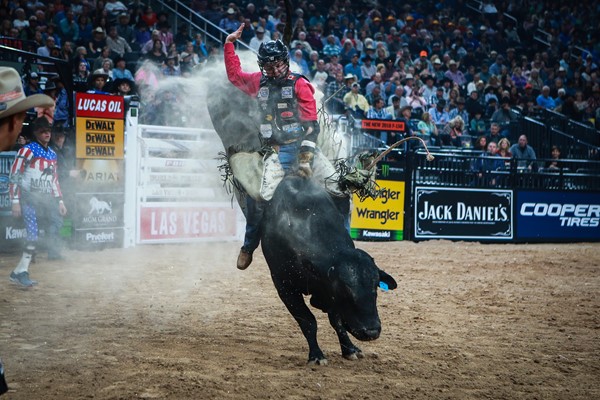 LAS VEGAS – Narrowly missing the 8-second mark, Dakota Buttar (Kindersley, Saskatchewan, Canada) failed to record a qualified ride in Round 2 of the 2017 PBR (Professional Bull Riders) Built Ford Tough World Finals.
Facing yet another bull with Canadian ties, Buttar bucked off Stunt Man Ray (Broken Arrow Bucking Bulls/Girletz Rodeo Stock) at the 7.77-second mark.
Despite not earning any points, Buttar is tied for sixth in the event aggregate heading into Friday night's Round 3.
After holding the top spot in the world standings the first six weeks of the season, Jess Lockwood (Volborg, Montana) reclaimed that No. 1 ranking Thursday night after winning Round 2.
The 2016 Rookie of the Year rode Breaking Bad (Broken Arrow Bucking Bulls) for 89.75 points in the bull's debut on the Built Ford Tough Series (BFTS) to earn his second consecutive round win at T-Mobile Arena.
Lockwood is now a perfect 2-for-2 and is leading the most prestigious event in bull riding. With his ninth round victory of the season, Lockwood earned $35,000 and 300 world points.
The 20-year-old had surged to the top of the standings at the start of the year by winning the season-opening Major event at Madison Square Garden in early January.
Lockwood was the world's top cowboy until mid-February when he was sidelined for five events after tearing his groin at Arlington's Iron Cowboy.
In reclaiming the top spot in the world on the final week of the 2017 season, Lockwood now leads No. 2 Derek Kolbaba (Walla Walla, Washington) by 22.5 points heading into Friday night's Round 3.
Kolbaba failed to ride in Round 2, bucking off his re-ride draw Hy Test (Phenom Genetics) at the 4.09-second mark, ending the 21-year-old's streak of four consecutive rides.   
One of just four riders to cover both of his bulls thus far in Las Vegas, Lockwood also sits atop the event aggregate, leading Silvano Alves (Pilar do Sul, Brazil) by 6.25 points.
J.W. Harris (Mullin, Texas) and Claudio Montanha Jr. (Ribeirão dos Indios, Brazil) tied for second in Round 2 after recording matching 87.5-point rides aboard Beaver Creek Beau (Chad Berger/Clay Struve/PBR Rock Bar) and Shownuff (Wallgren Bull Co./Henry Wilson/ Bar 3D Bucking Bulls), respectively.
Each rider earned $17,500 and 152.50 world points.
For 31-year-old Harris, the qualified ride elevated him six spots in the world standings, jumping from No. 37 to No. 31.
Montanha rose from No. 13 to No. 11 in the world standings. He also gained significant ground in the Rookie of the Year race jumping from No. 3 to No. 2.
Beginning the night 184.17 points behind Rookie of the Year leader Dener Barbosa (Paul de Faria, Brazil), Montanha now trails his countryman by just 74.17 points.
Fellow rookie contenders Barbosa and Cody Teel (Kountze, Texas) also recorded qualified rides in Round 2.
Barbosa became just the second rider this season to cover TLW's Big Cat (TLW Bucking Bulls / Kuhn) when he rode the YETI World Champion Bull contender for 86.25 points to tie for sixth in the round, winning $2,000 and 42.5 world points.
Finishing just outside of the point-earning placements, Teel ended the round in 10th place, riding Smooth Sailing (Dakota Rodeo/Julie Rosen/Clay Struve/Chad Berger) for 85 points.
The qualified ride was Teel's first at his debut World Finals event.
The three rookies are now separated by 112.5 points.
Gage Gay (Staley, North Carolina) continued his perfect streak in Vegas after covering Cooper Tires Semper Fi (Dakota Rodeo/Julie Rosen/Clay Struve/Chad Berger) for 86.75 points.
In addition to winning $10,000, Gay also earned 95 world points and elevated himself one spot in the world standings from No. 29 to No. 28.
2017 PBR Brazil Champion Jose Vitor Leme (Ribas do Rio Pardo, Brazil) finished fifth to earn $6,000 and 75 world points.
The first rider to go a perfect 2-for-2, Leme's Round 2 ride came aboard Slinger Jr. (K-C/Josie McElroy Bucking Bulls/Spark-lin Acres) for 86.5 points.
Leme seized the opportunity to ride on bull riding's biggest stage after earning an invite as the top finishing international invite at the 2017 Real Time Pain Relief Velocity Tour Finals, where he went 3-for-4 in his first event on American soil.
Steadily marching up the world rankings, Leme began his first-ever World Finals No. 53, rose to No. 51 after covering his Round 1 draw, and now finds himself No. 45 in the world compliments of his efforts Thursday evening inside T-Mobile Arena.
Leme and Gay are currently tied for third in the event aggregate with 172.5 total points.
Three-time World Champion Alves completes the quartet of riders who have yet to be bucked off in Las Vegas.
The 29-year-old tied for sixth in Round 2 for his 86.25-point ride on Carrot Top (Owens / Wyatt). He earned $2,000 and 42.50 world points.
He currently sits second in the event aggregate with 173.75 points.
2016 World Champion SweetPro's Bruiser (D&H Cattle Co. / Buck Cattle Co.) took over the lead in the YETI World Champion Bull race with a 47-point bull score. Bruiser bucked off Emilio Resende (Santa Helena do Goiás, Brazil) in 1.91 seconds.
Bruiser leads No. 2 Pearl Harbor (Dakota Rodeo / Chad Berger / Clay Struve / H&C Bucking Bulls) by .17 points with each bull next scheduled to buck Sunday at T-Mobile Arena.
Fans can watch all the action from Round 2 on demand tomorrow morning, Friday, Nov. 3, starting at 8 a.m. ET at PBR.com/ondemand.
The Top 40 bull riders will return Friday night for Round 3 of the World Finals starting at 10 p.m. ET on CBS Sports Network.
Professional Bull Riders - 2017 Built Ford Tough World Finals
Las Vegas, NV, 2017 -  Event Leaders (Round 1-Round 2-Round 3-Round 4-Round 5-Round 6-Event Aggregate-Event Points)
 1. Jess Lockwood, 90.25-89.75-0-0-0-0-180.00-600 Points.
2. Fabiano Vieira, 88-0-0-0-0-0-88.00-180 Points.
3. Claudio Montanha Jr., 0-87.5-0-0-0-0-87.50-152.5 Points.
(tie). J.W. Harris, 0-87.5-0-0-0-0-87.50-152.5 Points.
5. Silvano Alves, 87.5-86.25-0-0-0-0-173.75-117.5 Points.
6. Derek Kolbaba, 87.75-0-0-0-0-0-87.75-110 Points.
(tie). Dakota Buttar, 87.75-0-0-0-0-0-87.75-110 Points.
8. Gage Gay, 85.75-86.75-0-0-0-0-172.50-105 Points.
9. Jose Vitor Leme, 86-86.5-0-0-0-0-172.50-100 Points.
10. Sage Kimzey, 87-0-0-0-0-0-87.00-50 Points.
11. Dener Barbosa, 0-86.25-0-0-0-0-86.25-42.5 Points.
12. J.B. Mauney, 86.75-0-0-0-0-0-86.75-35 Points.
13. Cody Nance, 0-86-0-0-0-0-86.00-17.5 Points.
(tie). Ryan Dirteater, 0-86-0-0-0-0-86.00-17.5 Points.
15. Cody Teel, 0-85-0-0-0-0-85.00-5 Points.
(tie). Guilherme Marchi, 85.5-0-0-0-0-0-85.50-5 Points.
17. Cooper Davis, 85.25-0-0-0-0-0-85.25
18. Stetson Lawrence, 84-0-0-0-0-0-84.00
19. Marco Antonio Eguchi, 81.75-0-0-0-0-0-81.75
Eduardo Aparecido, 0-0-0-0-0-0-0.00
Kaique Pacheco, 0-0-0-0-0-0-0.00
Chase Outlaw, 0-0-0-0-0-0-0.00
Stormy Wing, 0-0-0-0-0-0-0.00
Joao Ricardo Vieira, 0-0-0-0-0-0-0.00
Rubens Barbosa, 0-0-0-0-0-0-0.00
Matt Triplett, 0-0-0-0-0-0-0.00
Mason Lowe, 0-0-0-0-0-0-0.00
Shane Proctor, 0-0-0-0-0-0-0.00
Emilio Resende, 0-0-0-0-0-0-0.00
Brennon Eldred, 0-0-0-0-0-0-0.00
Luciano De Castro, 0-0-0-0-0-0-0.00
Ramon de Lima, 0-0-0-0-0-0-0.00
Mike Lee, 0-0-0-0-0-0-0.00
Cody Campbell, 0-0-0-0-0-0-0.00
Lachlan Richardson, 0-0-0-0-0-0-0.00
Koal Livingston, 0-0-0-0-0-0-0.00
Troy Wilkinson, 0-0-0-0-0-0-0.00
Alex Marcilio, 0-0-0-0-0-0-0.00
Skeeter Kingsolver, 0-0-0-0-0-0-0.00
Taylor Toves, 0-0-0-0-0-0-0.00
2017 Professional Bull Riders Built Ford Tough Series World Finals Standings
(Place, Rider, Events, Wins, Top 5's, Points, Total Winnings)
Jess Lockwood, 44, 6, 16, 4,437.50, $334,792.90
Derek Kolbaba, 54, 8, 14, 4,415.00, $309,172.32
Eduardo Aparecido, 38, 5, 12, 4,162.50, $325,903.30
Cooper Davis, 41, 3, 15, 4,130.83, $234,770.92
Kaique Pacheco, 49, 6, 15, 3,812.50, $378,275.15
Chase Outlaw, 47, 4, 18, 3,169.16, $185,902.27
Fabiano Vieira, 47, 3, 13, 2,325.83, $224,401.47
Stormy Wing, 38, 3, 6, 2,277.50, $147,702.11
Joao Ricardo Vieira, 49, 1, 19, 2,255.00, $152,337.65
Dener Barbosa, 43, 2, 10, 2,228.33, $151,986.12
Claudio Montanha Jr., 47, 2, 15, 2,154.16, $132,519.35
Cody Teel, 46, 4, 12, 2,115.83, $161,374.00
Rubens Barbosa, 54, 1, 5, 2,037.50, $121,225.84
J.B. Mauney, 24, 2, 5, 1,966.24, $139,977.49
Cody Nance, 52, 3, 15, 1,945.00, $117,177.15
Matt Triplett, 47, 5, 13, 1,915.00, $128,267.48
Stetson Lawrence, 40, 1, 6, 1,545.00, $94,805.34
Mason Lowe, 32, 1, 5, 1,463.33, $111,499.58
Silvano Alves, 42, 0, 7, 1,433.33, $71,689.91
Marco Antonio Eguchi, 50, 0, 7, 1,380.00, $85,975.67
Guilherme Marchi, 37, 0, 8, 1,334.99, $68,225.22
Shane Proctor, 30, 2, 4, 1,322.50, $85,423.33
Ryan Dirteater, 33, 0, 3, 1,220.83, $82,422.16
Dakota Buttar, 32, 1, 3, 1,155.83, $70,055.31
Emilio Resende, 35, 1, 7, 1,044.16, $68,126.80
Brennon Eldred, 31, 3, 10, 1,019.16, $83,796.90
Luciano De Castro, 43, 1, 8, 1,017.50, $68,006.79
Gage Gay, 39, 1, 4, 983.33, $61,277.57
Ramon de Lima, 40, 2, 15, 947.50, $86,021.95
Mike Lee, 53, 3, 8, 725.83, $61,209.49
J.W. Harris, 32, 2, 6, 665.41, $41,525.55
Cody Campbell, 49, 3, 10, 631.65, $57,992.25
Lachlan Richardson, 37, 3, 10, 592.50, $51,575.87
Koal Livingston, 44, 1, 8, 592.50, $52,214.63
Aaron Kleier, 17, 6, 15, 562.50, $34,594.08
Troy Wilkinson, 33, 1, 8, 543.75, $50,108.10
Sage Kimzey, 4, 2, 3, 535.00, $541,233.13
Alex Marcilio, 32, 1, 9, 480.00, $100,635.30
Fraser Babbington, 44, 3, 15, 445.00, $39,491.10
Jordan Hansen, 16, 2, 7, 430.00, $37,889.39
Nathan Burtenshaw, 41, 2, 9, 403.33, $39,870.76
Skeeter Kingsolver, 32, 3, 9, 397.50, $38,050.37
Cody Rodeo Tyler, 47, 2, 6, 395.41, $38,672.38
Brock Radford, 32, 5, 10, 394.16, $32,000.67
Jose Vitor Leme, 13, 3, 7, 385.00, $43,927.23