Buttar Bucks Off in Round 3, While Three Canadian Bulls Buck on the Sport's Biggest Stage
By: Kacie Albert Saturday, November 4, 2017 @ 7:13 AM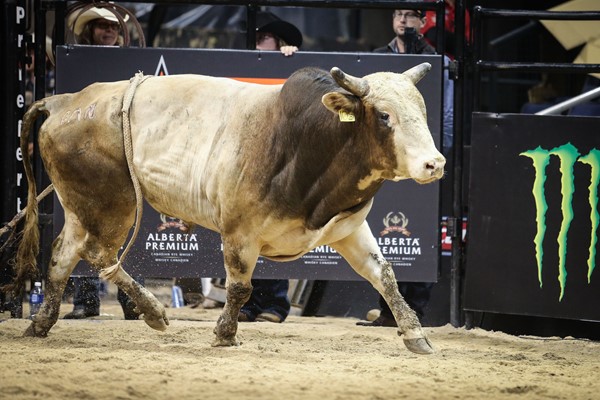 LAS VEGAS – After riding his Round 1 draw, Dakota Buttar (Kindersley, Saskatchewan) was shutout once again in Round 3, bucking off in a second straight round at the 2017 PBR (Professional Bull Riders) Built Ford Tough World Finals.
Drafting Buckeye Bill (K-C/Josie McElroy Bucking Bulls), the 24-year-old bucked off at the 3.77-second mark.
Despite not earning any world points, Buttar remains No. 24 in the world and heads into the fourth night of the event tied for eighth overall.
While Buttar is the lone Canadian rider competing at the most prestigious event in bull riding, three Canadian bovine athletes bucked Friday night on the sport's biggest stage inside T-Mobile arena.
2017 PBR Canada Bull of the Year Johnny Ringo (Vold Rodeo/Rafter G Cattle Co./Broken Arrow Bucking Bulls) dispatched 2017 PBR Australia Champion Troy Wilkinson (Upper Horton, Australia) in 4.42 seconds.
Of the three bulls, Ponoka, Alberta's Johnny Ringo was the lone to buckoff his human opponent.
Elnora, Alberta's Blue Stone (Flying High Rodeo Co.) earned a bull score of 43.25 points after 2016 World Champion Cooper Davis (Jasper, Texas) rode him for 90 points, while Magrath, Alberta's Happy Camper (Two Bit Bucking Bulls) was marked 42.50 points when Dener Barbosa (Paulo de Faria, Brazil) made the whistle for 87 points.
Chartering a historic course in Las Vegas, 20-year-old phenom Jess Lockwood (Volborg, Montana) remained perfect Friday night, winning Round 3 with his second 90-point ride of the event.
Lockwood has won all three rounds at this year's World Finals.
"You got to have confidence in this sport -- 90 percent is mental," Lockwood said. "If you're not confident coming into the arena, you might as well turn around."
The 2016 Rookie of the Year's 10th round win of the season came after he covered More Big Bucks (Dakota Rodeo/Chad Berger/Clay Struve/Staci Wilks/N Bar Ranch) for 90.25 points to conclude the third night of action inside T-Mobile Arena.
On the last out of the night when he nodded his head, "I let my body take control, just reacting," Lockwood said. "That's where I am, and it feels good." 
Lockwood has ridden More Big Bucks three times in 2017, each time for 90 points or more.
He first rode the bovine athlete for 90-points at the Real Time Pain Relief Velocity Tour (RVT) event in Deadwood, South Dakota, before logging the same score at September's Built Ford Tough Series (BFTS) event in Austin, Texas.
Lockwood once again earned $35,000 and 300 world points, solidifying his place atop the world standings.
He heads into Round 4 on Saturday 322.5 points ahead of No. 2 Derek Kolbaba (Walla Walla, Washington), who bucked off Biker Bob (Dakota Rodeo/Chad Berger/Clay Struve/H&C Bucking Bulls) at the 7.29-second mark.
Kolbaba failed to earn any world points for the second consecutive night.
Only one rider in PBR history, Silvano Alves (Pilar do Sul, Brazil) has won the world title the year after being crowned Rookie of the Year.
Alves, a three-time World Champion, accomplished the feat when he won the world title in 2011 after being named the 2010 Rookie of the Year.
"It's the most beautiful buckle ever, and it's everything everyone in this sport works for," Lockwood said when asked about the prospect of a PBR World Championship.
Reigning World Champion Davis and 2017 PBR Brazil Champion Jose Vitor Leme (Ribas do Rio Pardo, Brazil) both covered their third-round bulls for 90 points to split second place, winning $17,500 and 152.5 world points.
Four 90-point-plus rides have now been recorded at this year's World Finals.
Davis covered Blue Stone (Flying High Rodeo Co.) for his second qualified ride of the event and his sixth 90-point ride of the season as he continues his quest for back-to-back world titles.
He rose one spot in the standings to No. 3, overtaking Eduardo Aparecido (Gouvelandia, Brazil).
Davis now trails Lockwood by 454.17 points in the world standings.
The world leader for six months this season, Aparecido remains shutout in Las Vegas after bucking off Oscar P (Currey Creek Bucking Bulls & Cattle Co.) Friday night.
Leme's ride aboard Mudshark (D&H Cattle Co./Bob & Jeri Adams) was his first 90-point ride on the elite tour.
The 21-year-old joins Lockwood as the only other rider to remain perfect inside T-Mobile Arena after both Alves and Gage Gay (Staley, North Carolina) bucked off in the third round.
Leme's 3-for-3 performance thus far in Sin City has propelled the Brazilian sensation up 16 spots in the world rankings.
After beginning the most prestigious event in bull riding ranked No. 53 in the world, his latest qualified ride elevated him from No. 45 to No. 37.
Brennon Eldred's (Sulphur, Oklahoma) 89.25-point ride on Cooper Tires Brown Sugar (Dakota Rodeo/Julie Rosen/Clay Struve/Chad Berger) landed the rookie fourth in the round.
His first qualified ride at his debut World Finals earned the 22-year-old $10,000 and 95 world points.
Fellow first-year rider Luciano de Castro (Guzolandia, Brazil) rounded out the Top 5, collecting $6,000 and 75 world points.
The fifth-place finish came after he made the 8 aboard Milky Jones (Jared Allen's Pro Bull Team) for a career-high 88.25 points.
Both riders rose one spot in the world standings. Eldred is now ranked No. 25 and Castro is No. 26.
Claudio Montanha Jr. (Ribeirão dos Indios, Brazil) and Barbosa both logged qualified rides in Round 3, further intensifying this year's race for the Rookie of the Year title.
Montanha Jr. finished sixth after his 87.75-point ride on Machinery Auctioneer's Crazy Horse (Dakota Rodeo/Chad Berger/Machinery Auctioneers).
He earned $3,000 and 50 world points to further close the gap on race leader Barbosa, who earned 7.5 world points after covering Happy Camper (Two Bit Bucking Bulls) for 87 points.
The Brazilian duo is now separated by just 31.67 points after Barbosa began the night 74.17 points ahead of Montanha Jr.
Fans can watch all the action from Round 3 on demand tomorrow morning, Saturday, Nov. 4, starting at 8 a.m. ET at PBR.com/ondemand.
The Top 40 bull riders will return Saturday night for Round 4 of the World Finals starting at 11 p.m. ET on CBS Sports Network.
Professional Bull Riders - 2017 BUILT FORD TOUGH WORLD FINALS
Las Vegas, NV, 2017 -  Event Leaders (Round 1-Round 2-Round 3-Round 4-Round 5-Round 6-Event Aggregate-Event Points)
 1. Jess Lockwood, 90.25-89.75-90.25-0-0-0-270.25-900 Points.
2. Jose Vitor Leme, 86-86.5-90-0-0-0-262.50-252.5 Points.
3. Claudio Montanha Jr., 0-87.5-87.75-0-0-0-175.25-202.5 Points.
4. Fabiano Vieira, 88-0-85-0-0-0-173.00-180 Points.
5. Cooper Davis, 85.25-0-90-0-0-0-175.25-152.5 Points.
(tie). J.W. Harris, 0-87.5-0-0-0-0-87.50-152.5 Points.
7. Silvano Alves, 87.5-86.25-0-0-0-0-173.75-117.5 Points.
8. Derek Kolbaba, 87.75-0-0-0-0-0-87.75-110 Points.
(tie). Dakota Buttar, 87.75-0-0-0-0-0-87.75-110 Points.
10. Gage Gay, 85.75-86.75-0-0-0-0-172.50-105 Points.
11. Brennon Eldred, 0-0-89.25-0-0-0-89.25-95 Points.
12. Luciano De Castro, 0-0-88.25-0-0-0-88.25-75 Points.
13. Dener Barbosa, 0-86.25-87-0-0-0-173.25-50 Points.
(tie). Sage Kimzey, 87-0-0-0-0-0-87.00-50 Points.
15. Ryan Dirteater, 0-86-87.5-0-0-0-173.50-47.5 Points.
16. J.B. Mauney, 86.75-0-0-0-0-0-86.75-35 Points.
17. Rubens Barbosa, 0-0-87.5-0-0-0-87.50-30 Points.
18. Cody Nance, 0-86-0-0-0-0-86.00-17.5 Points.
19. Mike Lee, 0-0-87-0-0-0-87.00-7.5 Points.
20. Cody Teel, 0-85-0-0-0-0-85.00-5 Points.
(tie). Guilherme Marchi, 85.5-0-83-0-0-0-168.50-5 Points.
22. Ramon de Lima, 0-0-85.5-0-0-0-85.50
23. Alex Marcilio, 0-0-85-0-0-0-85.00
24. Taylor Toves, 0-0-84.5-0-0-0-84.50
25. Stetson Lawrence, 84-0-0-0-0-0-84.00
26. Marco Antonio Eguchi, 81.75-0-0-0-0-0-81.75
27. Joao Ricardo Vieira, 0-0-81.25-0-0-0-81.25
Eduardo Aparecido, 0-0-0-0-0-0-0.00
Kaique Pacheco, 0-0-0-0-0-0-0.00
Chase Outlaw, 0-0-0-0-0-0-0.00
Stormy Wing, 0-0-0-0-0-0-0.00
Matt Triplett, 0-0-0-0-0-0-0.00
Mason Lowe, 0-0-0-0-0-0-0.00
Shane Proctor, 0-0-0-0-0-0-0.00
Emilio Resende, 0-0-0-0-0-0-0.00
Cody Campbell, 0-0-0-0-0-0-0.00
Lachlan Richardson, 0-0-0-0-0-0-0.00
Koal Livingston, 0-0-0-0-0-0-0.00
Troy Wilkinson, 0-0-0-0-0-0-0.00
Skeeter Kingsolver, 0-0-0-0-0-0-0.00
2017 Professional Bull Riders Built Ford Tough Series World Finals Standings
(Place, Rider, Events, Wins, Top 5's, Points, Total Winnings)
Jess Lockwood, 44, 6, 16, 4,737.50, $334,792.90
Derek Kolbaba, 54, 8, 14, 4,415.00, $309,172.32
Cooper Davis, 41, 3, 16, 4,283.33, $234,770.92
Eduardo Aparecido, 38, 5, 12, 4,162.50, $325,903.30
Kaique Pacheco, 49, 6, 15, 3,812.50, $378,275.15
Chase Outlaw, 47, 4, 18, 3,169.16, $185,902.27
Fabiano Vieira, 47, 3, 13, 2,325.83, $224,401.47
Stormy Wing, 38, 3, 6, 2,277.50, $147,702.11
Joao Ricardo Vieira, 49, 1, 19, 2,255.00, $152,337.65
Dener Barbosa, 43, 2, 10, 2,235.83, $151,986.12
Claudio Montanha Jr., 47, 2, 15, 2,204.16, $132,519.35
Cody Teel, 46, 4, 12, 2,115.83, $161,374.00
Rubens Barbosa, 54, 1, 5, 2,067.50, $121,225.84
J.B. Mauney, 24, 2, 5, 1,966.24, $139,977.49
Cody Nance, 52, 3, 15, 1,945.00, $117,177.15
Matt Triplett, 47, 5, 13, 1,915.00, $128,267.48
Stetson Lawrence, 40, 1, 6, 1,545.00, $94,805.34
Mason Lowe, 32, 1, 5, 1,463.33, $111,499.58
Silvano Alves, 42, 0, 6, 1,433.33, $71,689.91
Marco Antonio Eguchi, 50, 0, 7, 1,380.00, $85,975.67
Guilherme Marchi, 37, 0, 8, 1,334.99, $68,225.22
Shane Proctor, 30, 2, 4, 1,322.50, $85,423.33
Ryan Dirteater, 33, 0, 3, 1,250.83, $82,422.16
Dakota Buttar, 32, 1, 3, 1,155.83, $70,055.31
Brennon Eldred, 31, 3, 10, 1,114.16, $83,796.90
Luciano De Castro, 43, 1, 8, 1,092.50, $68,006.79
Emilio Resende, 35, 1, 7, 1,044.16, $68,126.80
Gage Gay, 39, 1, 4, 983.33, $61,277.57
Ramon de Lima, 40, 2, 15, 947.50, $86,021.95
Mike Lee, 53, 3, 8, 733.33, $61,209.49
J.W. Harris, 32, 2, 6, 665.41, $41,525.55
Cody Campbell, 49, 3, 10, 631.65, $57,992.25
Lachlan Richardson, 37, 3, 10, 592.50, $51,575.87
Koal Livingston, 44, 1, 8, 592.50, $52,214.63
Aaron Kleier, 17, 6, 15, 562.50, $34,594.08
Troy Wilkinson, 33, 1, 8, 543.75, $50,108.10
Jose Vitor Leme, 13, 3, 8, 537.50, $43,927.23
Sage Kimzey, 4, 2, 3, 535.00, $541,233.13
Alex Marcilio, 32, 1, 9, 480.00, $100,635.30
Fraser Babbington, 44, 3, 15, 445.00, $39,491.10
Jordan Hansen, 16, 2, 7, 430.00, $37,889.39
Nathan Burtenshaw, 41, 2, 9, 403.33, $39,870.76
Skeeter Kingsolver, 32, 3, 9, 397.50, $38,050.37
Cody Rodeo Tyler, 47, 2, 6, 395.41, $38,672.38
Brock Radford, 32, 5, 10, 394.16, $32,000.67