Pozzobon wins stop five of Monster Energy Tour in home province
By: Ted Stovin Saturday, October 1, 2016 @ 11:46 PM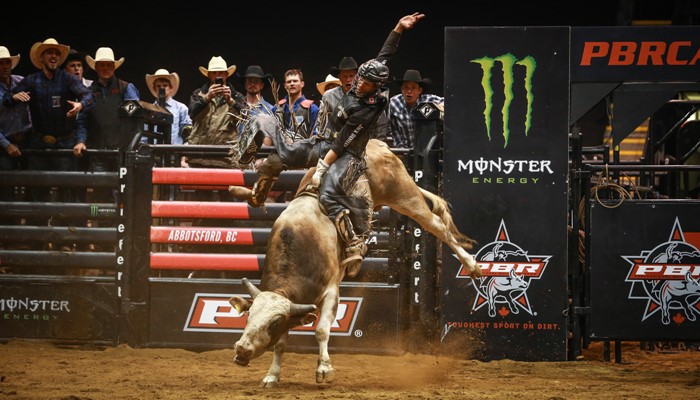 ABBOTSFORD, BC — Ty Pozzobon of Merritt, BC earned the victory at stop number five of the PBR Monster Energy Canada Tour on Saturday night at the Abbotsford Centre in Abbotsford, BC.
Pozzobon put together scores of 85.5 on Big Tymer (Vold/Prescott) and 89 on Johnny Ringo (Vold Rodeo) to earn over $5,600 and 80 world points to move up to 31st in the PBR World Standings. This is above the cut again for the Built Ford Tough Series and Built Ford Tough World Finals. Saturday night, Pozzobon became the first Canadian to earn a win on the inaugural PBR Monster Energy Canada Tour. In the Monster Energy Champion's Challenge, Pozzobon was bucked off VJV Nailed (Vold/Prescott) missing out on the $20,000 bounty. 
Tied for second and also sixth on the evening, due to a second entry, earning 50 world points was Saskatchewan man Justin Lloyd. Lloyd put up an 86 on Smash (Skori Bucking Bulls) in round one and 83 on Who's Not Yours (Vold/Prescott) for sixth. For his efforts, Lloyd earned $3,400 and push him up into the top five in the Canadian standings. 
Manitoba's Zane Lambert tied with Lloyd for second on the evening after being bucked off in his second entry of the night but putting up 86 points on Double Major (Wild Hoggs Bucking Bulls) in the championship round. Lambert's 84.5 on West Wind (CS Bucking Bulls) slated him in the number five spot on the night as well. For his work, Lambert takes home nearly $4,000 and made his way into the top 30 in Canada. 
Rounding out the top five was Meadow Lake, SK's Cody Coverchuk who leaves Abbotsford $1,500 richer and 20 world points to rank 44th on the planet to date. Coverchuk was 84.5 points on Big Shot (Skori Bucking Bulls) in round one but was bucked off in the finals. 
VJV Nailed (Vold/Prescott) and Cooper's Comet (Vold/Prescott) put up the top bull scores of the night checking in at 46 points.
After this fifth stop in Abbotsford, the tour will culminate at the PBR Monster Energy World Finals Qualifier in Saskatoon, SK on October 14th and 15th. All roads will then lead to Edmonton as PBR will bring a special global invitational PBR event to Edmonton scheduled for November 2017.
Visit PBRCanada.com for the full PBR Monster Energy Canada Tour schedule and tickets.
Professional Bull Riders - Abbotsford, BC Monster Energy Canada 10/1/2016 
Abbotsford, BC, 2016 - Event Results (Round 1-Round 2-Round 3-Event Aggregate-Event Points) 
1. Ty Pozzobon, 85.5-89-0-174.50-80 Points - $5,604.26
2. Justin Lloyd [2], 86-0-0-86.00-40 Points - $3,009.00
(tie). Zane Lambert [1], 0-86-0-86.00-40 Points - $3,121.84
4. Cody Coverchuk [1], 84.5-0-0-84.50-20 Points - $1,504.50
5. Zane Lambert [2], 84-0-0-84.00-15 Points - $857.57
6. Justin Lloyd [1], 83-0-0-83.00-10 Points - $421.26
7. Dakota Buttar, 81.5-0-0-81.50 - $315.95
8. Jake Wilson, 81-0-0-81.00 - $210.63
9. Cody Casper, 76.5-0-0-76.50
Cody Coverchuk [2], 0-0-0-0.00
Douglas Duncan, 0-0-0-0.00
Shay Marks, 0-0-0-0.00
Cody Ford, 0-0-0-0.00
Thor Hoefer II, 0-0-0-0.00
Brady Oleson, 0-0-0-0.00
Riley Blankenship, 0-0-0-0.00
Kale Marks, 0-0-0-0.00
Cole Young, 0-0-0-0.00
Wyatt Laughlin, 0-0-0-0.00
Jackson Scott, 0-0-0-0.00
Cooper Zur, 0-0-0-0.00
Ty Patten, 0-0-0-0.00
Dillon Tyner, 0-0-0-0.00
Ron Hunt, 0-0-0-0.00
Travis Warburton, 0-0-0-0.00
Zane Kubik, 0-0-0-0.00
Marlon Williams, 0-0-0-0.00