Pozzobon earns $97,500 at PBR Finals
By: Ted Stovin Sunday, November 6, 2016 @ 5:45 PM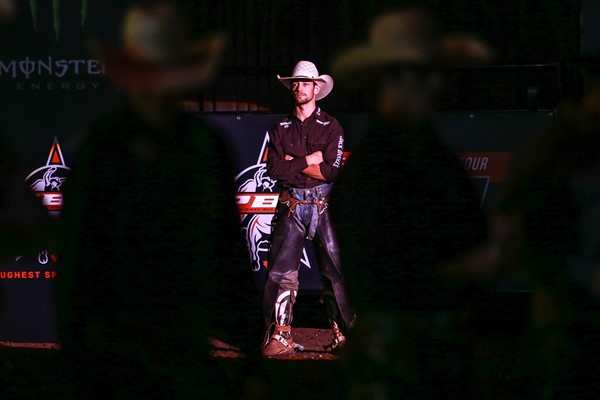 LAS VEGAS, Nevada -- Ty Pozzobon (Merritt, British Columbia) earned $97,500 for a fourth place finish at the 2016 PBR World Finals at the T-Mobile Arena on Sunday afternoon.
Pozzobon went 4-for-6 bucking off both his bulls in the final two rounds Margy Time (D&H Cattle Company) and Sweet Pro's Long John ( D&H Cattle Company) respectively. Despite the buck off, he finished fourth in the aggregate which helped him jump up one more spot, to 23rd in the PBR World Standings concluding the event.
On the season, Pozzobon's profile on PBR.com reads $139,677 in 2016 however that doesn't include the $25,000 PBR Canadian Champion bonus.
Dakota Buttar's first PBR World Finals shaped up to be closer to what he expected. Today he turned 24 and finished second place in Round 5 thanks to a huge 88.25 on Hy Test (Jared Allen's Pro Bull Team) for $18,000. Finishing 11th overall in Vegas, Buttar earned $25,500 and finishes 2016 in the 30th position in the World Standings with $57,587. After nine bulls in the past nine days, the Kindersley, SK man heads back home to defend his Canadian title in Edmonton. He looks to be the first man in 50 years to win a third straight CPRA title.
Tanner Byrne and Aaron Roy didn't have the finals they would have liked to. Roy broke his femur in the first round and Byrne was shutout going 0-for-5. Byrne did however earn his third consecutive Glen Keeley Memorial Award as the top earning Canadian during the regular season, an award he's very proud to win.
Roy has the most as a five-time recipient, a goal Byrne is sure to drive for. In 2016, Byrne finishes 15th in the world with an earnings of $125,547. Roy's finals was cut short leaving his season 29th in points with $57,165 in earnings.
Cooper Davis (Jasper, Texas) was crowned the PBR World Champion for 2016 while Ryan Dirteater (Hulbert, Oklahoma claimed the event title for the $250,000 check. Sweet Pro's Bruiser won the World Champion bull race.
Seven Dust (J.A.R.S Bucking Bulls / Gene Owen) scored 45 points bucking off Luis Blanco ending up fourth for the gold buckle of the bulls. Chase Outlaw matched up with Hey Jack who finished seventh.
VJV Nailed (Vold Rodeo / Prescott / J.A.R.S Bucking Bulls / Gene Owen) up with Valdiron de Oliveira in what would be his last bull before retirement. The two danced for 86.5 points in Valdiron's final bull ride. Cooper's Comet (Vold Rodeo / Prescott / J.A.R.S Bucking Bulls / Gene Owen) scored 43 points putting Shane Proctor on the ground before the whistle.