Pozzobon on the board in fist round of PBR World Finals
By: Ted Stovin Wednesday, November 2, 2016 @ 10:03 PM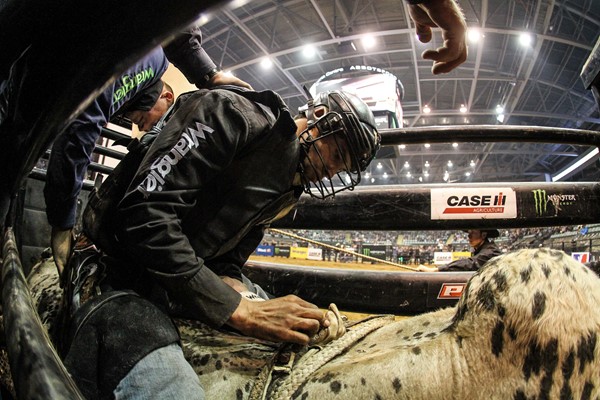 LAS VEGAS, Nevada -- Ty Pozzobon (Merritt, BC) finished splitting eighth in round one of the 2016 PBR World Finals at the T-Mobile Arena on Wednesday night.
Pozzobon, the 2016 PBR Canada points leader, put up 84.25 points on Glory Days (Plummer/Hart Cattle Co.) to earn 17.5 world points. As of tonight, he ranks 30 in the World Standings, up one spot from where he started.
Aaron Roy sustained a fractured right femur when he was stepped on while hung up to his first round bull. Roy is being transported to the University Medical Center's Trauma Center and is expected to require surgery.
Both Dakota Buttar (Kindersley, SK) and Tanner Byrne (Prince Albert, SK) were bucked off their bulls in round one on the Las Vegas strip.
Winning round one was Chase Outlaw (Hamburg, AR) with a big 89.5 points on Air Marshall (D&H Cattle) for $30,000 and 300 world points. Despite half a season off, Outlaw has made his way all the way up to 14th in the world standings, thanks in part to a win on Monday at the BlueDef Finals at the South Point Hotel and Casino.
Round two of the PBR World Finals at the T-Mobile Arena starts at 6:00pm on Thursday November 3rd, 2016.