Photo Finish - Coverchuck prevails at Petroleum Show
By: Ted Stovin Wednesday, June 8, 2016 @ 2:10 PM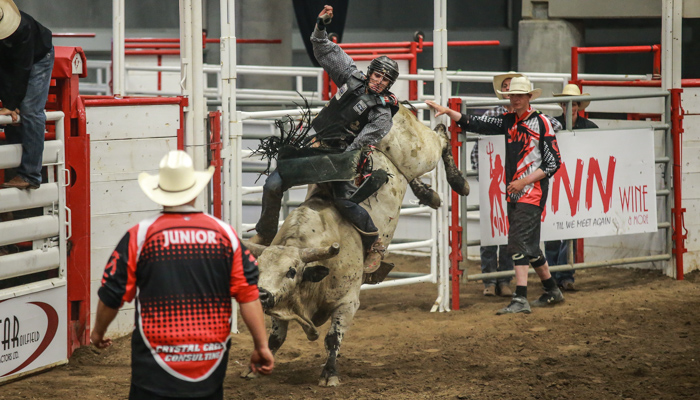 CALGARY, Alberta -- At 4:30pm on Wednesday afternoon, Cody Coverchuk and Tim Lipsett sat on the side of the road, near Oyen, AB. Lipsett's truck had broke down and they were running out of time.
According to the rules of the road by Google Maps standards, Oyen is over three hours from the Agrium Western Events Centre on Stampede Park in Calgary. With Wednesday night's Global Petroleum Show PBR starting at 7:00pm they were already in a jam.
Luckily, the two stuck out their thumbs and got a ride to Hanna, AB where they met PBR Bullfighter Ty Prescott who picked them up and got them to Calgary about halfway through showtime.
"We literally got here and I was in the building for about two minutes before I was tying my hand in," Coverchuk said afterwards.
The bulls were held to later in the round in order to allow the two time to arrive.
Lipsett wouldn't have any luck in the first round but Coverchuk covered his bull and made his way to the final round where he would match up with Dirty Steve from the Outlaw Buckers. There, Coverchuk would put up the best score of the night at 88.5 points to earn the win, almost $4,000 in earnings and 60 points towards the PBR's World Standings.
Last weekend, Coverchuk was blanked and endured a thumb injury he requires surgery on next monday.
"You go from a low to a high just like that, this sport is crazy. It's just, don't ever quit, never say never and don't open your hand," the Meadow Lake, SK man added.
A high total of five bulls were covered in the evening's final round, scores ranging from 85 to Coverchuk's 88.5. In second on the evening were Justin Lloyd of Tisdale, SK and Justin Paton of Nebo, QLD, Australia. Paton took Calgary's Low Life to an 86.5 for fourth in the finals while Lloyd was 85 on Freakazoid from the Girletz's. When added to their long round rides, both men's tally ended up being 162.5 points on two bulls, six back from first place. Both Justin's earned 25 points towards the PBR's World Standings.
Rounding out the top six were Lonnie West in fourth for 15 points, Ty Pozzobon in fifth for ten and Texas man Chandler Bownds in sixth for five world points. Pozzobon and West checked in at 87.5 points in the final round on Big Rig and Lace Up from the Outlaw Buckers string.
Wednesday's PBR was produced by Bullbustin' Inc., held in conjunction with the Global Petroleum Show and in support of the victims of the Fort McMurray fires.
Highlights courtesy of PSAV.
Error loading Partial View script (file: ~/Views/MacroPartials/RichtextEmbedVideo.cshtml)
Official results from the Global Petroleum Show PBR on June 8th, 2016 at the Agrium Western Events Centre.
Round one: 1. Chandler Bownds on Calgary Stampede's 22 Day Drinking, 82 points, $663.00; 2. Cody Coverchuk, 80, $497.25; 3. Justin Lloyd, 77.5, $331.50; 4. Dakota Buttar, 77, $165.75; 5. Justin Paton, 76; 6. Lonnie West, 65; no other qualified rides.
Finals: 1. Cody Coverchuk on Outlaw Buckers' 039 Dirty Steve, 88.5 points, $663.00; 2. (tie) Ty Pozzobon and Lonnie West, 87.5, $414.38 each; 4. Justin Paton, 86.5, $165.75; 5. Justin Lloyd, 85; no other qualified rides.
Aggregate, total money and points earned: 1. Cody Coverchuk - Meadow Lake, SK - 168.5 points on two bulls, $3,889.60, 60; 2. (tie) Justin Lloyd - Tisdale, SK ($1,900.60) and Justin Paton - Nebo, QLD, AUS - 162.5 ($1,734.85), 25 points each; 4. Lonnie West - Cadogan, AB - 152.5, $1,209.98, 15; 5. Ty Pozzobon - Merritt, BC, 87.5 points on one bull, $900.57, 10; 6. Chandler Bownds - Lubbock, TX - 82, $994.50, 5; 7. Dakota Buttar - Kindersley, SK - 77, $419.90.
Next up on the 2016 PBR Canada schedule is the Wanham PBR Extravaganza on Friday June 17th, 2016 featuring the $10,000 Nufarm ride-off on Vold Rodeo's Quag's Back.
About Professional Bull Riders (PBR) Canada:
Points earned at Canadian events counts towards qualification to the elite PBR Canadian Finals. Upon the conclusion of the Finals, the bull rider with the most regular season and Finals points is crowned the PBR Canada Champion. Points won at all Canadian events counts toward qualifying on the prestigious PBR Built Ford Tough Series (BFTS) and PBR World Finals in Las Vegas, NV. For more information on PBR Canada, go to www.pbrcanada.com, or follow on Facebook at www.facebook.com/pbrcanada and Twitter at http://twitter.com/PBRCanada.