PBR to anchor 10-day Western Lifestyle Festival in Edmonton with Canadian Finals and Global Invitational Event
By: Andrew Giangola Wednesday, August 3, 2016 @ 11:01 AM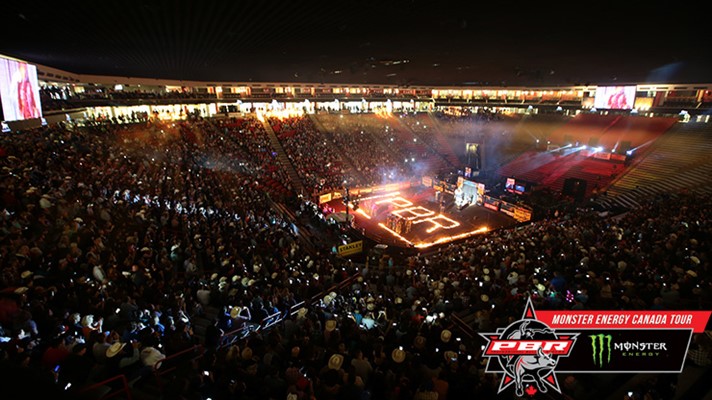 Oilers Entertainment Group and PBR Join Forces to Create Western Lifestyle Destination Event
EDMONTON, AB — All roads lead to Edmonton as Professional Bull Riders (PBR) and Oilers Entertainment Group (OEG) have announced a partnership bringing the PBR Monster Energy Canada Tour Finals and a special global invitational PBR event to Rogers Place as the centerpiece of a new festival to coincide with Edmonton's annual Farm Fair exhibition.
The three-day global professional bull riding showcase, which will be broadcast on TSN, is scheduled for November 10-12, 2017 with a $1 million (CAD) purse up for grabs. It will cap an exciting 10-day festival that will include NHL hockey, live entertainment and community events and activities celebrating western lifestyle.
The bull riding will begin with the PBR Canada Monster Energy Finals, crowning a champion among the country's Top 40 riders in the PBR Monster Energy Canada Series – a new 16-city tour visiting five Canadian provinces starting August 20, 2016 in Ottawa and ending in October 2017. Following the Canadian Finals, a two-day PBR Edmonton Open Invitational will feature the world's Top 40 bull riders: the Top 20 riders in the Canadian standings along with the Top 20 from the PBR World Standings.
Highlights of the festival event schedule, which is still being developed, include:
November 3-12, 2017 – Western lifestyle festival events and activations
Friday, November 10, 2017 – PBR Canada Monster Energy Finals
Saturday, November 11, 2017 – PBR Edmonton Invitational - Top 20 Canadian riders compete with the world's best
Sunday, November 12, 2017 – PBR Edmonton Invitational Finals
"OEG is excited to bring PBR action and excitement to Edmonton in 2017 and beyond. We are committed to growing the event into a unique sporting spectacle for PBR fans in Canada and across the world, while bringing new energy to the western lifestyle festival that will welcome fans and neighbours from across Alberta and Canada," said OEG Vice Chair & CEO Bob Nicholson. "Fans can be assured that the action and excitement will not be contained to Rogers Place as our goal is to bring the City together to celebrate our rural roots and Edmonton as a gathering place for so many people."
Nicholson added, "PBR and its parent company WME | IMG have deep resources and expertise across sports, entertainment and live events, and together with OEG, we share a vision for developing and maximizing opportunities for Rogers Place and ICE District."
"PBR is very excited to partner with Oilers Entertainment Group to develop this marquee sporting event anchoring a western lifestyle festival in the great city of Edmonton," said Sean Gleason, CEO of PBR. "Beautiful, new Rogers Place is the ideal venue to crown a champion for our new PBR Monster Energy Canada Tour and host the world's best riders at a global invitational. This three-day Canadian showcase will award the biggest purse outside of our World Finals in Las Vegas and is an important component to PBR's commitment to Canadian fans as well as our global growth."

"We are excited to build on Edmonton's proud western heritage through this new event," said Edmonton Mayor Don Iveson. "This exciting festival concept will help build on the success of Farm Fair and will be a great draw not only for Edmontonians, but Northern Alberta as well."
For tickets, visit PBRCanada.com