PBR Canada Leader increases foothold on first with Elnora Win
By: Ted Stovin Saturday, August 13, 2016 @ 8:54 PM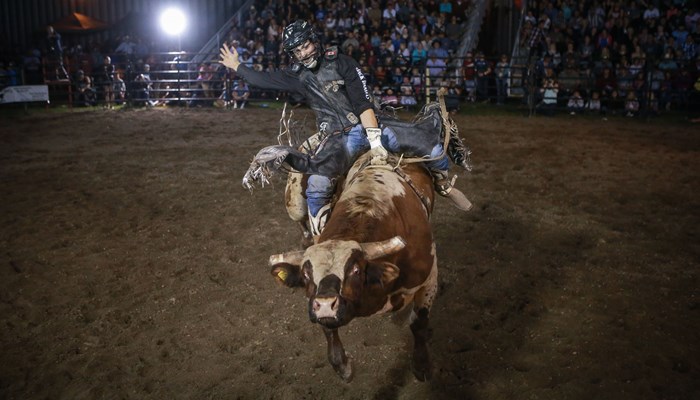 ELNORA, Alberta -- Ty Pozzobon earned his third PBR Canada event win of 2016 on Saturday night under the lights at the 18th Elnora Brahma Rama. 
Pozzobon put together scores of 84 on a I Work Out from Vold/Prescott and a big 88 on Shakin' Hands from Eno Bucking Bulls in the final round to edge out Saskatchewan bull rider Cody Coverchuk by 2.5 points. For his work on three bulls on the night, the Merritt, BC man earned added $3,591 to his season earnings which now top $24,000.
In his past five events, Pozzobon has been first on Day two of the Ranchman's Bullbustin' in Calgary; third on the third day in Calgary; first in Innisfail, AB; third in North Battleford, SK and first last night in Elnora. Not bad for a six week span.
To this point, Ty leads second place Dakota Buttar by over 500 points, in third place in Canada is Coverchuk. Buttar was bucked off Rocket from the Young Money Cattle Company on Saturday night.
Coverchuk's success was on the back of Yellow Moon from the X6 Ranch for an 83.5 and Whiskey Throttle from Eno Bucking Bulls in the final round for an 86. He earned over $2,400 for his work and now ranks 48th on the planet, 165 points back of 35th. Pozzobon is 40th, a mere 80 points back of 35th spot which is held onto by Stormy Wing. Buttar is 44th, only 40 world point behind Pozzobon.
To put things into a closer perspective, 60 points are available on Wednesday night in Coronation while 80 are up for grabs in Ottawa's Saturday night kick off to the PBR Monster Energy Canada Tour.
Aussie Justin Paton took third on the evening in Elnora after getting a re-ride when the lights went out on his out against Heaven's Basement from the Vold/Prescott crew. Jared Parsonage was fourth thanks for his long round ride on Shake a Paw, also from Vold/Prescott. Lachlan Richardson and Dakota Louis split fifth.
Error loading Partial View script (file: ~/Views/MacroPartials/RichtextEmbedVideo.cshtml)
The following are the results from the 18th Annual Elnora Brahma Rama on August 13th, 2016.
Round one: 1. Jared Parsonage on Vold/Prescott's -205 Shake a Paw, 85 points, $663.00; 2. (tie) Lachlan Richardson and Dakota Louis, 84.5, $414.37 each; 4. Ty Pozzobon, 84, $165.75; 5. Cody Coverchuk, 83.5; 6. (tie) Justin Paton and Tyler Harr, 82.
Finals: 1. Ty Pozzobon on Eno Bucking Bulls' 107 Shakin' Hands, 88 points, $663.00; 2. (tie) Cody Coverchuk and Justin Paton, 86, $414.37 each; no other qualified rides.

Aggregate, total money and points earned: 1. Ty Pozzobon - Merritt, BC - 172 points on two bulls, $3,591.25, 60; 2. Cody Coverchuk - Meadow Lake, SK - 169.5, $2,403.37, 30; 3. Justin Paton - Nebo, QLD - 168, $1,629.87, 20; 4. Jared Parsonage - Maple Creek, SK - 85 points on one bull, $1,436.50, 15; 5. (tie) Dakota Louis - Browning, MT and Lachlan Richardson - Gresford, NSW - 84.5, $801.12, 7.5 points each; 7. Justin Paton and Tyler Harr - Hazen, AR - 82, $193.37.

Next up on the 2016 PBR Canada Schedule is the Coronation, AB Royal Rumbull PBR on August 17th and the kick off to the PBR Monster Energy Canada Tour in Ottawa, ON on August 20th.
About PBR Canada:
PBR (Professional Bull Riders) which has events in six countries and is available in 500 million homes globally, has competed in Canada since 1996. The PBR Monster Energy Canada Series will debut in August 2016 as the country's first fully televised national professional bull riding series. Points earned at the Tour's 16 Canadian events count towards qualification to the elite PBR Canadian Finals in Edmonton, AB at Rogers Place. Upon the conclusion of the Finals, the bull rider with the most regular season and Finals points is crowned the PBR Canada Champion. Points won at all Canadian events count toward qualifying on the prestigious PBR Built Ford Tough Series (BFTS) and PBR World Finals in Las Vegas, NV. For more information on PBR Canada, go to www.pbrcanada.com, or follow on Facebook at www.facebook.com/pbrcanada and Twitter at http://twitter.com/PBRCanada.