Oleson claims $20,000 in Monster Energy Champion's Challenge
By: Ted Stovin Friday, October 14, 2016 @ 10:35 PM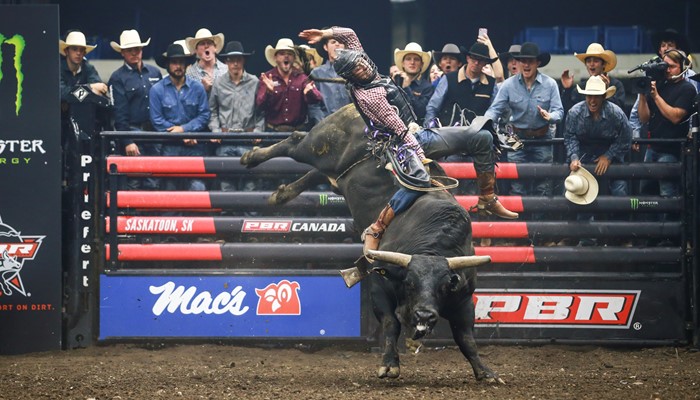 SASKATOON, SK— Brady Oleson of Blackfoot, ID claimed the $20,000 Monster Energy Champion's Challenge after an 89.5 point effort on Liquid Fire (Wild Hoggs Bucking Bulls) on Friday night at the Sasktel Centre. 
Oleson rode Hand Burner (Battle River Rodeo) for 85.5 points in round one to earn $782.00 and sit first heading into the final day of the 2016 PBR Monster Energy Canada Tour. Dakota Buttar or Kindersley, SK was second on the evening thanks to an 84.5 on Pretty Rowdy (CS Bucking Bulls) for $586.50. Buttar had a chance at the $20,000 but was bucked off VJV Nailed (Vold Rodeo) in less than two seconds. 
Error loading Partial View script (file: ~/Views/MacroPartials/RichtextEmbedVideo.cshtml)
In a three-way tie for third place on the night were Zane Lambert (Ponoka, AB), Tim Lipsett (Lumsden, SK) and Lonnie West (Cadogan, AB) with 83.5 points each. Lambert took on Blue Stone (Flying High Rodeo Co.), West matched up with Due Payment (R Saga Ranch) while Lipsett rode Jawbreaker (Skori Bucking Bulls).
VJV Nailed and Liquid Fire were the top marked bulls of the night scoring 44 points each. 
Round two and the championship round take place starting at 7:30pm at the Sasktel Centre on Saturday night. Limited prime tickets are still available at Ticketmaster.
As the points race stands, Ty Pozzobon, Merritt, BC is set to win the bonus $25,000 and qualify for the world finals. All roads will then lead to Edmonton as PBR will bring a special global invitational PBR event to Edmonton scheduled for November 2017.
Visit PBRCanada.com for the full PBR Monster Energy Canada Tour schedule, results and tickets. Tune into TSN2 on Wednesday October 19th at 7:30 PM EST and RDS2 on Thursday October 20th at 7:30 PM EST. 
Professional Bull Riders - Saskatoon, SK Monster Energy Canada 10/14/2016
Saskatoon, SK, 2016 - Event Leaders (Round 1-Round 2-Round 3-Round 4-Event Aggregate-Event Points) 
1. Brady Oleson, 85.5-89.5-0-0-175.00
2. Dakota Buttar, 84.5-0-0-0-84.50
3. Zane Lambert, 83.5-0-0-0-83.50
(tie). Tim Lipsett, 83.5-0-0-0-83.50
(tie). Lonnie West, 83.5-0-0-0-83.50
6. Kurt Shephard, 82.5-0-0-0-82.50
(tie). Brant Atwood, 82.5-0-0-0-82.50
8. Brock Radford, 81.5-0-0-0-81.50
9. Will Purcell, 81-0-0-0-81.00
10. Justin Lloyd, 80.5-0-0-0-80.50
(tie). Scott Schiffner, 80.5-0-0-0-80.50
12. Fabian Dueck, 79.5-0-0-0-79.50
Ty Pozzobon, 0-0-0-0-0.00
Brady Sims, 0-0-0-0-0.00
Cody Coverchuk, 0-0-0-0-0.00
Matt Werries, 0-0-0-0-0.00
Wacey Finkbeiner, 0-0-0-0-0.00
Dakota Louis, 0-0-0-0-0.00
Douglas Duncan, 0-0-0-0-0.00
Garrett Green, 0-0-0-0-0.00
Shay Marks, 0-0-0-0-0.00
Cody Ford, 0-0-0-0-0.00
Riley Blankenship, 0-0-0-0-0.00
Cody Casper, 0-0-0-0-0.00
Jared Parsonage, 0-0-0-0-0.00
Kale Marks, 0-0-0-0-0.00
Cole Young, 0-0-0-0-0.00
Jake Wilson, 0-0-0-0-0.00
Zac Peterson, 0-0-0-0-0.00
Todd Chotowetz, 0-0-0-0-0.00