Lipsett takes Lashburn title aboard Minion Stuart
By: Ted Stovin Friday, August 5, 2016 @ 10:12 PM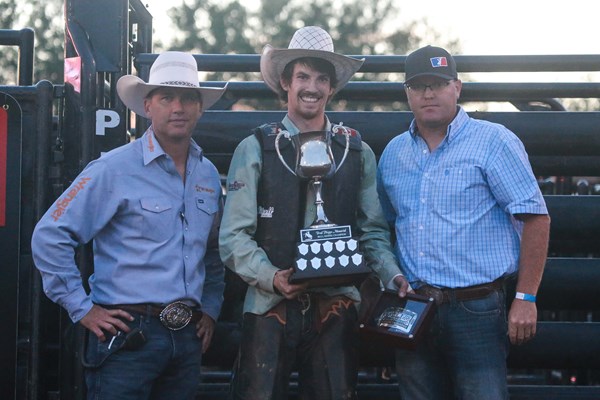 LASHBURN, Saskatchewan -- Tim Lipsett of Lumsden, SK forty-percent-ed the 13th annual Brad Phipps Memorial PBR on Friday night in Lashburn.
If you were at the Lashburn Sports Grounds last year you would have seen an almost identical final round ride from Lipsett. You see in 2015 Tim rode Minion Stuart from Skori Bucking Bulls to an 87 point score and a second place finish behind three-time champ Jesse Torkelson.
This year, it was Lipsett's time to shine and put on his first PBR Canada event champion buckle of 2016. In round one it was a score of 85.5 on a bull called Big Rig from the Skori's for Lipsett. Match that up with the 89 this time on the Minion and Tim was out in front of second-place finisher Stetson Lawrence of Williston, ND by a full six point advantage.
The Sasky bull rider earned over $3,800 for his efforts along with 60 world points and some important Canadian points which put him nicely into the tenth spot in Canada when the standings were published.
Lawrence, the number 20 man in the world put almost $2,500 Canadian in his pocket and did a dance after his solid 83 point effort on Double Down in round one. These were his first Canadian points of 2016 and put him 28th in the nation so far.
Fellow North Dakotan Nathan Schaper, currently 33rd in the world has already made a few trips to Canada this year. He's 16th in our Canadian standings after a third place finish in Lashburn thanks to an 81.5 on Finning Rat Trap from the Flying Four crew and an 86 on Snap Trapper from the Wild Hoggs in the finals.
Rounding out the top five were PBR Canada's number four man, Cody Coverchuk and Montana's Dakota Louis respectively.
Error loading Partial View script (file: ~/Views/MacroPartials/RichtextEmbedVideo.cshtml)
The following are the official results are from the 13th annual Brad Phipps Memorial PBR on August, 5 2016.
Round One: 1. Tim Lipsett on Skori Bucking Bulls 216 Big Rig, 85.5 points, $637.50; 2. Cody Coverchuk 83.5, $417.30; 3. (tie) Stetson Lawrence and Dakota Louis, 83 points, $239.06 each; 4. (tie) Wyatt Laughlin and Devon Mezei 82 points; 5. Nathan Schaper 81.5; no other qualified rides.
Finals: 1. Tim Lipsett on Skori Bucking Bulls 0819 MInion Stuart, 89 points, $637.50; 2. Nathan Schaper, 86, $479.13; Stetson Lawrence, 85.5, $318.75; no other qualified rides.
Aggregate, Total money and points won: 1. Tim Lipsett - Lumsden, SK - 174.5 points on two bulls, $3,852.50, 60; 2. Stetson Lawrence - Williston, ND - 168.5, $2,491.56, 30; 3. Nathan Schaper - Grassy Butte, ND - 167.5, $1,668.13, 20; 4. Cody Coverchuk - Meadow Lake, SK - 83.5 points on one bull, $1,243.13, 15; 5. Dakota Louis - Browning, MT - 83, $706.56, 10; 6. (tie) Wyatt Laughlin - Pincher Creek, AB and Devon Mezei - Carstairs, AB - 82, $281.56 each, 2.5 points each.
Next up on the 2016 PBR Canada Schedule is the Elnora Brahma Rama in Elnora, AB on August 13th and the Coronation, AB Royal Rumbull PBR on August 17th.
About PBR Canada:
PBR (Professional Bull Riders) which has events in six countries and is available in 500 million homes globally, has competed in Canada since 1996. The PBR Monster Energy Canada Series will debut in August 2016 as the country's first fully televised national professional bull riding series. Points earned at the Tour's 16 Canadian events count towards qualification to the elite PBR Canadian Finals. Upon the conclusion of the Finals, the bull rider with the most regular season and Finals points is crowned the PBR Canada Champion. Points won at all Canadian events count toward qualifying on the prestigious PBR Built Ford Tough Series (BFTS) and PBR World Finals in Las Vegas, NV. For more information on PBR Canada, go to www.pbrcanada.com, or follow on Facebook at www.facebook.com/pbrcanada and Twitter athttp://twitter.com/PBRCanada.