Cates earns London victory on PBR Monster Energy Canada Tour
By: Jake Hillman Saturday, August 27, 2016 @ 11:06 PM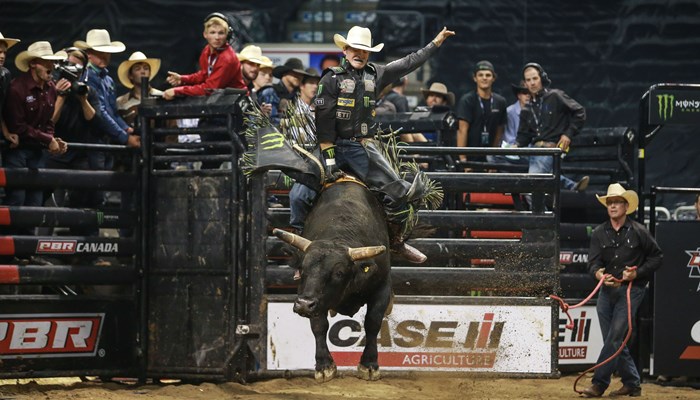 LONDON, Ontario — The PBR Monster Energy Canada Tour continued to London on Saturday night at the second stop of the new cross-Canada tour. Reese Cates from Monticello, Arkansas took home the winning buckle with an aggregate score of 167 points on two bulls.
Cates scored 84 points on Big Shot (Skori Bucking Bulls) in round one, and followed it up with an 83 on Open Season (Wild Hoggs) in the Championship Round to earn 80 world points and $5,871.39. Following this win, Cates ranks in a tie for 16th in the PBR Canada's Standings. The win in London in Canada has potentially thrust him into the 40th position in the world standings, a stepping stone back to the top for the 27 year old rider. 
As the event winner, Cates had the chance for a bounty ride on one of Canada's rankest bulls, Liquid Fire (Wild Hoggs). Cates however, like Brant Atwood before him last week was bucked off. The bounty will now increase from $10,000 to $15,000 at the Hamilton, ON Monster Energy Canada Tour stop at FirstOntario Centre.
Atwood, the Ottawa tour stop winner from a week prior finished in second with 165 points, only two behind Cates. Atwood earned a score of 86 on Marshal's Law (Wild Hoggs) in the first round and a final round 79 on Big Smoke (Vold/Prescott) to earn $4,532.63.
In third was Cody Coverchuk of Meadow Lake, SK who put up an a total score of 164.50 points on two. Coverchuk's third place finish was highlighted by an 86.5 on Hillbilly Heaven (Wild Hoggs). With the absence of Ty Pozzobon and Dakota Buttar, the third place man in the Canadian standings gained ground on the national title. Now, he sits within a single event win of the number one spot. The difference between the first and third ranked rider in the London aggregate was a mere 2.5 points.
The highest marked ride of the night was put up by DeWinton Alberta's Brock Radford with a huge 88 on Minion Stuart (Skori Bucking Bulls) to win the championship round. Radford earned 20 world points and over $2,500 to improve both his world and Canadian standing despite coming down off his first bull. Rounding out the top six were Cody Casper of Pacific, WA and Ontario's own Dusty McMullen respectively. Zane Lambert, 2013 PBR Canada Champion finished in the seventh spot taking home over $1,000. 
After this second stop in London, the tour will continue on to Hamilton, ON in two weeks (September 10) at FirstOntario Centre. The tour will also visit Winnipeg, MB; Calgary, AB; Abbotsford, BC, and Saskatoon, SK in 2016. All roads will then lead to Edmonton as PBR will bring the PBR Monster Energy Canada Tour Finals and a special global invitational PBR event to Edmonton for a three-day global professional bull riding event scheduled for November 10-12, 2017.
Visit PBRCanada.com for the full PBR Monster Energy Canada Tour schedule and tickets. Tune into TSN2 on Wednesday August 31st at 7:00pm EST and RDS on September 1st at 10:00pm EST for the inaugural broadcasts produced by Larry Isaac, hosted by Brett Gardiner, Scott Byrne and Jason Davidson. 
Professional Bull Riders - London, ON Monster Energy Canada Tour 8/27/2016
London, ON, 2016 - Event Results (Round 1-Round 2-Round 3-Event Aggregate-Event Points) 
1. Reese Cates, 84-83-0-167.00-80 Points - $5,871.39
2. Brant Atwood, 86-79-0-165.00-50 Points - $4,532.63
3. Cody Coverchuk [1], 78-86.5-0-164.50-30 Points - $3,193.89
4. Brock Radford, 0-88-0-88.00-20 Points - $2,524.50
5. Cody Casper, 0-84.5-0-84.50-15 Points - $1,415.25
6. Dusty McMullen, 0-82.5-0-82.50-10 Points - $573.75
7. Zane Lambert, 82-0-0-82.00 - $1,013.63
Cody Coverchuk [2], 0-0-0-0.00
Wacey Finkbeiner, 0-0-0-0.00
Douglas Duncan, 0-0-0-0.00
Thor Hoefer II, 0-0-0-0.00
Justin Lloyd, 0-0-0-0.00
Riley Blankenship, 0-0-0-0.00
Fabian Dueck, 0-0-0-0.00
Kale Marks, 0-0-0-0.00
Cole Young, 0-0-0-0.00
A.J. Vaal, 0-0-0-0.00
James Sullivan, 0-0-0-0.00
Steven S Foster, 0-0-0-0.00
James Bouvier, 0-0-0-0.00
Nick Goncalves, 0-0-0-0.00
Jacob Moore, 0-0-0-0.00
Lane Morris, 0-0-0-0.00
Kyle Primeau, 0-0-0-0.00
Tyson Kimmett, 0-0-0-0.00