Birks tames Quag's Back for $10,000 in Wanham
By: Ted Stovin Friday, June 17, 2016 @ 9:31 PM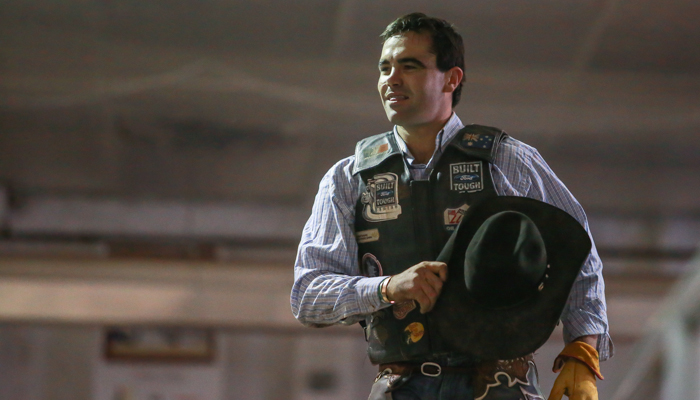 WANHAM, Alberta -- Australian bull rider Josh Birks earned his second event win in the past three years at the Wanham PBR Extravaganza on Friday night. To top it off, he also tamed the Nufarm Bounty Bull, Vold/Prescott's Quag's Back for the $10,000 bonus.
None of this would have been possible however if it weren't for the work of Blaine and Daphne Fyson, Lynette, Stacey and the whole crew at the Wanham Plowing Match. After eight inches of rain in the days leading up to Friday night, the old arena was being worked up Friday morning but couldn't be saved. At 1:30pm on Friday afternoon the decision was made to move the entire set up, which was already done once.
At 7:15pm a number of bull riders along with volunteers and Blaine in the bobcat, sand was put down over the fresh grass of the new arena, just in time for the 7:30pm start time. It all went off without a hitch, allowing these riders the opportunity to make their living while providing the finest bull riding in the peace country in front of hundreds of fans.
In round one for Birks it was Blood Money from the Young Money Cattle Company with a score of 83 points. An 88.5 on Black Rose from Vold Rodeo earned him the event win for a shot at the bounty bull. A total of $3,609.95 was in the Aussie man's pocket before he even attempted Quag's back on the arena built hours before. After Wanham, Birks likely jumps inside the top five in the PBR Canadian standings for points and will lead the pack in money won at over $19,000. In addition, he adds 60 points to his PBR world standing.
Second on the night went to Ty Pozzobon, one of the main men in the arena before hand shoveling the sand around to be sure the bulls had adequate footing. Pozzobon rode Missing Vibrations from the Wild Hoggs for 86 points to win the first round. In the finals, the BC man went a long ways on True Blood from the Vold/Prescott firm but it wasn't enough. For his work Pozzobon took home over $2,400 in earnings and 30 points towards the PBRs world standings.
Third in Wanham went to 2006 Canadian Champion Bull Rider Tanner Girletz now of Bowden, AB. Girletz tamed Jersey Lick from Vold/Prescott for an 84.5 in round one, coming down from his final round mount. He took home $1,581 and 20 world standings points. Rounding out the top five were Cody Coverchuk of Meadow Lake, SK and Fabian Dueck of Paraguay.
Unofficial results from the Wanham PBR Extravaganza on June 17th, 2016.
Round one: 1. Ty Pozzobon on Wild Hoggs' 100 Missing Vibrations, 86 points, $632.40; 2. Tanner Girletz, 84.5, $474.30; 3. Cody Coverchuk, 84, $316.20; 4. Josh Birks, 83, $158.10; 5. (tie) Kale Marks and Cody Coverchuk, 81.5; 7. Cawl Braithwaite, 81; no other qualified rides.
Finals: 1. Josh Birks on Vold/Prescott's 111 Black Rose, 88.5 points, $632.40; 2. Fabian Dueck, 83.5, $474.30; no other qualified rides, $237.15 ground money each.
Ride off: Josh Birks on Vold/Prescott's 128 Quag's Back, 88.5 points, $10,000.
Aggregate, total money and points earned: 1. Josh Birks - Coonamble, NSW - 171.5 points on two bulls, $13,609.95, 60; 2. Ty Pozzobon - Merritt, BC - 86 points on one bull, $2,476.90, 30; 3. Tanner Girletz - Bowden, AB - 84.5, $1,581.00, 20; 4. Cody Coverchuk - Meadow Lake, SK - 84, $1,054.00, 15; 5. Fabian Dueck - Paraguay, $1,154.13, 10; 6. Cody Coverchuk - Meadow Lake, SK - 81.5, $258.23, 5; 7. Kale Marks - Sunnybrook, AB - 81.5, $258.23; 8. Cawl Braithwaite - Bluffton, AB - 81, $147.56.
Error loading Partial View script (file: ~/Views/MacroPartials/RichtextEmbedVideo.cshtml)
Next up on the 2016 PBR Canada schedule is Ride, Rock and Roll presented by the Ponoka Stampede featuring Big Sugar and 54-40 on Saturday June 25th, 2016.
About Professional Bull Riders (PBR) Canada:
Points earned at Canadian events counts towards qualification to the elite PBR Canadian Finals. Upon the conclusion of the Finals, the bull rider with the most regular season and Finals points is crowned the PBR Canada Champion. Points won at all Canadian events counts toward qualifying on the prestigious PBR Built Ford Tough Series (BFTS) and PBR World Finals in Las Vegas, NV. For more information on PBR Canada, go to www.pbrcanada.com, or follow on Facebook atwww.facebook.com/pbrcanada and Twitter at http://twitter.com/PBRCanada.