Atwood Bucks off Monster Energy Tour with Ottawa win
By: Ted Stovin Saturday, August 20, 2016 @ 11:56 PM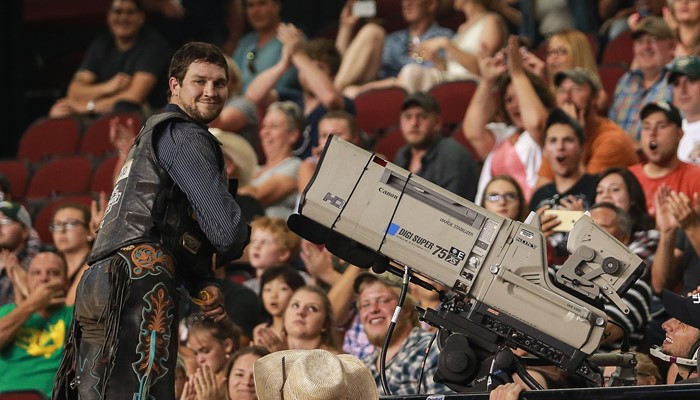 OTTAWA, Ontario — The PBR Monster Energy Canada Tour began the first stop of its new cross-Canada tour in Ottawa on Saturday night. Brant Atwood from Pampa, TX took home the No.1 spot with an aggregate score of 170 points on two bulls.
Atwood scores 83 points on Jawbreaker (Skori Bucking Bulls) in round one and followed it up with an 87 on Hillbilly Heaven (Wild Hoggs) in the Championship Round to earn 80 world points and $6,215.56. Coming into Saturday Atwood sat 41st in the PBR's World Standings. The win here in Canada's capital pushes him to a potential high of 38th. 
As the event winner, Atwood had the chance for a bounty ride on one of Canada's rankest bulls; Liquid Fire (Wild Hoggs). Atwood however was bucked off. The bounty will now increase from $5,000 to $10,000 at the London, ON Monster Energy Tour stop.
Error loading Partial View script (file: ~/Views/MacroPartials/RichtextEmbedVideo.cshtml)
Canadian native and two-time CPRA Champion Dakota Buttar of Kindersley, SK finished in second thanks to a pair of scores totalling 165 points. Buttar put together a score of 79.5 in round one and a final round second-best 85.5 on Barely Legal (Cody Strandquist) to earn $4,303.13. He now challenges Ty Pozzobon for the number one spot in the Canadian National Standings and overtakes him for the 40th spot in the PBR"s World Standings. Pozzobon put up an 82 in the first round but was bucked off in the championship round to finish ninth overall.
Following close behind were Ontario native AJ Vaal of Arthur who finished third courtesy of scores of 79 and 83.5 for 162.5 on two. The home-province crowd erupted in applause for their man who earned a big $2,667.50 and 30 world points.
Top five bull riders in Canada, Wacey Finkbeiner from Ponoka, AB and Cody Coverchuk from Meadow Lake, SK rounded out the top five bringing in $2,486.25 and $1,663.88 respectively thanks to their scores from the first round. Both were unsuccessful in the final round of competition.
After this first stop in Ottawa the tour will continue on to London, ON next week (August 26) at Budweiser Gardens. The tour will also visit Hamilton, ON; Winnipeg, MB; Calgary, AB; Abbotsford, BC, and Saskatoon, SK in 2016. All roads will then lead to Edmonton as PBR will bring the PBR Monster Energy Canada Tour Finals and a special global invitational PBR event to Edmonton for a three-day global professional bull riding event scheduled for November 10-12, 2017.
Visit PBRCanada.com for the full PBR Monster Energy Canada Tour schedule and tickets. Tune into TSN2 on Wednesday August 24th at 7:00pm ET and RDS on August 25th at 10:00pm ET for the inaugural broadcasts produced by Larry Isaac featuring hosts Brett Gardiner, Scott Byrne and Jason Davidson. 
Professional Bull Riders - Ottawa, ON Monster Energy Canada Tour
Ottawa, ON, 2016 - Event Results (Round 1-Round 2-Round 3-Event Aggregate-Event Points) 
Brant Atwood, 83-87-0-170.00-80 Points - $6,215.56
Dakota Buttar, 79.5-85.5-0-165.00-50 Points - $4,303.13
A.J. Vaal, 79-83.5-0-162.50-30 Points - $2,677.50
Wacey Finkbeiner, 85.5-0-0-85.50-20 Points - $2,486.25
Cody Coverchuk, 84-0-0-84.00-15 Points - $1,663.88
Justin Lloyd, 83-0-0-83.00-5 Points - $755.37
(tie). Josh Goodson, 83-0-0-83.00-5 Points - $755.37
Riley Blankenship, 82.5-0-0-82.50 - $267.75
Ty Pozzobon, 82-0-0-82.00
Devon Mezei, 80.5-0-0-80.50
Douglas Duncan, 71.5-0-0-71.50
Dakota Louis, 0-0-0-0.00
Thor Hoefer II, 0-0-0-0.00
Zane Lambert, 0-0-0-0.00
Fabian Dueck, 0-0-0-0.00
Cody Casper, 0-0-0-0.00
Kale Marks, 0-0-0-0.00
Cole Young, 0-0-0-0.00
Brock Radford, 0-0-0-0.00
Nick Goncalves, 0-0-0-0.00
Cody Sauls, 0-0-0-0.00
Steven S Foster, 0-0-0-0.00
James Sullivan, 0-0-0-0.00
James Bouvier, 0-0-0-0.00
Dusty McMullen, 0-0-0-0.00