Wyatt Gleeson Focused on Return to PBR Canada National Finals
By: Covy Moore Friday, May 5, 2023 @ 3:20 PM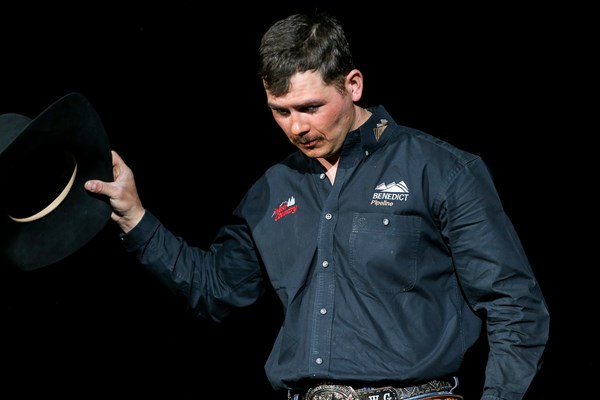 AIRDRIE, Alta. – Wyatt Gleeson is determined to be a top contender in 2023.
That is the word from the Sundre, Alberta native.
Having spent the majority of last season focused on the rodeo side of the sport, qualifying for the Canadian Finals Rodeo for the first time, Gleeson barely missed qualifying for last year's PBR Canada National Finals despite winning the prestigious Glen Keeley Memorial in Stavely, Alberta.  
"I have always been a PBR bull rider," Gleeson began. "The PBR just gets you fired up, the lights, the fireworks, all of it. But the CFR was something I needed to check off the bucket list."
At the season-launch Cup Series stop in Red Deer, Alberta, Gleeson found success, taking home a round win to finish Top 10 in the event.
"It was huge for the confidence," Gleeson explained. "It proved to me that I can be competing with the best in this country, make some big rides and handle that pressure. Here is the pressure, now handle it. I think in Red Deer, I handled it well. Couple of mistakes, but that will be fixed this year."
With a flashy style and having the most confidence he has had his whole career, Gleeson says consistency is the side of the sport that everyone wants to get right.
"Consistency is the number one thing. You look at the Top 5 guys in the PBR, they are consistent, they stay on week in and week out. No matter what bull they are matched with they find a way to get the job done."
"For me, I haven't been the most consistent guy," Gleeson continued. "But that is something you can work on."
"I really make up for that consistency with being able to dress up a bull ride, I am a little more flashy. And if a bull turns back in my hand, I am liable to lay back at the end of my arm and kind of go to them. I make up for it there, but that consistency is key and the thing I am working on for this season in my riding. And that will take me to the top."
Winning the 2022 Glen Keeley Memorial PBR was a career highlight for Gleeson.
Any event that carries those memorial markers, or has that real family feel, brings with it a different level of prestige.
And Gleeson tops his career list of wins with the Keeley buckle and spurs.
"To win the Glen Keeley, that is probably my number one achievement," Keeley explained. "It's so prestigious. It's really sort of up there with Ponoka or Calgary with its prestige. When you win it, people notice. After I won that event, people took notice that I hang loose and spur a little bit like Glen."
This weekend, the PBR Canada stars invade Brooks, Alberta, for the Koye Larson Memorial PBR. The event commemorates Koye and Darsey Larson, the son and wife of Kinky Bucker's Kyle Larson who were lost in an accident in the United States last summer.
"It is amazing we can put on a really big event like that," Gleeson said. "Put some smiles on some faces that have been through a lot in the last year. They are important parts of the bull riding community, anyone involved in this sport all the way to guys like Kinky who provide the buckers to the sport. I think it's going to be a great event."