Roy Lights Up Manitoba, Eyes Fourth PBR Canada Championship
By: Covy Moore Tuesday, May 30, 2023 @ 9:10 AM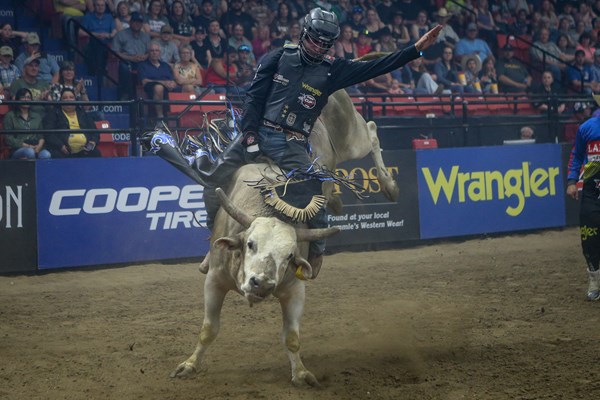 AIRDRIE, Alta. – After winning the PBR Canada Touring Pro Division event in Winnipeg, Manitoba, this past Friday, Aaron Roy walk into Westoba Place riding high for the Cup Series Mazergroup Chute Out the very next day.
In Brandon, After a solid Round 1 score, Roy faced off with early Bull of the Year contender The Remedy, marked a mammoth 89 points to clinch the victory at the third Cup Series event of the year.  
The win catapulted the three-time PBR Canada Champion into the No. 3 rank in the national standings as the summer run of events begins to roll.
"I like these early year events. It's all in how you look at it," Roy began. "I know I will be missing one or two here or there. So to work up to get up there win the beginning and comfortable in the standings, in a place where you can contend all year long and not have to push yourself to a spot where you are sick of going to try and qualify for the Finals."
With those three national titles to his name, comparing his 2023 start to his title seasons is something almost impossible, as Roy was also a mainstay on the PBR Unleash The Beast those years.
"The championship years I would do one or two Canadian events, then be flying straight down south after to get on there," Roy explained. "If it happens it would be that much more special for me, having my family around so much now. I have Axel on the road a lot, and Hallie and Lux come to as much as they can too. If I could do it this year it would be that much more special knowing I did it staying in Canada and did it with my family with me, as opposed to being all over the continent all day."
And family is a big part of Roy's career today.
A good portion of the season he travels with his young son Axel, while his daughter Lux and wife Hallie make it to as many as schedules allow.
This weekend, however, was another special one for Roy, as Axel was his travelling partner all weekend.
"Ever since he has been able to get out of his car seat, he has wanted to be at bull ridings. He loves this sport," Roy said.
"He loves bull riding. He studies it, he helps guys. He will give out pointers that he sees, or just cheer guys on. I know in Brandon there he was helping guys pick their bulls in the short round. He watches the sport closely. He loves Josh Berezay, and his bulls Happy Camper and Langham Kid. He has liked those bulls since he was 3 years old. It means so much to have him with me in this. I do hope one day he tries it, but if not, that's up to him."
The younger Roy has already had a little taste of steer riding, with a few trips under his belt.
But Roy stressed that he has no intentions of pushing his son towards this sport, especially considering he has caught the hockey bug at a young age.
"He has been on before, a couple years ago. I held him on his first two, then he went twice on his own. He seemed to like it," Roy said of his son.
"He has quite the hockey bug though, and I won't push him. I have asked if he wants to get on this year again, and he says we will try a couple and see if he still wants to do it. I won't push him, he will go after it if he wants to do. I will help him with whatever sport he plans to pursue."
The plans for Roy in 2023 are another PBR Canada Championship.
And like most riders in the dressing room, the plan for the year is consistency.
"It's going to take consistency. You are riding against some amazing riders who don't fall off that often," Roy said.  "So when you are there, you have to make every ride count. Do your job cause you aren't really competing against them, you are competing against that bull you are on.:
"It's just that consistency. Show up, do your job and be there cheering on the guy next to you too, because you aren't competing against them, you're competing against that bull."
When asked which bull Roy has his eye on for any short go round coming up, he went straight to another athlete looking to set more records, Two Bit Bucking Bulls' Happy Camper.
"I like to pick ones I can win first one, every time. There is always Happy Camper. We don't know how long he is going to be around, but you can always win first on him."
"I have been on him once, I think I lasted 4 seconds and I might have bent his horn a little when I came off," Roy continued. "But he is always on the radar. I try to pick the ones I can be the most points on, and the ones that fit my style heading into those championship rounds."
One part of Roy's career he is able to compare to past title campaigns is the way he feels.
And when asked the questions of how he feels this far into his 17-year career, he says he feels the same as he did when he cracked out in 2006.
"Exactly the same. I have done the exact same my whole career. There is the odd time I will get sore. I don't really get too sore, and when I do, I will work it out at home and just be ready for the next one," Roy said. 
"I haven't changed a thing my whole riding career, right from my preparation. I am not going to be changing anything now, being closer to the end of my career."