Nick Tetz Focused and Having Fun Ahead of Second Weekend of World Finals Competition
By: Covy Moore Thursday, May 18, 2023 @ 3:50 PM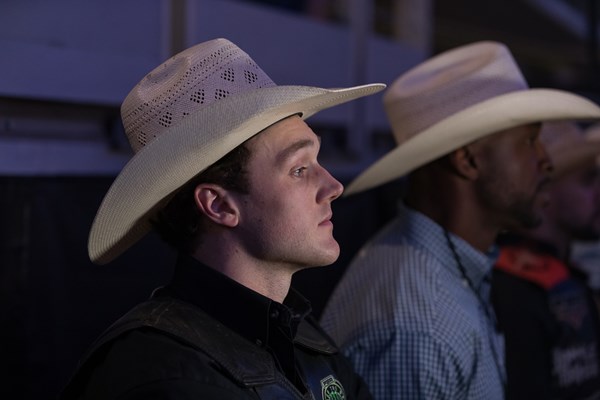 AIRDRIE, Alta. – For Calgary, Alberta's Nick Tetz, qualifying for the 2023 PBR World Finals: Unleash The Beast fell right into his plan.
After just barely missing a direct berth via the world standings, it would be a 2-for-3 showing at the Pendleton Whisky Velocity Finals that punched his ticket to bull riding's most prestigious event as the highest finishing international invite.
"I was just kind of sitting there and I was looking around and I was like shit, I just made the World Finals," Tetz said. "It had been a goal for so long. It's been something that I wanted to do for the last three years, but just have never really been able to."
"It was just kind of like a surreal moment; it just feels like in the sport you're always chasing goals. Chasing the next one, chasing the next one. You get there and you just want to get to the next one. That's kind of what happened there. Then I was like, 'now we're at the World Finals, now we got to do good."
Tetz earned the 2022 PBR Canada Championship in a come-from-behind effort in Edmonton, Alberta, last November, and quickly made the decision to head south and aim at the PBR World Finals next.
And it took a second for the reality to hit Tetz that he had achieved his goal.
"We got there Thursday and we're just kind of hanging out, not really doing too much," Tetz explained of arriving in Fort Worth. "We did our check-in and everything like that. It just felt like another bull riding. And then they have the rookie breakfast, and you go and sit down, and you talk to Cody Lambert, Justin McBride and they're telling you what it means to be there. That's when it hit me finally hit me."
The first round would not go the 23-year-old's way, as Brody's Pet made quick work of the cowboy.
But in Round 2, Tetz showed he belonged on bull riding's biggest stage, taking the never before ridden bucker Bandito Bug to an 89-point score. The effort would net Tetz a second-place round finish, 48 Unleash The Beast points and a lot more than that in prize money.
"He doesn't stay hooked up," Tetz said of his bovine opponent. "He goes back around to the right and it could be at two seconds, it could be at six or seven. I talked to Colten Fritzlan about it, he said don't go forward on him because he wants to take you forward anyway, so just keep your hips down on him and he should just pack you around there and that's pretty much what he did. It felt chaotic. Until he went back around right, it didn't really feel like I was in too much control, but we just managed to keep our hand shut and get the job done and it just felt good to get that first one knocked down."
In Round 3, Tetz attempted two bulls, but neither went his way. After his first matchup was called for a hip at the chutes and awarded the re-ride, Tetz would fall short with Miller Time.
Tetz said he expects to be riding a 43.75-point bull every time, but admitted a lot of guys are having trouble with the temperatures or humidity and keeping their rope sticky for a potential re-ride situation.
"The biggest problem all the bull riders are having right now in the dressing room is keeping our ropes sticky," Tetz said. "It's sticky for the first one, but if you get a re-ride, it just seems like you kind of lose that stickiness. I tried to get my rope as sticky as I could with the amount of time I had to get on another one." h
"I just kind of went to set my hips and lift on my rope and he beat me around a corner and blew my hand. That's frustrating because you know that you can ride them better than that."
With a potential five more bulls this coming weekend following three full days off, Tetz said he is focused, and relaxed, but most of all having fun.
"I just want to keep having fun," Tetz added. "Everyone down here is a blast to be around. I feel like I say it in almost every single interview – just have fun – but that's the biggest thing that I just try to keep focus on. You do it because you enjoy it, not because it's a job. I think that's probably the biggest thing. Try to get out of Dickies Arena with as much money as I could possibly pull out too."
Being so far from home, Tetz is joined stateside by his girlfriend and is surrounded with family and friends, but he says being able to keep up with the likes of PBR campaigner Ashton Sahli, his training team at Acumen Performance and his mental coach have been key cogs in his successes so far.
He even added that champions Dakota Buttar and Aaron Roy have been a constant positive force for pointers, or just a good old fashion pump up.
"Dakota has been messaging me a lot, telling me to keep doing good and stick it on them. Dakota has been a big supporter and I shot Aaron Roy a text and sent him a video and said 'what the hell am I doing?'
"He told me one thing and it helped me work out whatever was going on and we were back rolling. It felt good."
The obvious goal for every rider who rolls their bag into the PBR World Finals is to win the event, and for some win the world. But for others, with aspirations to find their way onto the ever-evolving PBR Team Series, this is the perfect job interview.
And for Tetz, the interview is not going so badly.
He didn't want to divulge who he has spoken with but admitted there has been a favorable amount of conversations happening in Texas.
"We've been talking to some teams. We've had I think five of the eight teams talk to me. The biggest thing for me is that I don't want to be a practice squad guy or anything like that. I want to be a guy that contributes. I feel I am a guy that can contribute."