Game Notes – London
By: Kacie Albert Tuesday, May 30, 2023 @ 9:41 AM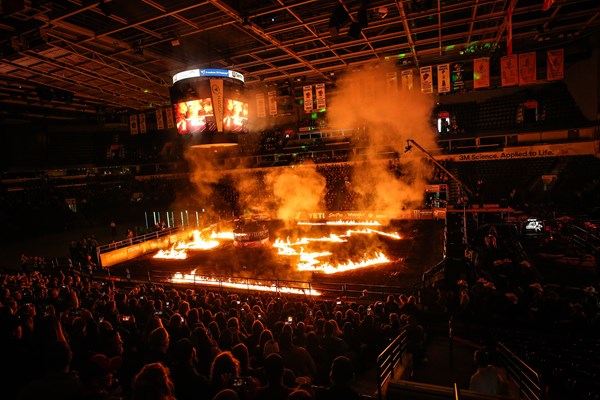 LOOK OUT LONDON, THE BULLS ARE BACK IN TOWN – This weekend, for the first time in four years, and just third time in history, PBR Canada's elite Cup Series, presented by Wrangler, will buck into London, Ontario. The PBR London Classic, the fourth elite tour event of the season, will be held at Budweiser Gardens on Wednesday, May 31. Action will begin at 7:00 p.m. EDT.   
RELATED: Click here for the complete London Game Notes.
THIS WEEKEND'S FORMAT – The PBR Mazergroup Chute Out will feature two rounds of bull riding and is a Tier 1 Challenger Series event. Each rider will get on one bull in Round 1 on Wednesday. The 10 bull riders with the best scores will then advance to the championship round, where they will attempt one final bull in an effort to be crowned the event champion. This weekend, one rider will have the chance to earn 120 national points, in addition to ride score points.
TETZ KEEPS PACE IN RETURN HOME – Less than one week after making his PBR World Finals debut, Nick Tetz returned to home soil chasing crucial points as he attempts to become the first back-to-back PBR Canada Champion in history. Wasting no time, Tetz returned to the arena for the May 26 Touring Pro Division event in Winnipeg, Manitoba. Going a perfect 2-for-2, Tetz finished second at the event to collect 27.5 national points. The reigning PBR Canada Champion tied for third in the opening round when he bested Finning JB Muley for 79 points. Tetz, who was recently inked to the practice squad for the Arizona Ridge Riders in the separate PBR Team Series, then cemented the silver showing when he conquered Flick the Switch for 85.5 points. While he remained No. 3 in Canada, Tetz lessened No. 1 Jared Parsonage's lead to 104.5 points. The very next day, Tetz took his talents to Brandon, Manitoba, for the third elite Cup Series event of the season. Going 1-for-2, Tetz finished seventh. Tetz first put points on the board when he tied for fourth in Round 1, covering Rust Bucket for 84.5 points. Tetz then architected a familiar showdown in the championship round, electing to go head-to-head with Langham Kid, the very bovine athlete who he covered at the 2022 PBR Canada National Finals en route to winning the Canadian Championship. Tetz, however, was unable to replicate his past success, bucked off in 3.35 seconds. Garnering 21.5 national points, Tetz rose from No. 3 to No. 2 in the 2023 PBR Canada Championship race as he attempts to become the first rider to win the coveted title in back-to-back seasons, inching within 102 points of No. 1 Parsonage. With Parsonage not competing this weekend in London, Ontario, the door is open for Tetz to take over the top spot in the nation. As competition gets underway inside Budweiser Gardens, Tetz will climb aboard Out Work'm in Round 1.
BARROWS BREAKS THROUGH – The most recent Cup Series event in Brandon, Manitoba, was a break-through performance for relative newcomer Williams Barrows. The 22-year-old, Foremost, Alberta native delivered a perfect 2-for-2 effort, to finish a career-best third on the nation's premier series. Barrows first rode Red Coat for 84.5 points in Round 1, before making the 8 atop Positively Bangin (Outlaw Buckers Rodeo Corp.) for 85.5 points in the championship round. Courtesy of the podium finish, Barrows earned 67.5 national points. He climbed 16 positions in the Canadian standings, rising from No. 29 to No. 13.  Barrows will look to continue his climb in London, Ontario, when he faces G Unit as the last rider to leave the chutes in Round 1.
PAST LONDON EVENT WINNERS – When the elite Canadian Cup Series last travelled to London in May 2019, Daylon Swearingen captured his third event win of the season. The then 19-year-old's win was highlighted by the top-scored ride in Round 1, bringing the raucous crowd to its feet when he made the 8 aboard Black Sails for 84.5 points. Garnering 450 Canadian points, Swearingen rose to No. 2 in the Canadian national standings. The win in London was a crucial steppingstone for Swearingen en route to being crowned the 2019 PBR Canada Champion. While Jared Parsonage and Dakota Buttar entered the season-culminating PBR Canada National Finals ranked No. 1 and No. 2 in the nation, within a slim 32.49 points of one another, Swearingen completed one of the most riveting come-from-behind surges in history with a dominant performance. He went a perfect 4-for-4, winning the Canadian Finals and erasing a 689.57-point gap to emerge the 2019 PBR Canada Champion by 450.42 points over runner-up Buttar. Since winning the 2019 PBR Canada Championship, Swearingen has gone on to excel on the world stage, joining an elite contingent of riders in 2022 when he was crowned the PBR World Champion. After injury derailed Swearingen's 2023 title push, sidelining him for the majority of the campaign, he has travelled to Canada as he prepares for the return of the PBR Team Series, where he anchors the Carolina Cowboys roster. Swearingen will look to defend his event title when he first climbs atop International Gangster in Round 1 inside Budweiser Gardens.
2019: Daylon Swearingen
2016: Reese Cates   
NEXT UP – The 2023 PBR Canada Sup Series, presented by Wrangler, will next travel to Regina, Saskatchewan, and Brandt Centre for the PBR Regina Classic on Wednesday, June 21. Action will get underway at 7 p.m. CST.   
PROVIDING PROTECTION – The bullfighters on hand for this weekend's event in London, Ontario, are Tanner Byrne and Chase Keeley.  
2023 5/5 BUCKING BATTLE SCHEDULE AND RESULTS - Each 5/5 Bucking Battle features the Top 5 riders from the event following Round 1, competing against the five highest-ranked bulls at the event for extra bonus points and an additional purse. Here are the winners of the special rounds thus far in 2023:
March 3 in Lethbridge, Alberta  | Coy Robbins, 89.5 points on Positively Bangin
LONDON COMPETITORS BY COUNTRY
Australia (2) – Cody Fraser, Callum Miller
Canada (21) – William Barrows, Darren Botma, Dakota Buttar, Cody Coverchuk, Tyler Craig, Weston Davidson, Brahmer Gaehring, Jake Gardner, Wyatt Gleeson, Garrett Green, Nick Goncalves, Chad Hartman, Jett Lambert, Tim Lipsett, Keaton Martz, Micheal Ostashek, Brock Radford, Coy Robbins, Carter Sahli, Cauy Schmidt, Nick Tetz.
New Zealand (1) – Wade Marshall
Paraguay (1) – Fabian Dueck
United States (1) – Daylon Swearingen
BREAKDOWN BY PROVINCE –
Alberta – William Barrows, Tyler Craig, Brahmer Gaehring, Wyatt Gleeson, Garrett Green, Jett Lambert, Keaton Martz, Micheal Ostashek, Brock Radford, Coy Robbins, Carter Sahli, Cauy Schmidt, Nick Tetz; British Columbia – Jake Gardner; Ontario – Darren Botma, Nick Goncalves; Saskatchewan – Dakota Buttar, Cody Coverchuk, Weston Davidson, Chad Hartman, Tim Lipsett.