Two Bit Bucking Bulls' Catch My Drift Retires in Lethbridge, Alberta
By: Covy Moore Wednesday, March 8, 2023 @ 9:39 AM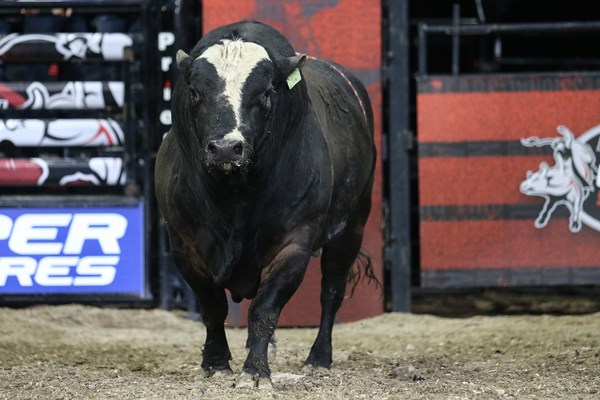 AIRDRIE, Alta. – Last weekend in Lethbridge, Alberta marked the final time that 2020 PBR Canada Bull of the Year Catch My Drift would perform.
The now 9-year-old Catch My Drift began his journey with Magrath, Alberta's Two Bit Bucking Bulls as a 3-year-old. Coming from Gerald and Cody Adamus, Catch My Drift cracked out and onto the big stage in 2018. Since then, the bull has been to the PBR World Finals twice, in 2019 and 2021, bucking 56 times in PBR competition and yielding 22 qualified rides.
For Two Bit Bucking Bulls' Josh Berezay, he said the decision to retire any bull isn't an easy one, but that Catch My Drift has earned it.
"He has had a great career," Berezay began. "I don't want to see guys riding him for 80 or 81 points when he used to be a 90-point bull. That is the biggest factor in making that decision."
"He still looks great. He is still healthy. He just doesn't have that same fire in his belly he has had in previous years."
During Catch My Drift's career, three of his 22 qualified rides were for 90 points or more. He propelled Jordan Hansen and Zane Lambert to 90-point rides, while his highest-marked ride was a 91-point score with Lambert in Prince Albert, Saskatchewan in 2021, a ride that is engrained on Berezay's memory.
"I thought Zane was 91 on him, but he could have been way more than that," Berezay said of the ride. "It was a dog fight from the moment he nodded his head. I thought that was the best trip and ride that bull ever had."
"As far as a buck off. Jared Parsonage and him in Cloverdale a few years back, when that bull left him on the corner, I knew he was the real deal. Jared isn't an easy guy to get on the ground."
At the PBR Canada Cup Series, presented by Wrangler, event in Lethbridge, Alberta this past weekend, the gate was held on the big black, white-faced bovine. Giving him two minutes in the spotlight, Berezay said he started to get emotional on the back of the chutes after his retirement.
"I didn't think I would get emotional. But I was surprised when they played that video, all those feelings come pouring in. All the places he has taken us, all those good times."
"He was a great bull, 2020 Bull of The Year. It's tough to say goodbye. He leaves a big hole in the trailer, and it's not easy to find these bulls."
While Catch My Drift will only be saying goodbye to competition, Berezay says he will live a comfortable life breeding and grazing in Magrath, Alberta.
"We are going to let him live out his life in comfort," Berezay said. "Get him on some cows coming up here. I think we have some calves on the ground from him that are already working really well. So we will see what comes from Catch My Drift yet."
The Berezay Family, Josh, Tammy and their two daughters Montana and Nevada, take a lot of pride in the animals they haul and care for, and Catch My Drift was no exception. Berezay said he is better described as one of the family.
"He is just a part of the family," Berezay said. "That is the thing. He has his own little oasis. He sort of stays by himself. The girls have doted on that bull forever. Nevada used to flank him when she was only 15-16 years old."
"He is a unique individual for sure. He has his own style, he doesn't like many others, he is a tough guy at home, but when you open the gate, he is that guy who is just joking around and doesn't want to hurt anyone."