New Year, New Chad Hartman as he Aims for 2023 PBR Canada Championship
By: Covy Moore Wednesday, March 22, 2023 @ 2:13 PM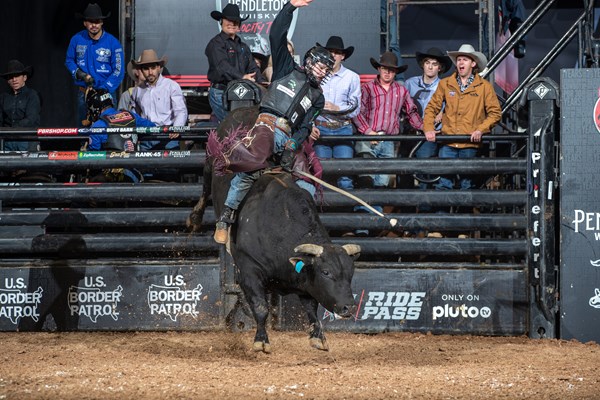 AIRDRIE, Alta. – Currently ranked No. 6 in the PBR Canada National Standings, Chad Hartman is a seemingly new rider in 2023.
Having gone 2-for-4 thus far this season, his confidence is evident in his recent performance at the Cup Series, presented by Wrangler, event in Lethbridge Alberta, where he finished second to kick start his 2023 campaign.
While not much has changed physically for Hartman, he says that his mentality around the sport is different.
"Just trusting myself and not thinking about it too much," Hartman began. "I know I can do this if I don't think about it too much. Let my body take over and just do it."
"It's just putting too much pressure on myself and getting to think about that too much and feeling like I am backed into a corner. I have been doing this a bit lately, but I have been staying on and trying hard."
Getting backed in that mental corner is something that Hartman identified as detrimental to his performance in the arena late in 2022 when the number of events were running out and the 23-year-old hadn't yet secured a spot at the PBR Canada National Finals.
With a strong outing in Saskatoon, Saskatchewan, during the homestretch of PBR Canada Cup Series events, Hartman dug deep and was able to convert, and built some momentum alongside a berth to the National Finals.
"I had myself backed into that corner and had to get my bulls rode at Saskatoon," Hartman said. "When I stayed on that bull at Saskatoon and made the Finals I think that helped my confidence a lot."
"It made me realize that I do overthink it a lot, and it doesn't need to be as tough as I make it sometimes. I was definitely riding high coming into Finals. I had a good Finals, they weren't how they could have been, but I stayed on a few bull anyways."
A headline moment of that Finals was his Round 1 matchup against veteran bucker Pound Sand, who retired following the out.  
Hartman delivered in his first out inside Rogers Place, making the 8 for 84.5 points and retiring the Wild Hoggs Bucking Bulls' athlete in the best way possible, with a score on the board.
For Hartman, however, getting that bull rode at Finals was just another confidence boost, as the two had met before with both trips going Pound Sand's way.
"It was pretty cool, to make it even cooler was the fact that I had been on that bull twice before and I don't think I made 8 seconds if you added them up. Made me look dumb one time, the second time I stubbed my toe," Hartman added.
"To finally get him rode and it to be his last trip was really cool."
In 2023, Hartman says his schedule is going to be filled with PBR Canada events, as his hope for the year is to roll into Edmonton this November in a position where he can start to think about winning the Canadian Championship and accompanying $50,000 bonus.
"I am going to be sticking with PBR in Canada for the rest of the year and chug away at these Touring Pro events and go to all of the Cup events and hopefully go into the Finals in a better spot, a Top 5 spot and have a shot at winning it all," Hartman said.
"I don't plan on straying too far away from the PBR in Canada this year. That's where my sights are set."
As for which event he can't miss on the PBR Canada schedule, it was a quick response, saying the Touring Pro Division event hosted by the Ponoka Stampede in conjunction with its rodeo is a favorite.
"It's just the atmosphere there," Hartman explained. "The whole big line of chutes, the big grandstands, it's not like everyone is crammed into a big building, it's more open, but still loud and there are tons of people there. It is a great event."