Lambert, Byrne Host School to Give The Right Tools to The Next Generation
By: Covy Moore Friday, March 31, 2023 @ 9:36 AM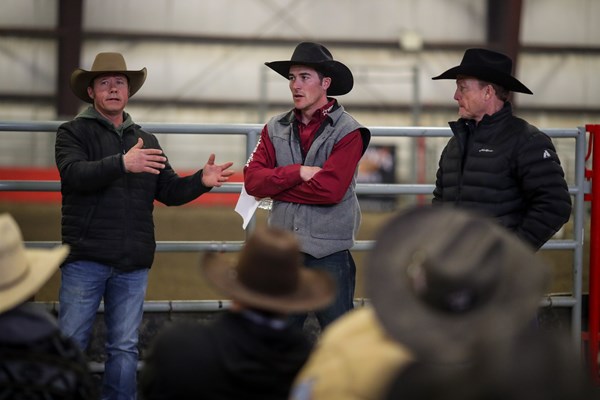 AIRDRIE, Alta. – Each year brings with it another season of Western event schools. And in Canada, they are numerous.
This past weekend was the Zane Lambert/Scott Byrne School, held in Siksika, Alberta, and it was one of the most successful yet.
The three-day school invited riders and bullfighters of any experience to participate in classroom style instruction from different coaches in the industry, while also spending time getting on, and fighting bulls.
With two PBR Canadian Championships to his name, recently retired Lambert has been working to develop the next generation throughout his entire career.
For Byrne, he first started teaching his craft in 2000, and said he has learned a lot about himself in these years of being an instructor.
"I have learned better tools to explain this sport to the new guys who have never done it before," Byrne said. "How to make an animal that doesn't want to be controlled do what they want them to do. The first school I did, I didn't know how to teach it. I knew how to do it, but I didn't know how to teach it."
"I have learned different ways of being able to pass the art along to really get these kids to do the things that a successful bullfighter will have to do when they leave," Byrne continued. "For some of these kids, no matter bullfighting or bull riding, we are teaching them the basics in a couple days, then it's up to them to build on that, and possibly come back another year and build on that."
The school offers three days of riding experience with appropriate bulls from the likes of Bart Thomson, Cody Stranquist, Slim Wilson, Nansen Vold and Jake Wilson.
In addition to pairing the right animal athlete with each competitor, the school featured PBR Canada Cup Series announcer and sports psychologist Brett Gardiner who spoke about mental health, and Jocelyn Fredine with the Ty Pozzobon Sports Medicine Team and Alex Ensign From Acumen Performance who addressed physical fitness, injury prevention and treatment. One surprise this year was 1983 PRCA champion bull rider Cody Snyder.
For Byrne, who admitted he was taken aback and impressed to hear Snyder's story, he said there is immense value in who is part of the schools.
"We are much more than just bucking bulls and fighting bulls. The value is those are names and faces that these young guys have seen around the sport, they are proven. They have the stats behind them. It's no different from when I started, when you see these guys standing around the arena or behind the chute, it makes you want to try that much more or impress so to speak and prove that you are on the trajectory they are on too."
"Snyder spoke to all these kids, told his story. And like he said, he came from nothing from a little farm in Redcliffe, Alberta, and is a World Champion now. Hearing his story about what he put into this to get to that point, that is jaw dropping to me. And the kids, you can see it in their eyes too. Cody put it best, you have to be all in in this sport."
This year brought with it a larger group of bullfighters than usual, with a variety of experience levels from completely green to more experienced.
However, come the end of the weekend, Byrne said he was impressed with everyone.
"We had it all, we had kids who had never done this before and some students who had seen quite a few bulls. I was impressed. Everybody gave 110% effort and everybody made it to the end."
After three years of partnering up for their respective schools, Byrne said he is impressed with Lambert's way of teaching and how he builds his school. But most of all, Lambert is someone who makes everyone around him better.
"First of all, Zane's career and the way he carries himself and his ability to teach, he has a phenomenal way of getting to the same end result for all these kids, and really gives these kids every tool he has," Byrne said.
"He tried 110% every time he nodded his head. And that is where I was at when I would step into the arena to fight bulls. We both always had the same goals in our respective chosen professions when we decided to make a living at it."
"Zane is just an all-around good guy. He is fun to be around, and I look forward to those three days every year because I get to hang out with him. Zane as a man is a good fellow to partner with because there isn't anything bad about him. Look at his career, two-time PBR Canada Champion, 90 countless times, and won major events all over North America. Why wouldn't anyone want to tie their name to that. I have all the respect in the world for the guy."